Filtering Traffic With Attributes In Messenger.
Blitz Metrics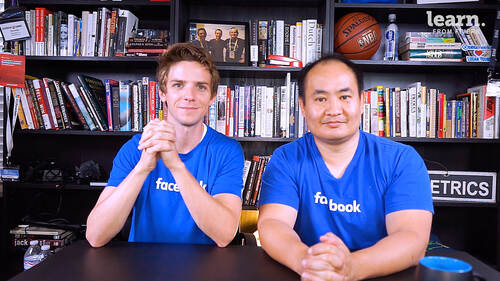 Filtering Traffic With Attributes In Messenger.
Blitz Metrics
Lesson Info
25. Filtering Traffic With Attributes In Messenger.
Lesson Info
Filtering Traffic With Attributes In Messenger.
in this lesson, we're talking about how to filter your leads with attributes in Messenger. So earlier in the course we talked about had a setup, attributes, what they were and how you can follow up with people based on the different attributes and the actions they've taken and in different buttons that they press in Messenger. Now we're going to go over some examples of how we're using different filtering and attributes to use in our business and just to give you an example how you can do it for yours. So in this case we were talking about our qualification process for businesses who are interested in working with us. So in this business page, this dialogue here, we have people who indicated that their business and then we're going to give them next steps on how they can work with us. Once they click on work with us, they'll be sent to this qualifying series of sequences. So first off we asked them, hey, are you a personal brand and local business agency? Like we went in the other vide...
o, now we're going to dive into as an example how we can determine leads that are on the more high ticket and $10,000 plus in how much you're spending on ads on facebook $20 to $2000. So they're not as robust where they don't have a big better spend. So people who are spending less would probably recommend them to one of our courses or maybe even our digital marketing community program. So once we're able to determine the different levels here, we can sequence out different content to follow up. So in this case people who are using $0.00-$9,999 in their ad budget per month. We're sending them to a canned message to this next step here. So awesome. Just a couple more questions now for people who are making $10,000 here, we want to make sure that they get taken care of because they're gonna make a big impact on our business. So instead of sending them to all of the other messages that everyone else gets, We can make a separate or unique dialogue here. In this case I labeled it business $10,000. This is just an example here. But we take a look at this. It just says thank you for answering our questions. Our team will follow up with you shortly. Then they can just click this button to learn more about us. Now I'm gonna show you something very cool. After you fall out with people based on what they pressed, we can go to more and we can add this email email option. And basically what it does is once someone gets this page will send an email to us based on where we want to go. So here is our operations email. And if they follow up on these high tech items and you might want to hire a ceo to so it goes right here and subject line might be high ticket offer A ticket, $10,000 plus follow up whatever it might be. Then I should even tag who they are, their names, their last name, all the things they indicated what their businesses or package they're interested in. Whatever they filled out that way, Whoever receives the lead has more ammunition, has an understanding where they're at and it helps you qualify them in a more personalized way rather than just sending everyone to another another message. Because ultimately using chatbots, we want to think about it as if we're talking to people like how we text or message our friends on facebook. In this case we're treating it as if we're having a business conversation and messenger, but instead of it sounding like a robot, we wanted to make it sound organic as possible. So in this case we want to humanize the process And we do that by having an email sent out to people who are making $10,000 or are have a budget of $10,000 or more per month. So this is just one example of how you can really play with these attributes to filter out your leads and the sky is the limit here. So going back to the qualification again, you can see that all the other leads, they'll go to the business qualification one, they'll just go on to the next default questions because they'll need less attention. They'll need less personalization. So we're okay with sending people through the sequence. So utilize these attributes, Really plan out and decide how you want to use it. That's best for your business. We think it will be helpful to you. You're filtering process and following up with your leads. Thank you and hope you enjoyed the lesson.
Class Materials
Messenger Marketing Case Studies
Ratings and Reviews
Student Work