How to add a large first letter to my text aka Drop Cap
Daniel Walter Scott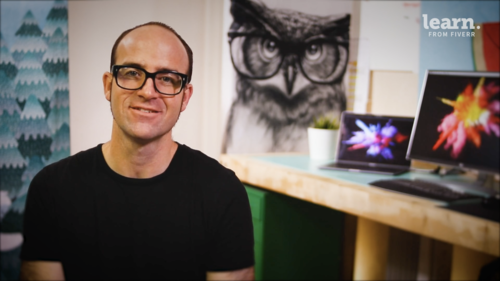 How to add a large first letter to my text aka Drop Cap
Daniel Walter Scott
Lesson Info
58. How to add a large first letter to my text aka Drop Cap
Lesson Info
How to add a large first letter to my text aka Drop Cap
Hi there in this video we're going to look at what a drop cap is. It's the name for the giant first letter in a paragraph. Okay, use the storybooks and in our case this like little fact sweetie pull quote thing. Okay let's go and do that. Now. First up let's bring in our text so go have nothing selected. Go to file, go to place in our over four long document. There's one in there called factor 81. Okay, click hold and drag out. We've got our text now I'm going to select all this text. I'm going to make it roboto slab light. I'm going to make the font size 20 and I'm gonna make the font color paper in our case. White, drag it across. Okay. Using my black arrow and just kind of get it to roughly fit. We can fix this up afterwards. Now to do the drop cap, grab your type tool, select the text actually can have your cursor flashing anywhere in the paragraph you want to work with. It doesn't really matter. And what you can do is switch it from character to paragraph formatting options and th...
e drop cap is this one here. Okay if you hover above it, it's like you can kind of see the little hey there if you click once, nothing happens. Okay. It's a bit disappointing to though, you can start to see what happened down the bottom three because you can see when it's crossing over one line. It's already crossing one line so I'm not sure why it jumps to one but you can cross it across to okay or three and you're probably not in this instance, but you can see the one next to it. This is how many across that drop cap goes. This can be really handy if you've got, say you want to do a drop cap and it's like this one, maybe you've got like a numbering system and you want to go across because you want that okay or that or they all look pretty horrible. But um you know, if you've got more than one you need, I'm going to get rid of all that. Cool. The other thing you can do is I'm gonna put mine back to the I is, I can select it and you don't have to, but in my case it's on light, I'm going to move it to bold just to make it look a little nicer fish. Alright, that's it for drop caps. I'm just gonna kind of line mine up a little nicer within this box. How's it looking? I'm okay with that. Cool. Alright, let's get on to the next video
Ratings and Reviews
I think Dan is very good at explaining and breaking down complex content. I like the way there are lots of small sessions which is good for keeping focus. I would advise anyone who does this course and is taking notes to label which session the notes are referring to as I have struggled to find a few looking back and this helped me. It really made me realise how much I didn't know and had been fudging. Thank you Dan I will be taking plenty more of your courses in the coming months it's been a great help.
Student Work