How to bring in lots of text into InDesign at once
Daniel Walter Scott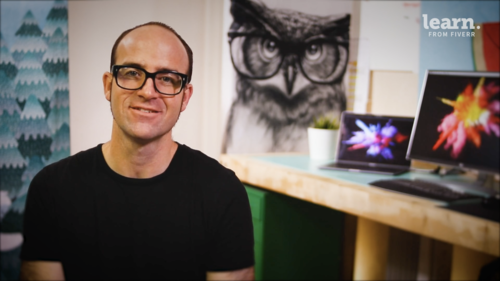 How to bring in lots of text into InDesign at once
Daniel Walter Scott
Lesson Info
51. How to bring in lots of text into InDesign at once
Lesson Info
How to bring in lots of text into InDesign at once
Hi there in this video, we're going to start our long document project. Okay. It's going to be an annual report. It's going to be really long. Okay, you can see my pages here. Let's have a quick little look at it. Page after page after page of paige paige paige paige paige paige paige. Okay. And we're gonna start with looking at primary text frames which is probably the most important thing you need to do when you're working with long documents and also the first thing you need to do, which is great. So let's go and do that now. Okay, so when it comes to working with a long document, the most important part is getting something called the primary text frame set up and to do it, you need to do it at the document creation time and to do it. You need to do it at the beginning. When you create the document, you can't retrofit a document to make this work. It's just too hard and actually I think it just can't be done. So if you have an existing document and you're finding it hard to work on...
, you can just copy and paste it into a new document that has the primary tax frame set up. So to do it, let's go to file new or had this little new button and we're going to be doing hours for print. We're going to be doing us letter and over here we're going to have facing pages because we're going to do a long document, side by side pages and this, my friend is the magical button called primary text frame. We're gonna have pages is one that's fine columns. We're gonna have to and the gutter here is going to be quite thick just to match our style. Remember mine's stuck two millimeters because I keep doing jobs in between. Um and the gutter in this case is going to be 20.6 are quite big if using metric numbers put in 16 millimeters, 16 cases quite big. So we're gonna 160.6 inches and columns to in terms of the margins all the way around. I'm going to break the little link so they're not all the same. The top in this case is going to be 1.2. I'll go through the metric in a second. The bottom is going to be two inches and the sides are going to be each 20.8 point eight inches 0.8. Even. Okay if you want to do this in mm it's 30 for the top. 50 for the bottom and 20 for the inside and outside. And remember this is just because that's the way I want this document to look you saw at the beginning of this video bleed. Okay who remembers what bleed is? That's right. It's an eighth of an inch. So . we have to use decimal places. Okay all the way around or three if you're using mm and slug we never use let's click create. Okay so what is this? Primary text frame. Well basically it's a pre made text box that goes on your master page. Okay. And I can I'm on page one here and I can click on this and you see there's a text box ready to go. And the cool thing about it is if I just throw in some placeholder text, you can see it's got columns already matched into it and the gutter already matches the one I set up in my new document. So it kind of pre loads it with a text box, which is really cool. And whereas in previous tutorials we've created these columns and just uses them as guides. And then we've gone through and grab the type tool and drawn out stuff and then gone up here and switched into two columns and okay, so that's it saves a little bit of time that way. What's really cool about it? Is that when I add text to it? Okay, it's going to generate as many pages as I need and that is what's really helpful. Just go and do that. Let's go about black arrow. Make sure we got nothing selected, click in the background, go to file, go to place. Okay, you can copy and paste from word but I'm gonna use this way because I'm gonna show you a little trick when we bring it in, we're gonna go to options and I'm gonna click on show import options. Okay then click open this little box opens up and by default it's going to remove the styles now to make this easier for everybody. I've gone through inward and made all the titles bold just because otherwise it's really hard to figure out where the titles are. Okay, so I'm going to change it from movie stars to preserve styles and click OK, now my cursor is loaded. I can stick anywhere. I like I'm gonna stick it on this page and what we're looking for is see my pages panels up. Okay, I've got one page but if I click on this kick back, relax. Which what happens? Take this time. Well, Hey look, so it's generated all of our pages and you can see there's quite a few here. That is nearly 30. Okay, well there is exactly 30. So that is the role of the primary text frame. It doesn't seem like much, but the alternative is this, I'm going to create a new document. Great. I'm going to do cool things just real quickly. It's gonna be the same as the last one. Great. But I'm going to turn primary text frame off and this is what you have to do. So there's no text box here. We have to grab the text box and that's no big drama. Like doesn't take us that long. Right? And I have to match the amount of columns. So I have to go to paragraph Two columns, match the width. I can't even remember what the width was. Think it's 16 mm. Okay, so it's matching that now, awesome. And now I have to go and place my text file place. So exactly the same except when I manually create that box, they're not linked to all the other pages. So I go to the exact same thing. Happy days. So you'll notice there's no extra pages generated. So what would you have to do is this, we have to go down to create a new page. Okay. And then we just go to this top page. It's called the output. Okay. It's this little red cross down here. If I zoom in, that's him there. Okay. And when he's read that's bad. It means that there's text, we know that the text. This is like 30 pages, but it only stops here. So it means that although we can see one page, there's a lot of other pages hidden. Okay. And it's this thing here where this output. Okay, terrible name for it is over set, which just means there's too much to copy in it and it's gone. Read a little plus button. So what we can do is we can go through and create another type box. Okay, we can do it in here, make sure it's the right columns, make sure it is got the right gutter. Oh come on, I can click at 16. Okay and what I'm gonna do is black, arrow click on this, click on the red thing just come down here and click inside this hay and then linked up. Okay So that one now flows from here and flows down to here. But unfortunately it's still over set so you're gonna have to go and link all of these pages. Okay? You will, it's you'll cry so making your document make sure it has got a primary text frame and it will generate this stuff for you. Another nice thing is because it's on the master page. Watch this. If I double click the master page, either the left or right spread. So I get the rope spread. If I have it down here, I want to do something like this. Can you see all of the pages are just as well? They're all controlled. Okay, so it's generated more and because there's not as much room on every page, it's generated some extra pages. Remember was at now it's at 38. Okay. It doesn't delete them though. If I make this big, you have to have to manually go and delete them afterwards. You can see it sucked back up to page 29 or 30 but there's all these empty columns, you can go into preferences and turn our sitting on that will delete them when they're empty. It's not on by default. It's not hard to delete them. You just got to select them all and hit the trash can. The last thing we do whenever you bring in a lot of text, I'm going to go from my Master page to page one is that I've brought it in from word. Okay. And we said preserve the styles. Okay so what happens is when you preserve the styles it goes to window let's open up styles, paragraph styles. It's brought in many styles from Word and they will always be probably normal. Normal is their body copy font. Okay so all I wanna do is have nothing selected, click on this guy and say go away and it says we're deleting it but it's being used in this document. What would you like to do is replaced with my basic paragraph which is my like nothingness. Okay replaced with none basically. Okay so it's gone through removed any then normal formatting. You might have a lot in here. They might have brought through heading heading two, heading three normal bunch of stuff. Okay. You have nothing selected. Delete them all and you'll be back to kind of be able to adjust them as you see fit. Okay so that's a long explanation on what a primary text frame is. Okay so basically you just need to file new document and you've got to take that little box but now we know how it works and how we could use it. Let's get into the next video where we start laying out this long document and look at some of the other features that's going to make long documents. Super easy for you to do.
Ratings and Reviews
I think Dan is very good at explaining and breaking down complex content. I like the way there are lots of small sessions which is good for keeping focus. I would advise anyone who does this course and is taking notes to label which session the notes are referring to as I have struggled to find a few looking back and this helped me. It really made me realise how much I didn't know and had been fudging. Thank you Dan I will be taking plenty more of your courses in the coming months it's been a great help.
Student Work