How do I create a gradient in Adobe InDesign
Daniel Walter Scott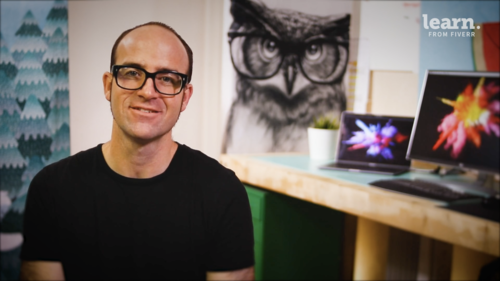 How do I create a gradient in Adobe InDesign
Daniel Walter Scott
Lesson Info
54. How do I create a gradient in Adobe InDesign
Lesson Info
How do I create a gradient in Adobe InDesign
Hi there. This video will look at creating a gradient, like this one here in the background. So let's go and make it in our document. So I'm on my page one. Okay, some pages panel, double click page one. I'm going to zoom out a little bit. I'm going to turn the W key off. Okay. We'll click it so I can see all of my working. Why? Because I need this to go over into my bleed. Okay? So I'm gonna grab my rectangle tool and don't worry about what color or fill it has at the moment. Just drag a box that covers everything including our bleed and we will amend the Phil. Just make sure your stroke is set to none. Okay. Even then if it had a stroke, it will be cut off and in the bins are no big drama there. So what we want to do is we're going to go to the reason we don't worry about filling it with the color case. If I fill it with the color, it's just going to be replaced by our gradient in a second. Okay, to open up gradients, go to window, go down to color and go to gradient with your black ...
arrow. Okay, the selection tool here, make sure this box is selected. You might have to grab the outside of it. Okay, The edge of it if it has no Phil and we're going to slick type and going to go to linear. Now we're going to talk about linear all the way through this tutorial, but you can switch it to radio and everything applies the same. Okay, so linear by default, you're given black and white. So we're going to do it once with freehand colors and then we'll do it without corporate colors. So this little white house down the end here, this little box. If I click on it, Okay, I'm going to switch my colors so you need to be able to see window color panel. Okay, and in here you can just pick colors from this. If there are no colors in here, you can click on this little fly out menu and because we're going to be working in RGB for most of our document, we're switching it to that then you should be able to pick a color. Okay, so pick a color, do the same for the other end. Okay, so pick the black and this one steve hold it just for our black slider, which is not cool. Go to RGB pick another color and that my friends is horrific. Okay, so green to pink gradients is banned. I think they're illegal in most countries, definitely here in Ireland Okay, so to change the direction of this, there's a whole tool for, it's called the gradient swatch tool, click on this And all you do is click, hold and drag, drag, drag, drag. Okay, and you can play around with the angle, you can manually type it in, see the angles here. If I wanted to be 90°. Okay, I can have it straight up and down. zero is going to do left to right okay, so you can kind of watch this so I can make a really small line as well. It makes it kind of like just a little band, we're getting eighties right here, look at that, I feel like a jane fonda exercise video. Not that I ever watched one, but that's what I feel like would happen, these colors would combine in a gradient Anyway, so if you want to use corporate colors, okay I want mine to go straight up and down so I'm going to do 90° or I can click and drag across this. Okay I need to get it going straight up and down and what I'm gonna do is a little bit weird, I need to see this gradient panel. Okay but I also need to see my swatches panel so what I need to do is find my swatches. Okay I do I have them all applied here, I don't, some of them are over here and the problem with CC libraries at the moment is you can't drag from the CC libraries panel into the gradient panel. Okay, so what I'm going to do is select all of these. Okay actually I might undo to keep my ingredient back click off in the background so that nothing selected, I'm going to make sure all of these are added so I'm gonna right click them and say add to swatches so now they're all part of this down the bottom here and this is the stuff that I want. So grab my black arrow, click on this guy and with this house here at the first one, I'm gonna pick my mid green, click, drag, drag, drag it and you've got to be really careful watch this, I've got to kind of can see it goes black there, it means I'm replacing that one if you don't okay if you get it kind of close but not quite watch this end up with kind of like clothes and it's there and you end up with like this old one, little mix there, okay, if you do end up with this and there's two of them, you can just click hold and drag the one you don't want off, just kind of drag it down to no man's land, So get this green to start with, and I'm gonna grow my dark green to replace this one. Okay, and that is my beautiful gradient, is it the right way around? Yeah, that's how I've got it in my example and that my friends is how to make gradients. Now if you're following along with this tutorial series, we're going to add a few extra little parts, we'll add this image down the side here and this logo and this text. So the first thing we're going to bring in is this text. So let's go to the type tool, actually we're not going to bring it in. I'm actually just going to type it out. So whenever I'm working with the big colored background like this, you can see my type tool wants to turn this box into a tight box. So what I'm gonna do remember type tool on this side. Type it out. I'm lazy. I'm going to copy and paste it from here. You're going to have to type out green at heart and your report and style it. Okay. It's up to you how you style it. That's how I've done mine. The big thing with my type is that I've used the same font. Okay. But I've used a bold version in this one here is the light version of Roboto slab and I've made this font little smaller just so that they both line up either the side. Hmm. Doesn't look good. It's okay. The next thing I'm going to do is bring in my image. So I'm going to have nothing selected. Go to file place and then he is going to be called green logo for, okay, now this keeps appearing, we're not going to do anything for these changes. I'm gonna get canceled. I'm going to turn that off. It's a bit of a pain whenever you turn on the show import options. So file place this down here was awesome when we're bringing through text. But now it's a pain for images. There's nothing we want to change, click and drag it out. How big is it's gonna be, it's gonna kind of sit down here like this document here. So maybe a bit big command shift, drag it down a bit smaller, awesome. Let's bring in my image is file place I've got nothing selected. Okay. And I'm gonna bring in my image. Where is he? It's this one not him called tabletop, that's it. And I'm going to click and drag it so it's a massive Okay, you might have to actually zoom out a little bit. It's hard to work with full, full size images when you're very close. I'm gonna make mine very very big and I'm going to line mine up something like this. Okay. I'm gonna make sure it lines up there, make sure it lines up the bottom already and I'm going to drag this side across and how far was it going to be across? Yeah, that far. I'm sure it should be like a third but I'm just going to wing it. It w yeah, it looks all right now. One of the big things that's happened is that underneath there is my image because he was placed in the newest, he's at the top ist Okay. So what we need to do is play without a range. So I want to push him backwards. Okay. So I'm going to right click him and go to a range and we're going to go instead. I don't want to send it back to the back because it'll go behind the gradient box them back would so it goes behind the last thing, okay, Which was our image. So I'm gonna put them roughly in the middle and that is arranging. What we're going to do in the next video is we're going to look at doing layers. Why? Because arranging is fine, but sometimes it's just a pain to have a background image on every layer. You just want to kind of like put it in its own layer and lock it so we'll look at layers in the next video.
Ratings and Reviews
I think Dan is very good at explaining and breaking down complex content. I like the way there are lots of small sessions which is good for keeping focus. I would advise anyone who does this course and is taking notes to label which session the notes are referring to as I have struggled to find a few looking back and this helped me. It really made me realise how much I didn't know and had been fudging. Thank you Dan I will be taking plenty more of your courses in the coming months it's been a great help.
Student Work