How do I add rounded corners to an image or box in Adobe InDesign?
Daniel Walter Scott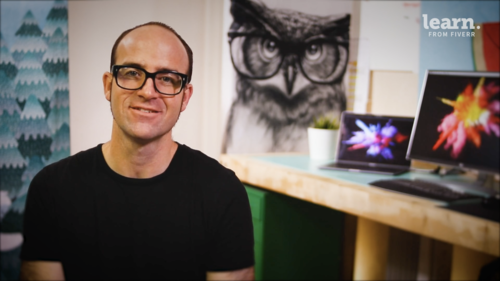 How do I add rounded corners to an image or box in Adobe InDesign?
Daniel Walter Scott
Lesson Info
57. How do I add rounded corners to an image or box in Adobe InDesign?
Lesson Info
How do I add rounded corners to an image or box in Adobe InDesign?
Hello in design people, we're going to look at rounded corners. We're going to do it to this box that we did with this cool transparency and just do one corner. Okay. Like this guy. But you can also do full round corners and all these other weird corners that you're probably never going to use. So let's go and look at rounded corners and in design. Okay, so we're gonna practice with the box over here. So grab your rectangle tool and click hold, drag out a box, give it a fill color and no stroke. So I'm going to give it a fill of our green and hard red and I'm going to give it a stroke of none. Okay, rounded corners, grab the black arrow, click on this and you've probably always wondered what to hang this thing's for. Okay. And it is for editing the corners. Give it a click OK. And nothing happens. Okay, but you get these diamonds in the corner. Okay, so grab one of the yellow diamonds, let's grab the top. Right, Okay, click hold and drag to the left. And you my friends now have rounded...
corners. So if you end up clicking off by accident, click back on, click the square, it launches the diamonds. Okay? Which you can go back and start dragging kind of left and right, not up and down and increase them up a little bit. And let's look at the different kinds of corners by default. It's set to rounded corners but you can kind of see by that little pop up window here, you can hold down the fort key on a Mac or option key backwards. Okay, it is option key on a Mac and all key on a Pc. Give it a click and you get kind of like pixel space invaders version of the corners. I have never used themes. Keep holding down that key option on a Mac on a Pc. Keep clicking. Okay, You get those ones, you get those ones okay? And eventually they pop back into the corners and you've got to let go of option and drag them back out again. Okay, it's up to you now, one of the things we're going to do is show you how to do them individually so I'm going to click and drag them back into the corner as far as it'll go. It'll get them back to being nice sharp corners. Now, if you hold down the shift key on your keyboard, okay, hold it down and then start dragging to the left, look at that, you work on one corner only and this happens quite a bit with these kind of factoid the things. Okay, I'm going to click on this. Okay to get the corners, hold down, shift, grab this one and make this kind of like a rounded corner. Okay, we're gonna put a little pull quote or a little little factory in there, that's where maybe this corner one becomes. Okay, so click on this one and drag it just this one. Okay, and I'm going to hold down my, what was it old key or my option key. And then you could do something like that. Okay. And the cool thing about that is it's kind of part of it and it can be resized and all sorts of other nice things. All right. That is rounded corners. Let's move on to the next one. Where we looked at maybe some drop caps. Drop caps are cool. Let's go do that.
Ratings and Reviews
I think Dan is very good at explaining and breaking down complex content. I like the way there are lots of small sessions which is good for keeping focus. I would advise anyone who does this course and is taking notes to label which session the notes are referring to as I have struggled to find a few looking back and this helped me. It really made me realise how much I didn't know and had been fudging. Thank you Dan I will be taking plenty more of your courses in the coming months it's been a great help.
Excellent course, instructor is great well spoken, clear and a great teacher. I highly recommend this class for beginners and those who learned indesign on their own.
Student Work