Pre-Launch Marketing
Sam Laliberte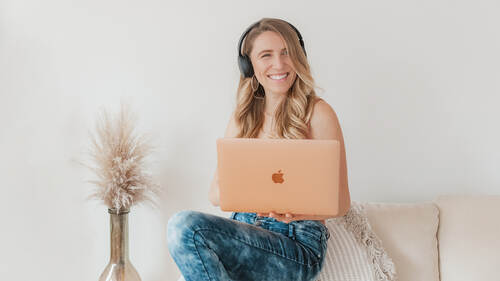 Pre-Launch Marketing
Sam Laliberte
Lesson Info
22. Pre-Launch Marketing
Lesson Info
Pre-Launch Marketing
So now we're going to talk about the launch plan or really it's the pre launch plan. You'll notice that there's a different section for this in this course than there is for just regular, ongoing marketing. That's because the first time someone hears about your podcast should definitely not be the day your podcast goes live. You really want to think about how you can build anticipation and excitement and build that audience of listeners before you even have something that they can listen to. So a great thing that you can align your pre launch plan to is apple podcasts and itunes. They have a new and noteworthy chart, you've probably heard about this, you've probably discovered a lot of shows from that new and noteworthy chart and it's a great place to benchmark your launch plan around. Okay. It doesn't mean if you don't get featured in, you know, worthy, you're not successful. Absolutely. I'm not saying that, I'm just saying it, it gives us some timeframe and motivation in terms of how...
we can game ify it. So how it works in getting featured in new and noteworthy is that you have eight weeks from the day you released your first episode, eight weeks later to be considered as a new and noteworthy show. After that you can still push to be in the top 100 charts of various topics and categories you're in. But new and noteworthy is going to be just that first eight week period. So I like to come up with a really fun system for hacking new and noteworthy and this is what we're going to talk about now. The first thing that I did that worked really well for me is I really wanted to collect email addresses before my show already launched. If you're someone who already has a business already has a brand, already has a blog, already has a large social media following whatever it is, great, you're already a few steps ahead if you don't have that and you don't already have that audience of people, you know, you can say, hey, I have this now to you consume too, That's okay. This is what this is all about. So personally what I did was I created a really fun, it was a one minute video and it featured various different little gifts over top of my voice recording. I use an app called the captioned app. I'll include it in here below this video. It's completely free. And essentially it was the first time I had marketed my voice before. Prior to this, I had never done anything in the audio space. So I created this fun video and essentially with visual gifts or gifts, it portrayed what I was talking about and I was describing why was launching this show, what it was about what they can get from it and why I was really excited. I made it very personal and I posted on my personal facebook page And I tagged 100 people in it. Why 100, 100 is the maximum number of people you can take in a Facebook post. I totally spammed my friends but I've never done it since in two years. I've never done the all 100 things. So I think it's fine and that works really well. It's actually how I got my first few 100 followers or my first few 100 email subscribers. And why is because I made that video public, I tagged the 100 people and in the caption I wrote, I'm so excited about this next journey. I'm launching this podcast, click here to sign up so that your first to know when it goes live when you clicked on it. It was a very simple landing page. Okay, it was a free landing page I made on Wix, you can literally google wicks landing pages, dragon drop template I threw in the color green to match my artwork and essentially it just said new podcast launching dick dick, dick dick dick, sign up to be the first to know and they just had to put their first name and their email. Well because I made this video, really fun, really catchy and really personal. I had probably 40 of the 100 people actually share it because it was a public video. It was kind of like a little bit of a viral moment in a micro influencer serie type of way. But it worked in terms of collecting email addresses and why that was so important is that when I launched about 2.5 weeks later from that point, I had my first few 100 email addresses to email and say, okay, it's launching in two days, please, you know, put in your calendar, remember please listen on the first day and then of course on launch day I was able to send an email to this group as well. So that worked super well for me and I definitely advise all of my clients to do that. People have given me great feedback and they were so happy that they took the time to build up that email list before going live so that they had an audience to market to and not just rely on the day of it could get lost. There's no excitement, you really want to build up anticipation. So the next thing is back to that hacking the new and noteworthy. So when Apple is deciding what shows should be featured, there's a mystery algorithm like there is with everything right? But they're looking for a meaningful interaction. So they're looking for downloads. They're looking for people who are subscribing and they're looking for people who are reviewing the podcast in that first eight week period. So let's talk about the first one, downloads. The fact that I have for this is on day one, you're actually going to release to podcast episodes. Okay, not just 12. Now, hear me out for a second, Your first episode is going to be like a two minute trailer, okay, If you're using one of those fancy hosting providers, you're going to pin this to the top forever. So anytime over the next year of your podcasting journey, years and years, however long you're ready to commit to this, anytime someone discovers your show, this will be pinned to the top and then listen to this first. Okay, this should say who you are, why you're doing this. What they can expect from the show would value they're going to get if they keep listening and what they can expect in terms of your cadence, the type of guests and maybe even tease some of the upcoming episodes. So we're going to release that on day one and then two minutes later you're going to release your first actual episode. So in a way they can kind of binge but really you're just doubling The amount of downloads you're going to get in day one. Everyone who listens to your intro is going to immediately listen to the next one on day one, it's going to be short and sweet. Okay, let's actually listen. So you've now just shown apple that you have twice as many downloads in day one. The next thing you definitely want to do is you want to pre produce this content ahead of time ideally in that eight week launch, you're not recording episodes okay, you're not really reaching out to guests, you're not really creating anything, you are in marketing mode, You are pushing, you have this eight week goal and this eight week target in mind and after that, you know, if you want to chill out and relax, that's totally cool. But definitely pre produce all of these episodes, have them edited, have them ready to go and perhaps you're releasing them every week during these eight weeks or if you're really on top of it twice a week. So going back to that meaningful interactions that Apple is looking for, remember that they're looking for downloads, reviews and subscribers during that eight work period. So you've just come up with a hack to double your downloads and to make sure that you're producing content over that eight week period versus creating content. But next how can you get reviews and get people to subscribe? Well, something cool that I've seen done really well is you know how on your iphone you can record your screen, there's a free app called screen recorder and you can literally just record the behavior of you, opening the Apple podcast app, searching for your show, you know, downloading the episode, subscribing and even leaving a review. If you can show people visually how to do that process it can help reduce that friction that we're talking about. I had to get, you know, my mom, my dad, my grandma even shave an ipad. So I got her to leave me a review and explaining it to people. It is challenging. So you want to think about creative ways that you can make it super easy for people to do this task that should only take seconds to a minute. But if they've never done it before can take four or five minutes and it can be pretty frustrating a couple of minutes. So you want to make it easier for them to do that as well as you maybe want to gamify the process. So something that I did really well is I told everyone, I said, hey, I only have a few more weeks to get featured in new and noteworthy. I'd love if you could leave me a review and subscribe on Itunes, here's the link and I was copying and pasting that to people and you know, some people knew that, but for the most part people were just happy to support you. I think we're living in a really exciting time where there's so much empowerment towards creators and people doing their own thing and people want to support you more than you think. So, just do it, ask your friends, you know, be shameless and really gamify that it will also give them a reason to do it right now. Like if you just tell someone, hey, can you leave me a review that's not going to be a top priority for them, right? People are busy, but if you say I'm trying to get reviews in this short period of time, there's a there's a sense of urgency there that people are more likely to act right now and then they'll feel like they're part of it with you. So there you go, pre launch marketing plan, collect those email addresses ahead of time, build that hype. So people know it's launching on a certain date, remind them of the date, pre produced content so you can just focus on marketing and really gamify the system so that people feel like they're on this journey to getting to new and noteworthy with you. These are some things you should be thinking about before you launch your first episode.
Class Materials
Sam's Partnership Proposal
Course Materials (download at start of course)
Ratings and Reviews
Big Up's to Sam Laliberte, awesome course. I have been podcasting since 2020 and I took the course to improve my podcast structure along with my marketing skills and for sure it paid off. I learned so much in this course that I have been applying it to my podcast and how I promote the show. I highly recommend this class to anyone who is podcasting or thinking about it. Thank You Sam putting on the right track. Great tip on Instagram, thanks.
Student Work