Demo of Yeti Mic
Sam Laliberte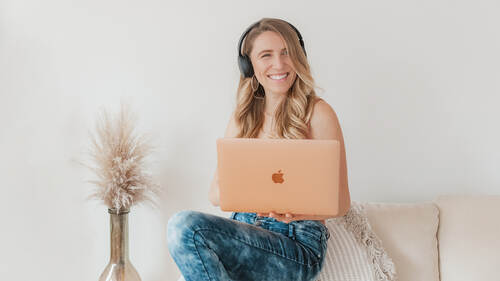 Demo of Yeti Mic
Sam Laliberte
Lesson Info
16. Demo of Yeti Mic
Lesson Info
Demo of Yeti Mic
Okay, so I've changed microphones really quickly so that I can show you my predominant microphone which is actually what I've been using to record most of this course is the Yeti microphone. Blue Yeti. I got it in this fancy color. There's a couple of features of the Yeti that you really want to think about and look for in your mic that I love one. Is this built in stand? A lot of the mix that just come with the handheld. You need to buy a separate stand for it. It's just the next an extra step in the process. An extra thing you need to purchase. I love that. It comes with it. It can also remove right from the stand which is great if you ever wanted to connect it for like a stand up microphone stand or anything or bring it into a studio where they have different types of stands that it's versus talent that can travel with you. The next thing I really love about the Yeti is that it is a USB um microphone, which is what we talked about. So it plugs directly into my computer. It does need...
a power source. So you always need to have either like a wall plug in or connect your laptop so that it can run and record. It does need power. The other thing is that it has this nice mute button so I can either turn that on or off and it's very clear when it's recording. I appreciate that the microphone that I'm using right now for my camera, there's no red light. I'm just hoping for the best that I don't have to repeat this for you in about one minute, the next I like about it is right at the front and has a volume control. So what allows you to do is there's a headphone jack. So back to that point about real time monitoring while I'm talking. I have it in and I have an idea of how it's sounding. I'm making sure no annoying background noises coming up, I'm making sure I'm not talking too loud. Um and so that volume allows me to adjust that there, the back is the game. Okay. That's where you're going to decide on the sensitivity to it. So if I guess that talks really quiet, I'm going to turn up the sensitivity for that person or if it's just me and I'm talking into the microphone, I'm going to turn it down a little bit too high. You'll pick up the hissing and that noises that can sometimes happen when you're too close to the mic and the sensitivity is turned up too high. If you are using the the Yeti um there are four different ways that it records sound. This is by far my favorite feature. This is the reason why to buy the Yeti a lot of microphones are just cardioid microphones, okay. Which means that it will only pick up from the front of the microphone, which is fine if you're doing only solo podcast or if you are recording remotely and your guess is going to be somewhere else and you're only ever going to have you. But for me, I've done a lot of in person recordings and having different functionality was so important to me. So if I'm using the cardioid feature, um there's four different options at the back. You just simply turn the dial. You want to make sure you're talking right into the front of the Yeti. So depending on how high the table is, I'll sometimes put a book underneath it so that I can talk and you want to be fairly close to it. It has bidirectional mode, which is what allows you to make sure that it's capturing sound from the front and the back. And it also has Omni directional mode, which means it does a 360 sound. So that's going to be great if you have a group of people, you just want to put it right in the middle and record the whole thing. Or if it's just a one on one interview, you throw in that bidirectional, you put it in between you and it sounds really great if you have a mic, that's just the cardioid that just records from the front. I've seen people do that at live events and they kind of just have to like sit beside each other like this and it doesn't sound great. So I really, really recommend uh the Yeti. It's been great for me and it doesn't travel that well. I'll be honest about that. It's quite heavy. So if you're looking to podcasts on the go, you might want to think about a second cheaper option. That's what I've done as well.
Class Materials
Sam's Partnership Proposal
Course Materials (download at start of course)
Ratings and Reviews
Big Up's to Sam Laliberte, awesome course. I have been podcasting since 2020 and I took the course to improve my podcast structure along with my marketing skills and for sure it paid off. I learned so much in this course that I have been applying it to my podcast and how I promote the show. I highly recommend this class to anyone who is podcasting or thinking about it. Thank You Sam putting on the right track. Great tip on Instagram, thanks.
Student Work