Preparing for Interviews
Sam Laliberte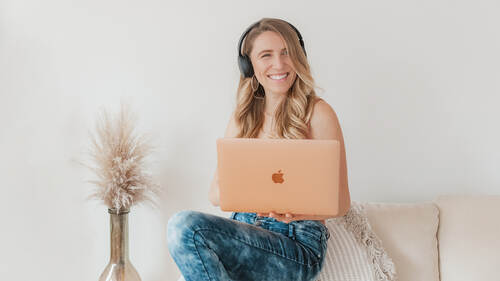 Preparing for Interviews
Sam Laliberte
Lesson Info
12. Preparing for Interviews
Lesson Info
Preparing for Interviews
So now we're going to talk about how to prepare for an interview and specifically prepare your guest while you should always make sure your guests does more of the talking, it's your responsibility as the host to make sure that you're prepared, make sure things run on time, make sure things go smoothly, make sure you're getting value out of it and so you have some work to do ahead of time as well. What I always like to do is I know specifically the value that I want to bring to my listeners for each guest I'm bringing on my show, I know that my guests are gonna come on and they're going to want to promote X, Y and Z. And I'm definitely going to give them the space to do that. But I also know ahead of time what specifically that my listeners would want to know from this guest? An example that I'll give a shout out to an episode I did. It's called the business of remote work. I interviewed someone who was a successful conference host. He runs the running remote conference in bali he has ...
hundreds of remote workers over his two companies that he runs. And I knew he was going to want to talk about his conference. I knew he was gonna want to talk about the solution that his technology is created for remote workers. But I knew that my listeners really wanted to know about remote work and how do you get a remote job is their job posting sites for that? What do you look for? What makes a good remote worker are you hiring? And so in addition to giving him that platform to share the stuff that he was excited about, I made sure I asked those questions that I knew were going to be the true value for my guests and sure enough he was able to provide them in addition to the plugs for the stuff he was excited about. So you want to be prepared, but you don't also want to be too prepared. I think something that can happen is when you know everything about a guest and you've read all the articles about them is you can then assume that your audience also knows that much about the guest as well and then you kind of find yourself jumping two parts in the story with out the audience really knowing any of the backstory, so definitely be mindful of that. You want to bring everyone up to speed with a baseline knowledge of that guest and what their story is. In addition to like finding a unique angle, I totally get, wanting to ask them questions that they haven't been asked before and getting new pieces of insights for them to just make sure you don't assume that your audience already knows a lot about that guest to a few other things that I do to prepare. My guest is. I'm a big fan of setting the questions ahead of time. I know people have different takes on that, but I'm not trying to be barbara Walters here, Katie Couric and trying to break stories and trying to find gotcha moments and catch them in things. I want my guests to feel comfortable, I want them to bring their best answers to my interview and I want them to be really proud of the episodes so that they share it with their networks and I can market to new people and so I'm a fan of sending them, you know, some questions ahead of time. I actually do it in a form, I'll include a link to my exact form that I use below so that you can even see my questions and feel free to steal it. But really I just tell the guests don't spend too much time on this. You know, just do some point form answers to these questions and what that allows me to do is two things one I can see what questions they have really good answers for and I can make sure that I include those in the interview and two, I can also make sure the guest is prepared and they've had some time to think about that so I can really bring their a game to these answers. I get interviewed, a lot of other people's shows and I definitely prepare. It's not, I'm not someone who just goes into the interview and hopes to have the best idea that comes off the tip of my tongue. Usually by thinking about things 99% of the time I can have a better answer than just going on a whim something that I stole from tim Ferriss who actually got me into podcasting is he asks his guests what is your favorite story to tell? You know what's that story where every time you tell it, people laugh or entertained or they're sad and it's very emotional and you ask them what that is and you tell them that you're gonna tee them up for that story and you put that in the 1st 3rd of the interview. The reason why is your guest already feels like they had to win. They feel you know, they're very comfortable telling that one story. They know the interview's going well and they can kind of relax for the rest of the interview, which is going to be really important. Other ways to make your guests feel relaxed is to let them know about your post production editing style. For me. I spend a lot of time removing ums and likes and awkward pauses and so I tell my guest this is a podcast interview. It's different than a 1-1 conversation. It's different than being on a panel and full of hundreds of people in those scenarios, you have to answer on the spot and come up with your answer right away. It's weird to have a lot of silence in between, but on my show I say take as much time as you want. I want you to think through your answer when you're ready to talk about it. I'll be recording and then editing. I'll cut that out and I'll make it sound like you just said that my guests love to hear that again and calms their nerves and I set them up for success. You definitely want to find a quiet space to record. I joked that ever since I upgraded my bike, it's been a double edged sword because yes, the audio sounds great, but because it's such a great mike now, it picks up a lot more so it's very important to be in a quiet space and uninterrupted space. If you were doing remote interviews, ideally you're using a software that can have two files, one for each person talking, we'll talk about that later so that if something does happen on one end of the call, you can just mute that while the other person is talking. It's it's a great, it's a great feature and lastly let them know when the interview started. I've done some remote interviews and I think the guest assumes that the second we say hi there on and you can tell they're ready to be interviewed. So I let them know Just, you know, I haven't started recording it, let's just chat a little bit, I want to make sure you're comfortable with the questions and make it very clear when the show is going to even do a 3-1. So these are just some tips for me on how you can prepare your guests. Again, the goal is creating something they're so proud of, that they're going to share it with their networks.
Class Materials
Sam's Partnership Proposal
Course Materials (download at start of course)
Ratings and Reviews
Big Up's to Sam Laliberte, awesome course. I have been podcasting since 2020 and I took the course to improve my podcast structure along with my marketing skills and for sure it paid off. I learned so much in this course that I have been applying it to my podcast and how I promote the show. I highly recommend this class to anyone who is podcasting or thinking about it. Thank You Sam putting on the right track. Great tip on Instagram, thanks.
Student Work