Podcast Recording
Sam Laliberte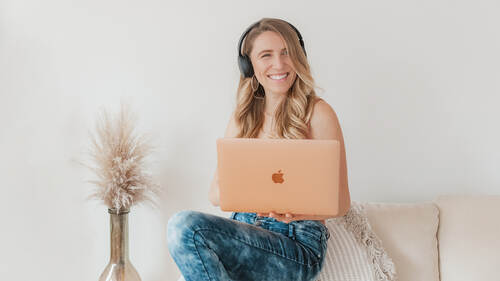 Podcast Recording
Sam Laliberte
Lesson Info
17. Podcast Recording
Lesson Info
Podcast Recording
So now we're going to talk about where you actually record your podcast. Not physically but from a technical standpoint. Okay, this is the second part of the core five. How do you actually create that audio file? What's really great news is that this is something that you don't need to pay for. There are tons of high quality recording solutions that you can use, whether it's an in person interview or if you're doing a remote interview and both people need to call into the call. So if you're doing something in person, perhaps you're just recording a solo episode yourself or you have the guest right there with you ideally you don't want to rely on an internet connection. You want to just record directly into your laptop or into your mobile device or into your phone so that you have that file and it's all done natively and then later you can edit it. So if you are doing it in person with someone, you can just connect your USB Mic right into garageband, which is where you might be editing ...
from. If you have a Pc and you can't have a garage band, then Audacity is a great solution for you. It's totally free and you can record your episode right into there. If you are using like a mobile device, there's tons of apps, voice recorder and free tools for you to just record a high quality file, which you will then take that mp three or mp four file and edit it in. So let's say you wanted to have a remote interview. Okay, there's a number of different platforms. The first one I'm going to talk about is anchor Angkor is something you might have heard of. They had a really successful acquisition earlier this year. They were actually purchased by Spotify. So Spotify is definitely getting into the podcasting game, which is really exciting because so many people already listen to Spotify for music. So in one click they can now do podcasts. What anchor allows you to do? It's really a one all in one stop solution. So you can record, you can edit, you can host and you can distribute it all in there. That comes with the pros and cons to be able to record two people into the anchor app, you both need to have the anchor app downloaded. So unlike some of the other solutions where you provide a call in number or you provide a link, this is something that you need to download ahead of time. So that's something you want to think about if you do have a guest that's coming on. Another great option is talk shoe. They're one of my partners there, Toronto based, they're really new into the game and they really want to make podcasting super accessible. They're owned by the same company that owns free Conference dot com. So what they're known for is high quality audio calls. You can record multiple people like 89, 10 people into one link and everyone can be recording all completely for free. You can have really cool moderating features where you can mute certain people and have a dial in and have your guests or audience. Sorry call in and different people join the call. So really interesting features. I definitely think talk shoes, differentiator and sweet spot is on the recording standpoint. Then you're going to look at something like zoom. Zoom is very familiar with people who are either in sales or do a lot of video calls. You'll often get someone zoom link and it's a great way for you to have um a video call set up but you can also use it for podcasts. So what's interesting about zoom is it can be free for you to use this feature. All of these options are free but you want to make sure your settings are turned on so that it creates two audio files for you. Okay. The default is to one. The last time I'm going to talk about is personally the one that I'm using for my remote interviews. So I've been using zen caster. I started out with zoom but to be honest there were a couple of times where me and my guests, we had a spotty internet connection and it didn't sound great. I switched to zen caster which is actually made for podcasting. It doesn't have a video element with the free option. However you can only have two guests. So it's really only good if you're interviewing one person. Everything is stored in the cloud. So your, all of your audio files are stored there that you can download later and you don't have to worry about them being lost on your computer and downloading them right away. And you can also have just like a nice customized link that you can send to your guests. You both join the call and you can download to separate files, which is really helpful for when you're editing. So those are the things you want to be considering when you are recording either in person by yourself or whether it's remote. Just remember that this isn't something that you have to be paying for. Okay, you can have a really quality podcast recording solution without even spending a dime.
Class Materials
Sam's Partnership Proposal
Course Materials (download at start of course)
Ratings and Reviews
Big Up's to Sam Laliberte, awesome course. I have been podcasting since 2020 and I took the course to improve my podcast structure along with my marketing skills and for sure it paid off. I learned so much in this course that I have been applying it to my podcast and how I promote the show. I highly recommend this class to anyone who is podcasting or thinking about it. Thank You Sam putting on the right track. Great tip on Instagram, thanks.
Student Work