State of Podcasting Part 1
Sam Laliberte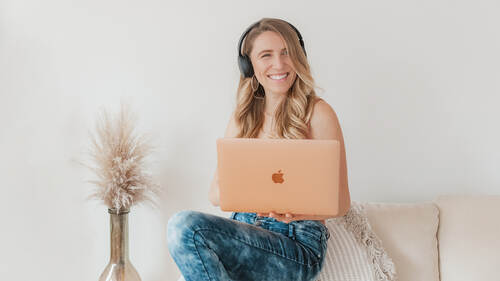 State of Podcasting Part 1
Sam Laliberte
Lesson Info
3. State of Podcasting Part 1
Lesson Info
State of Podcasting Part 1
So now we're going to talk about the state of podcasting. We are targeting the Edison Research data. They put out every year, a consumer podcast report and it's the most comprehensive, longest standing report on podcasting to date. So it's there's a lot of great information in there and I'll include a link to the 2019 report below this video. But I'm also gonna just discuss some of the key findings and how that's relevant to you and why you should even be considering this when you're creating your show. Some people are just curious about this information. Other people love to make decisions based on these insights. So I have something for both of you. So we'll start by saying 8000 new podcast launch every single month and this number is growing quite a bit. This is really due to the fact that it's so easy to start a podcast. Now, the barriers have lowered quite a bit. There's been some new technologies that will talk about in the technology side of this course that are kind of like all...
in one solutions, which means that anyone really with a smartphone or a mobile device of some kind can really record, edit and share a podcast. So by nature of that a ton of new podcasts are being made, some super high quality, some high produced, some super indie and really niche and it's great that for the first time ever, all of these niche creators have been able to come out and create content on their topic. It's a lot easier to do. So. So there are over 700,000 available shows to listen to. Okay, that's a lot. But if you really look at the numbers, only 18% are active, which means only 18% of these shows in the last three months actually released a new episode. So it's a lot of people experimenting, seeing if it's right for them playing around with it, but then actually not seeing it through. So there's a huge opportunity for podcasters to come in this space, to take it seriously, to create valuable content and to really stick with it and really show that you're committed to creating content for your audience and doing it on a regular basis. I always love including this stat in any of my workshop. So 70% of people in 2019 are familiar with the term podcasting. I always laugh at this because since launching my show a couple of years ago, I'll have ants or family members or friends run into me on the streets and they'll say, you know, sam like I'm so proud of you like, the podcast seems like it's going so well, I've been meaning to watch the videos. I always chuckle to myself because they have no idea what a podcast is, which is unfortunate. There's still a lot of mystery and miscommunication and misconception about what podcasting is and um who's the type of people that should even be paying attention to it. So more coming to that later, I will note that this information is us-based data. So they do a random telephone survey, it's quite comprehensive, but it is focused on the us market. So in the United States, 51% of people in 2019 have listened to a podcast before. This is the first year that podcasting has ever become mainstream. Prior to this, less than half of the population have ever listened to a single episode. Which is pretty crazy. Like 51 seems like a lot, but still, 49% of people have never even listened to their first podcast episode and we're gonna talk a lot about that throughout this course. And how you can really use that insight to market and think about collaborating with other podcasters and marketing and Really unique ways vs trying to compete with each other and capture those 51% of people who have ever listened to a show Because if you go further down the funnel, actually people who are listening to a podcast regularly. So every single month they listen to a podcast, this number is only 32%. So in the United States, that's about 90 million people are listening to a podcast episode every single month. And that number has been increasing as you can see from 2017, 2018, if you're watching this in 2020, I'm imagining the numbers increasing quite a bit. Still weekly listeners. I would consider that hyper listeners like me and you, I imagine I'm definitely a hyper listener. That's 22%. So the more into it, it gets, the less and less people are dedicated and loyal to this, um, which shouldn't discourage you, this should inspire you. There are a ton of shows, but there's a lot of opportunity to create really loyal fans and to get people really excited about your show and also to be the first show that someone ever listened to. So 22 million people are listening to podcast every week. But those people all had that first show that got them really excited and got them into podcasting. If you think about what that show was for you, you'll remember that first experience discovering your first episode from then. You probably discovered a few more shows. And then somewhere along that journey, you decided that you'd love to start a show for yourself one day. So that's 22% of people and that audience, they are listening to seven podcast episodes per week. So, again, rather than seeing each other's competition and trying to be one of those seven shows, we really want to think about how we can grow that pie. So that there's more and more monthly regular podcast listeners and that 49% of people is a lot lower. So you're gonna take a little break from this now and you're gonna watch a YouTube video. I did not create it, but I love it. It's all about that 49% and who these people are, and it's pretty funny. So go watch that before continuing on to the next part of state of podcasting.
Class Materials
Sam's Partnership Proposal
Course Materials (download at start of course)
Ratings and Reviews
Big Up's to Sam Laliberte, awesome course. I have been podcasting since 2020 and I took the course to improve my podcast structure along with my marketing skills and for sure it paid off. I learned so much in this course that I have been applying it to my podcast and how I promote the show. I highly recommend this class to anyone who is podcasting or thinking about it. Thank You Sam putting on the right track. Great tip on Instagram, thanks.
Student Work