State of Podcasting Part 2
Sam Laliberte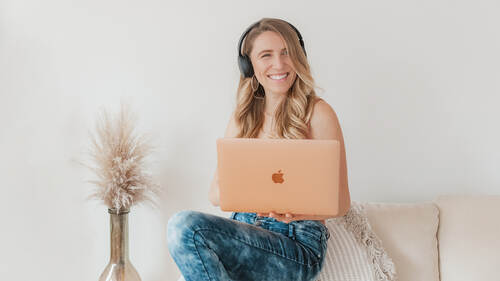 State of Podcasting Part 2
Sam Laliberte
Lesson Info
4. State of Podcasting Part 2
Lesson Info
State of Podcasting Part 2
pretty funny video, right? As you can see, there's still a lot of misconceptions involved in what podcasting is and who it's for people think you still need to pay for it or it's just for educational and learning purposes. There's also a lot of friction involved. People don't even realize that, You know, six billion Apple devices automatically have the Apple podcast app downloaded into it. And you can easily connect this now with bluetooth onto your airpods or the speaker in your car. So there is a technology barrier involved in a lot of friction involved in that. And that's really a similar issue that Netflix and hulu had when they were really trying to make on demand video streaming, a thing. A lot of people didn't think it was for them and it wasn't until shows like House of cards and Handmaid's Tale came out where enough people were talking about it and getting excited about it that the average listener became so curious with what netflix is that they were willing to do the work to...
watch their first show. So you really want to try to be the first show for some people and really try to together grow that pie and we're going to talk a lot about that in marketing and how we can make it easier. But a couple examples is if you've ever seen someone promote their podcast, they'll say, you know, find it on google, play Spotify, Apple podcasts stitchers pO'd being overcast, anywhere, podcasts are found, You know, that's really complicated for someone that doesn't even know what a podcast is and doesn't even realize they have an app in their phone for that. So perhaps just saying, you know, listen to my free show, you know, that really gets us off that barrier. That subscribe means pay. You know, that subscription term is also really confusing. So These are some things you want to think about is really targeting those people who have never listened to a show before and and decrease that 49% and and grow the pie. So some other interesting stats that came out from this report that I've specifically pulled is that 77% of people will click and listen to a show immediately. So there are people who are getting episodes ready for like a road trip or to work out and they want to listen to it later. Most people are doing it on demand. They are ready for a podcast show right now and you want to make yours searchable. So that's when thinking about a really smart title and using keywords in your title is going to be important as well as use like social media and having a blog perhaps for your podcast will be really important. So that people can just click and listen right away and you're not just relying on people to subscribe to your show and get your episode notification for every single one With that said, people who do subscribe to your show, their episodes will automatically be downloaded. And 47% of those people, they will listen to your show within the 1st 24 hours they'll listen to that new episode. So if you have 200 people subscribe to your show, you can count on your first day to have around 100 people who are going to listen to that episode every single time you release a new episode, most people are still not surprisingly listening to podcasts on smartphones or tablets and mobile devices. I know myself, I think it's been a handful of times I've ever actually listened to a podcast episode from my laptop and that's really when I saw it posted on social media or a friend emailed me a link and I was doing work on my actual computer and in that case I'll have a player like SoundCloud or something playing in the background. But for the most part I'm multitasking. I'm listening to a podcast while I'm doing something else and that's pretty consistent with the behavior that we're seeing in terms of where people are listening to podcasts most listening to it from home, you know, while driving that commuter life for, you know, cottage road trips in the summer. You know, it's great to have a podcast show on for everyone to listen to. That's really interesting while walking at the gym at work. Anything in there that's missing something that may be a place that you listen to your podcast. I had someone in a workshop stay in the bath, which is technically from home, but it's very specific and that's really when they like to listen to personal development more mellow, inspirational podcast during their zen, relaxed time in terms of who's listening to podcasts. Of course this market is growing, but technically speaking it is people that are more educated, more affluent and it is skewed slightly male where it got its name. It's actually kind of a nod to the ipod. So the ipod came out in 2000 and one and in 2000 and four is when podcast, the word podcast got added to the Oxford dictionary and it's a combination of the term broadcast and ipod. So podcast, which is interesting if you love the state and you love the stats, I really just pulled out the most important information that I think you should be considering when launching your show. You know, what is that behavior? Are people looking at it on demand and listening to it on demand? Are people doing it on the go? You know, who is the audience and how big is it? And how could you market to them in a simpler way. But if you love this data, there's a lot more in the report which I have included below this video as well
Class Materials
Sam's Partnership Proposal
Course Materials (download at start of course)
Ratings and Reviews
Big Up's to Sam Laliberte, awesome course. I have been podcasting since 2020 and I took the course to improve my podcast structure along with my marketing skills and for sure it paid off. I learned so much in this course that I have been applying it to my podcast and how I promote the show. I highly recommend this class to anyone who is podcasting or thinking about it. Thank You Sam putting on the right track. Great tip on Instagram, thanks.
Student Work