Podcast Analytics
Sam Laliberte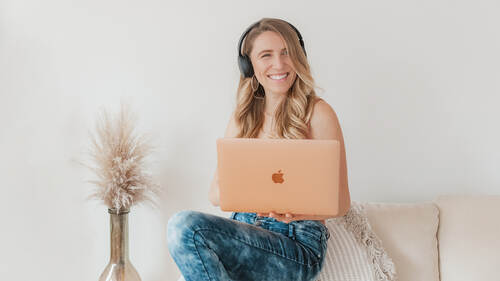 Podcast Analytics
Sam Laliberte
Lesson Info
24. Podcast Analytics
Lesson Info
Podcast Analytics
So now let's talk about analytics. You've launched your show, you've been marketing it but you want to know how well it's doing. I'm going to try to save you a lot of heartache and tell you do not just focus on the amount of downloads. Of course that's important to be paying attention to. But there's a lot more meaningful analytics that you really want to be looking at. Something that I really like that Apple came out with not too long ago. Is your average consumption rate? So for each episode, what is the average amount of the episode that people get through? Is it 40%? That's not very high, is it 80% or higher? That's great. You want to see that people are actually listening to your episode, not just starting it, but fully listening to it. Okay, Another thing you want to look at is unique listener. So is the number of people who are listening to your podcast on a unique basis. Growing each time. I would argue that these numbers are even more important and can really help you shape yo...
ur marketing or your content plan. So for example, if you have a really high consumption rates. So people are listening to almost the entire episode every time. But the number of unique people listening to your show every time isn't really moving, then you have a marketing problem. You probably have a really great show with great content people want to listen to, but you don't have enough people actually starting and listening to the show on the reverse of that. If you have a lot of unique people coming every time, perhaps you have great guests and they're bringing all these new people, you're doing great marketing work but your average consumption rate is really low. You probably have a content problem. That doesn't mean your show is bad by any means, but you want to dig into that, why aren't people listening to the full episode? You know, are you doing something at the beginning of the episode that's turning people off? Maybe you're talking too much, maybe you're rambling too much about something that's irrelevant, maybe you're not getting into the heart of the show, maybe you're not selling them on why they should keep listening. You know, you can put in teasers later in the episode of make sure you stay tuned to the end where this happens or make sure you stay tuned when the second guest comes in and talks about that. That's something that I really experienced and been experimenting with myself. My highest downloaded episode I have ever done to date other than like the first one and the one that I did with my boyfriend which is all about my personal story is one called Girl Bosses of Toronto and essentially I interviewed eight people in the same episode. Many little interviews and of course it was my most downloaded episode. I had all of these women down sharing it instead of just one guest. So that's something that I've been trying to do is have multiple guests now in each episode. Multiple people sharing it. It's a lot more work on the production side, a lot more to edit, a lot more coordination and timing of interviews, but it definitely shows up in the numbers. If you are really obsessed with wanting to know about analytics and how are your downloads going, I can give you some type of benchmarks which really just shows how big of a variance there is. Okay, statistics show that only half of the 700, podcast episodes that are out there Get over 200 downloads every single time. Okay, That's a pretty low number, I'm definitely getting more than 200 downloads per episode. You should be aiming for, you know 100 on your first episode in the first couple of days would be a really great start. I think that's a great benchmark for you. Knowing that Over half of the shows are getting less than 200 every single time. If you look further into those numbers of people who are getting those downloads, 5% of that 50% are getting 14,000 downloads per episode and then 1% of shows are getting 80, downloads an app. So it is a pretty big variants where it's 50% of people are getting less than 200 and then you know, 1% of people are getting 14 or 5% are getting 14,000 and then 1% are getting 80,000. So it's a huge difference. Really. Think about what other things that you can track. What were your goals for starting this podcast before. Did you want to have interesting conversations with amazing people? Are you doing that? Did you want to position your personal brand and thought leadership in a certain way? Is that happening? Did you want to sell products from your website or get more downloads for your e book or book speaking gigs? Are you doing that? Focus on what was your goal for starting a podcast? I highly doubt it was to get X amount of downloads per episode. You probably thought much more holistically about it. So always revert back to your why and be paying attention to that.
Class Materials
Sam's Partnership Proposal
Course Materials (download at start of course)
Ratings and Reviews
Big Up's to Sam Laliberte, awesome course. I have been podcasting since 2020 and I took the course to improve my podcast structure along with my marketing skills and for sure it paid off. I learned so much in this course that I have been applying it to my podcast and how I promote the show. I highly recommend this class to anyone who is podcasting or thinking about it. Thank You Sam putting on the right track. Great tip on Instagram, thanks.
Student Work