Final Thoughts From Sam
Sam Laliberte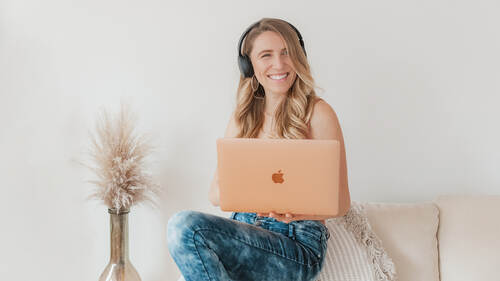 Final Thoughts From Sam
Sam Laliberte
Lesson Info
28. Final Thoughts From Sam
Lesson Info
Final Thoughts From Sam
you've made it to the end of the course. I'm so proud of you and I'm so thankful that you've trusted me with your podcasting journey and have brought me along on this experience of yours. It's been really great if you only knew how much work has gone into creating this course and just I've been taping this entire weekend. I've really put my heart and soul into this course for you and I really hope you got value out of it and I would love to keep in touch. I'm totally good for review or a share of your podcast with my networks. I've done that for all of my clients so far, so definitely stay in touch. I do want to leave you with a few final little tips and secret sauce that worked for me as well as an opportunity to continue the conversation if you're interested. Final little tips that really work for me when I'm promoting my episodes is I really think in multimedia, so I don't just focus on the audio clip. I, when I have the opportunity to be in person with my guest, we always take a ph...
oto. I'll do a facebook live in my facebook group and I really think about other kinds of content I can create from that one. Audio file, a really great tool is called headliner. It used to be free, but now you have to pay for it and essentially it creates like a short video snippet with like a wave file on it, and some text caption of what's happening in the video, you throw up an image and it's a great, like, high quality piece of video content that shows a small part of the, the interview. I can include some examples below, but back to some hosting providers that have great features, Buzz sprout. Does that for you for free? Well included in your hosting fees. So definitely look to make little videos that you can share with your guests, throw their photo on that. They love that. Think about pictures you can use to tell the story and really think in multimedia. Another thing that I've done really well is I have created offline experiences, so I wrapped up every single season with a live podcast taping I've done at Toronto. I partnered with, we work, I've been able to bring in some amazing brands who might not be ready to be a podcast advertiser because it is still new for some brands, but they know how events work and they're happy to sponsor that with no free drinks and free food or cash or prizes depending on what type of experience you're putting together. So think about if there's ways for you to connect with your online listeners in person, perhaps if you're going to be at events, you know, let them know you're going to be at events, encourage them to meet with you there if you don't want to put on your own events or even think about going on tour. You know, that's been my dream for a while as a digital nomad to bring my podcast on the road and if you follow me on instagram, I hope you do. I totally follow back. That's my plan. Over the next couple of years, I'll be traveling a ton and bringing my mic with me and hosting workshops and interviewing guests all around the world. So I really want to bring my brand internationally and I would encourage you to think of ways that you can go offline with your show as well. The last thing I'll say is be fearless if you are feeling nervous about hitting publish on your first episode, I want you to know I'm with you the week of my first episode, I was a mess, I was so like unable to sleep, I had such bad insomnia. I remember distinct time where my boyfriend was living in san Francisco, I was in Toronto and I called him at like three in the morning and I was like, I can't sleep, like I don't think I can release this episode. What are people gonna think of me? Is this even good my voice, I'm uncomfortable with this and I was so scared to put myself out there and I can honestly say, I'm so glad I did and now every time I release a new episode, I really don't think twice, you know, I'm used to the sound of my voice, I'm comfortable being uncomfortable and putting myself out there in that way and I've had enough positive reinforcement come in where I know people are responding to it, you get those comments of people saying keep it up, this is amazing, this impacted me this way and it makes it all so worth it. So definitely go for it. Be fearless. If you're feeling nervous, I was totally there too. If you do want to keep the conversation going and work one on one with me, I would love to do that. There's some type of people who this course is perfect. You know, they're going to rewatch episodes, they're going to take notes and when they go live they're going to reference them and they are good to go. There's other people though that want a bit more hand holding, that want me to be there with them, that want me to like coach them through recording their first episode, listening to audio files, giving them feedback, helping them set up their rss feed, reminding them how to edit the podcast. So if you do want more of a hands on experience, I'd love to continue working with you one on one, I do offer podcast consulting on an hourly basis, it's $100 an hour to work with me. But anyone who takes my course gets the fifth hour free, so for $ we can have 51 on one sessions or we can break them up into 2, 2.5 hour sessions, whatever works with you, but regardless keep in touch. Let me know when you go live. I'm totally going to promote the ship out of it and join my facebook group. You should definitely promote in there to thank you again so much for trusting me in your journey until next time, enjoy your freedom and happy podcasting, mm hmm.
Class Materials
Sam's Partnership Proposal
Course Materials (download at start of course)
Ratings and Reviews
Big Up's to Sam Laliberte, awesome course. I have been podcasting since 2020 and I took the course to improve my podcast structure along with my marketing skills and for sure it paid off. I learned so much in this course that I have been applying it to my podcast and how I promote the show. I highly recommend this class to anyone who is podcasting or thinking about it. Thank You Sam putting on the right track. Great tip on Instagram, thanks.
Student Work