Monetizing Your Podcast
Sam Laliberte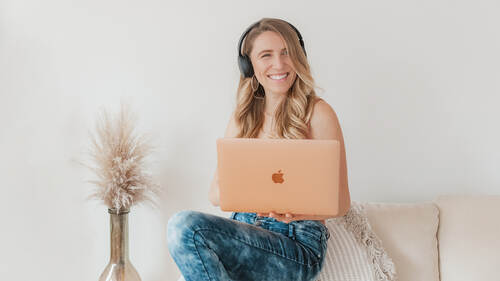 Monetizing Your Podcast
Sam Laliberte
Lesson Info
26. Monetizing Your Podcast
Lesson Info
Monetizing Your Podcast
okay, we're ready to talk about making money and how you can monetize your podcast, which I know is such an important goal for so many people who are taking this course. So I'm gonna make sure I share everything I know here and give you lots of different ways. You can do it inspiration as well as a step by step guide for what worked for me. The most common question I get asked when it comes to making money from your podcast is how long did it take you until you started making money from your podcast? So while there is definitely ways for you to bring on sponsors and attract money before you even go live personally. What I did was I waited until I was done season one, so I committed those first five episodes. I essentially did it with $0 budget, you know, I did it for my iphone, I hosted it on SoundCloud which had the first few hours for free and really, I was only putting my time into it. So I was okay with not making money yet. I was finding my voice, I was experimenting and I was rea...
lly discovering what I was building here. It ended up being something bigger than I thought. I had the first five episodes and I wanted to host a season finale, live podcast taping. I had never really seen a live podcast taping marketed before. I thought it was a fun differentiator as well as it would be a great way to bring my first five guests from season one together in a room with a bunch of people who had been listening and was inspired by their story and I could also connect with my listeners in a new way? So that first event is really how I started getting brands and sponsors involved with the freedom lifestyle. I used that as an opportunity to pitch my first few brands. I referenced five or a few times. They were my first sponsor, so they have a close place in my heart. I really appreciated that they believed in me early on and essentially that's what I did is I put on an event and from there I had built a relationship with brands who were familiar with events sponsorship, who maybe we're curious about podcast sponsorship, but it wasn't as common for them to do. They didn't have a dedicated marketing budget for that. And then I did what I do best. You know, I built that relationship really well, I over delivered everything I said I would do for them and then when I was launching season two, I then went back to those brands with some numbers with that built relationship and I brought them on for sponsors if you want to start making money right away, that's definitely possible. One of the things that I would tell you to do is if you don't already have audience data because you haven't launched, think about what other ways that a brand can um get their message through your network. So do you have a strong instagram presence, Do you already have a facebook group for maybe a community of built? Have you already built up an email list? Do you have a blog? What other kind of numbers can you give them and sell them on a multi touch point campaign? So don't tell them that, you know, they'll only have their ad featured in an episode of a podcast that hasn't even launched yet. Think about other ways that they can benefit before you've even launched. I think that's a great way for you to get sponsors early on as well as sell them on your vision. You know, really give them a marketing plan for how you're going to reach an audience in a creative way and how it aligns with them and it's definitely possible to make money before you even start. So going through the most common ways that people are making money from podcasting. The first would be through gated content. This would be, someone has to actually pay to listen to the content. There's a tool and a website called Patreon. You might have heard other podcasters reference it or other type of free content. People. Youtube creators were essentially, they're saying, hey, I want my actual listeners to pay for this and I'll do it in two ways. One, I'll give them this free content. So here's this free content gives you a taste of my style gives you a taste of the value I bring, but then if you join this premium membership where you pay, it's usually like a couple dollars a month. But then you can tell them okay for part two of this episode or for something that I'm not releasing on my regular show. You have to be part of this membership program and they pay a fee. They can either pay per episode or they can pay a monthly fee to have access to all of your content forever. So pay to listen is a way that you would actually charge your listeners as a way to make money from your podcast and as a creative the next would be affiliate marketing. So in order to be successful with affiliate marketing, you really need that volume. You need people who are listening to your show, who are going to be able to click through something essentially affiliate marketing is when you have a trackable link that a brand will give you, that you can place in the description of your podcast. You can include it in the email newsletter to promote your podcast. You can include it in the blog post that you use to promote your podcast. Really all the same channels that you're already using to promote your show. You would essentially recommend a product within that description. Have a clickable link. And if anybody who clicks on that link purchases, you can get a percentage of that sale. There's also different affiliate marketing programs where you get paid just for driving traffic. So lots of options there. But really to make money there. You already need an audience. You already need people who will actually click on that and convert, but it's a great way to not directly pay your end consumer. For me, that was something I never wanted to do. That's why I've never done gated content. I really wanted to provide inspiration for these freedom seekers who I felt so badly needed to make that career change and I really wanted to charge the large brands, you know, who wanted access to this audience and that was the, the route. I went on the note of affiliate marketing. There is something called gross sumo. They actually just rebranded to partner stack. But what they have is they have combined several different brands who have offers like this. So for example, Quickbooks is an accounting software, you can get $50 for every person you refer, you know, fiver has something like this, Shopify has something. So honestly just search your favorite brands and search the word affiliate marketing. Almost every forward thinking innovative company is doing this now. It's a great proven sales channel. So if there is a way that you want to make money, um, it's definitely possible and ideally you're creating content around that specific brand sponsored ads that would be back to what I've done, right. So I've essentially gone after brands myself, there's been a handful of times where brands have reached out to me to ask to advertise on my show. But honestly, those are always the ones that aren't the great fit, right? That's when you're trying to fit something in because you want the money, the most authentic, the most exciting. The most real way to get value out of this and create relationships with these brands is honestly to go after them yourself, which can seem kind of intimidating. And I definitely credit my sales background for feeling comfortable just finding people on linkedin, pitching them on, getting on a quick discovery call with me to tell them what I'm doing. Ask them a bunch of questions about, you know, their marketing strategies, what they're promoting right now. Have they ever worked with podcasters before? Was that successful? Why was successful? Why It wasn't? And then I usually follow up with a very customized quote of how they can be on my show and it will check of course, all of the boxes of things that they said they're looking for. So that's been my style for that though. You do need some volume. I don't think you need as much as People might expect. If you Google average advertising rates for podcasting, you'll see an acronym that I absolutely hate. It's called CPM. It means cost per 1000 impressions in podcasting. It would be downloads. It can be low as like $30. So For every 1000 listeners you'd only get $30 that's a very discouraging number when you're first starting out and I can tell you I had much less listeners than that when I started making money from it. And the reason why I was able to get around that is because of the second point on the screen is I knew my niche, I knew my listener really well, I knew who they were, I knew who they cared about and I targeted brands who was really going after that audience. So the more you can do to prove that, you know who your listener is, you know, pay attention to your analytics, survey your audience, like really figure out who that ideal listener is and go after brands who was targeting that listener and tell a story around that and put a price around that again, think about multi touch points. I never just sell and adding my podcast, I sell an instagram shout out facebook group, shout out email newsletter, a back link on my website. It's very much a holistic partnership and brands will respond well with that. Even if you don't have thousands and thousands of downloads on every episode, the next one would be like a pay to play model. This would be essentially you're producing podcasts for people. I've done this a couple of times. I was kind of just experimenting. I get so many people reach out to me who say, hey, you know, I'd love to be on your show, Here's our brand, here's why it's relevant to your freedom seeker community. And lately I've been just trying to push back and say, okay, do you have a budget for that? And I've actually produced a few episodes for brands, so I put a price on what it would cost for me to interview their founder and feature them in all the different ways that I've done for other brands and people respond well to that. I think at the beginning I just said yes to a lot of people. I, you know, wanted them to be on my show. The brand sounded great, but if they're going out of their way to pitch you, you know, they might have some budget behind it and you might be interested in producing episodes, of course you have to enjoy producing the episodes right for you to start making money from that. Sometimes entrepreneurs or business owners are looking for new, unique ways to get their story out there and so they'll pay to be on your show if you really enjoy the production side, this could be a really great lucrative way for you to monetize your podcast, another option would be to create a brand around your podcast, you know, with any type of brand. If you can really create something that's recognizable identifiable that people want to be associated with, people will pay for products around that. You know, I found that in the first business that I had, I had a social enterprise retail brand and we had a really strong emotional connection with our customers where our product was all about saving animals and they loved that and you know, they wanted to identify as someone who supported saving animals, so they were happy to buy our products and rock our logo and that definitely has worked really well in the retail world. You're starting to see it with podcasting where people, you know, will rock like the serial show logo on stuff and the notebooks and start up is a podcast that I really loved by Gimlet and you know, they give out bookmarks and that's something that I rocked. So if you can create some type of brand around your podcast, then you can start creating products. Something that I tried. It had medium success was I did freedom lifestyle journals, I sold them on my website and that was something that I could also give to my guests as a nice giveaway in addition to creating a little revenue stream there from that as well. The last point I made here is selling your thought leadership. So back to the why behind launching a podcast and some of the benefits that can come from it is you can really use it to position yourself as a thought leader as an expert on a specific topic. If you can do that, you can start, you know making fees from consulting if that's a goal for you. I've become a podcast consultant and I've worked one on one with aspiring podcasters. I've also, you know, positioned myself as an expert in organic marketing and brands have brought me in to advise on special projects related to getting their content marketing in front of new audiences. So really, if you can use this platform to position yourself as an expert on a topic, that's totally another revenue stream that you can make from this. The last little slide here is some really funky tools, So Patreon is what I was talking about earlier where you can have a paid membership site, create exclusive content for your fans. The next one is Dynamo. This is when you're using dynamic advertising, which is a fairly new form of advertising, which essentially means that the advertisement will change. So when someone listens to an episode on thursday, maybe they listen to it three days later or from a different city, they'll actually receive a different ad fed to them, which is pretty cool based on their location and making sure that the ads are always current or not promoting something irrelevant. So what Dynamo does is it actually brings the brands to you and it takes a lot of that work out of it for you so you don't have to actually go after the brands, a couple other tools that do that are mineral and tippy, you should definitely check them out and I'll include some links
Class Materials
Sam's Partnership Proposal
Course Materials (download at start of course)
Ratings and Reviews
Big Up's to Sam Laliberte, awesome course. I have been podcasting since 2020 and I took the course to improve my podcast structure along with my marketing skills and for sure it paid off. I learned so much in this course that I have been applying it to my podcast and how I promote the show. I highly recommend this class to anyone who is podcasting or thinking about it. Thank You Sam putting on the right track. Great tip on Instagram, thanks.
Student Work