Class Introduction to Adobe Photoshop CC
Daniel Walter Scott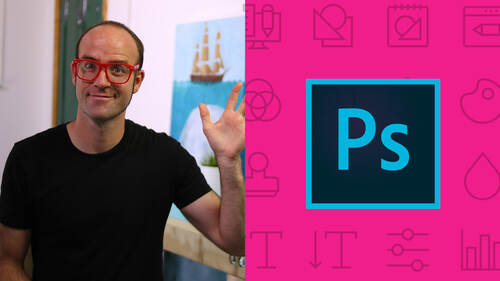 Class Introduction to Adobe Photoshop CC
Daniel Walter Scott
Lesson Info
1. Class Introduction to Adobe Photoshop CC
Lesson Info
Class Introduction to Adobe Photoshop CC
mm hmm. Hi there. My name is dan and I am an adobe certified instructor for Photoshop and this is the Photoshop fundamentals course. This course is for the beginnings. You don't need any previous knowledge in Photoshop photography or design. Now I've been a freelancer on and off for about 18 years now, so I know how important it is to make sure your skills and workflow are as efficient as possible. I'm partnering with fiber in this course. I love what fiber have done for freelancers like me. Our industry has changed so much and fiber has been a really big part of that. Now this is the Photoshop fundamentals course. So it is aimed at people with little or no experience in adobe Photoshop, you'll learn the Photoshop Secret Source where we can magic up more background or completely remove objects and people from images. You'll learn how to easily enhance images, correcting the light and the color. You'll know how to add, remove and change colors in an image. We'll select well mask and we'...
ll combine images. Then we'll work with text. We'll also add logos that we can create beautiful flyers and posters plus some banner ads. We'll make our own graphics using simple techniques to create graphics like this from scratch before the end of the course, you'll have the skills to mask anything, including the dreaded hair. Using those amazing new masking skills, you'll be able to clear cut images and start playing with some interaction with things like the type in the background. You wouldn't be complete as a Photoshop user without the solid retouching skills. We'll learn here together. We'll work through lots of popular visual styles and learn the tools and tricks necessary to make them easily. There's my favorite section where you'll learn how to distort, transform and manipulate images and finally any good Photoshop user should know how to put an island side of a box. Throughout the course. I set lots of projects so that you can practice while you're learning. The goal of this course is for you to get the most out of fiber lifting your skills to give you an edge on this amazing platform. So if you're ready, I'm ready. Let's get started with the Photoshop fundamentals. Mm hmm.
Ratings and Reviews
Adobe Photoshop Fundamentals is very useful for a photo editor. I learned very important tricks from this course.
Student Work