How to Export Images from Photoshop for Print Web & Social Media
Daniel Walter Scott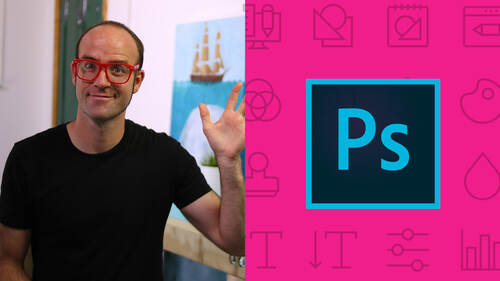 How to Export Images from Photoshop for Print Web & Social Media
Daniel Walter Scott
Lesson Info
93. How to Export Images from Photoshop for Print Web & Social Media
Lesson Info
How to Export Images from Photoshop for Print Web & Social Media
Hi there, this video, we're going to look at exporting a few different ways. Okay. We're gonna look at print and then we're gonna look at social and web and then we'll look at exporting for other adobe products. Okay. You're sharing it between your photo shop document between say illustrator and design Aftereffects. Let's start with print. Okay, let's say we we made this earlier in the course. Okay. And we want to get this out to our printer. Best way to give it to them instead of a jpeg is something called a pdf. I don't need to explain. You probably know what a pdf is but to get it out of Photoshop, go to file and we go to save as it's a weird kind of place for it. Okay. And down here we want to find Photoshop pdf. I'm gonna stick it onto my desktop. I'm going to give it a name. This is my All stars. I put the date backwards often when I'm sending things out. So if there's any amends, it's got some sort of kind of code on it so I know which version is what and which version the amend...
s were made to. And the nice thing about this, I'm going to click on safe. It's going to freak out a little bit. It's going to open up a pdf document. All you need to do is set it too high quality print and turn preserve Photoshop capabilities off. You turn this off because basically with this on, it's just a Photoshop documents not really ready for print. File size is huge and it keeps in the pdf lots of detail that the printer just doesn't need. So let's turn it off. Let's click save pdf and that now on my desktop should be on my desktop, all stars pdf. It's small enough. You can see it's only 1.7 megabytes and that can be sent to a printer. Now let's say I want to send something else to print but I just want instead of a pdf they've asked for a Jpeg. Okay, this is pretty easy. I'm gonna do it to this option we've got here. We made it, I want to send it out to my printer and that is one a J Peg When you go for a print jpeg it's different from a web jpeg. They have slight variances, they look the same but one has a lot more data. Like this one here is gonna have a lot more as a print document. So to do it, let's go to file save as okay. And in here let's pick jpeg. Just the Jpeg won not only the other fancy ones, we just want the plain old J peg. Let's stick it on my desktop and I'm going to call this one bottle island and if you don't like the dates backwards. Just a V one V two works just as good. Now if this is going to a printer, say I'm a photographer and I've got this looking perfect. I probably want to crank this up to as large as far as I can. It's gonna make the file size bigger but it's going to retain a lot of the quality that I've done and put into my Photoshop document. Okay so pdf is the all round just send a pdf? It's easy, it's email. Herbal. The file sizes are small and what you don't know is that it still retains a lot of the vector that's in some of say the logos and text. So it will print nicer. But if you're just have image is a Jpeg will print just as good because there is no vector. There is no logos and text to keep that crisp edge on as long as when you're saving that Jpeg you use the file save as not the file export save for web or export as which we'll do in a second. And just make sure that quality slider is dragged to the top. Okay so that's the print. Let's look at going out for social or web. So we've got this object here and we want to send this out to our website. Okay. And they've given us a specific size we need to use We looked at this before we're going to go to image, we're going to go to image size and at the moment it's it's way too big. It's becoming quite a big file and it doesn't need to be this big. It's just way too big. So I'm gonna make it, they've asked for it to be no more than 1500 pixels wide. So I've switched into pixels put in this with I've clicked Okay now I want to save it as one of two options. Okay, if I want this background in it's going to work best as a Jpeg. Jpeg are great for quality and they keep the file size really small. The one thing they don't do though is transparency. If I want this background off and I want just the model on a transparent background. This only happens generally when you're going to a website and they want they want to be able to see through to other parts of the website. This kind of part to be invisible. So let's look at both. So with it on, let's go to file export and we're gonna send a Jpeg but we're going to do it the proper way for web. Okay. We're gonna use the export as it doesn't seem as exciting as safer web but export as has some nicer features. Let's go to export as the cool thing about export as is that, you know how we went to image size and adjusted it. We could do it in here on the fly, we don't have to do it that way. I just showed you that was a waste of time. Okay, we can do it here. Keep the original at the big size and just adjust the size on the way through. We can pick a pig. The nice thing about this Jpeg is that it's different from a print one mainly because it excludes some of the data. That is only needed for a printing document, not for going online. So the far size is going to be smaller. Then it's up to the slider here on your quality. Whereas it went to print, we're not too worried so much about file size because we're probably emailing it or sticking out on the USB stick so we can keep it quite high but we're going to a website, they want it as low as you can go. So what you want to do is down here be at 100% and then just go as low as you are willing to go watch this. I get down to like 2%. You might zoom in one more because you can see it's starting to do all that yucky noisy stuff. Okay so how high do I need to go? It's up to you and like what you some images will go quite low and some images will have to be quite high before they start looking bad. This one here is a professional photograph both of them so I can go quite low. So I'm gonna go out to 100%. It looks pretty good at 40%. The file size over here is tiny, it's .1 MB. So I'm happy with all of that. You don't need to worry about anything else here, click export all give it a name. I'm going to my desktop, This is going to be my here 01. It's gonna be my Jpeg and click save and that's the Jpeg version. Let's say that I want to do the transparent version. So J pigs just don't allow transparency. We go to the same place to export a PNG file, export export as and in here you can see it's defaulted to Jpeg. You see it just fills in the background with white, that's not what we want. We want this one here called PNG and as long as transparency is ticked, you can see you get that kind of invisible checkerboard looking thing. Same thing is, remember the width that I've got it down to 100 pixels. I'm going to click export desktop. This one is going to be called here too, click save. Jump to my desktop and I'll show you those two files, it's on my desktop, there's hear one and here too, can you see the file size different? The PNG is about twice the size a little bit more. Not a big deal unless you're running a website and if you're putting that on my website I wouldn't be happy because that's nearly half a megabyte. It's Ginormous. But if I wanted the transparency and I needed it 1000 pixels. This is something I have to live with but jay pigs are smaller but don't have transparency so you might have to decide most of the time. You're probably just kind of using J pegs but there'll be the occasion that you'll need a PNG. Another thing you can do is straight out of Photoshop is there, is this option at the top here called share. So I've got my image here, see this little option here. You might not have it if you've got an earlier version of Photoshop and share the image. Okay. You'll have to, if it's really big, you'll have the option of getting down to small and you'll have to log into these different accounts for me. I love instagram for this type of sharing but for some reason it's not there. I bet you, by the time you're watching this video it'll be in there. But you can do cool things like I can share it with my email, I can share it with twitter and facebook straight out of Photoshop and basically it knows what to do and gets the very best out of it for those different platforms. There's a little sneaky trick. Let's look at the last option here where we are, we've made this Roomba, it's got different layers, we've got the girl on the front there, got the text behind it and I want this now to go into an in design document. So instead of saving out a pdF or a jpeg or a PNG. It's best just to save it as a PSD You don't have to save it at all. I'm going to save it to put it on my desktop so savers onto my desktop. It's still going to be a Photoshop document so it's going to be called Solvay one. Save, maximize compatibility. Perfect. So I don't actually do anything. I just leave it as the working Photoshop document then in in design let's say this this cover that I want to replace. It doesn't make a whole lot of sense. This is from the in design course I've gotta in design course if you want to jump in and do that as well. But what I'm gonna do is I'm going to go to file, I'm going to go to a place which is in designs import. I'm gonna find my desktop and I'm just going to use that PSD that. I was working on solving one open. I'm going to click hold and drag it out. It's totally not appropriate for this cover, mainly because it's to do with gardening and now I have a kind of a landscape image to go into my cover here. Let's say that I decide that that's perfect for me. That's exactly what I needed. I'm going to right click it. I'm going to arrange it. I'm gonna send it to the back. I'll delete this original one I had in here. Let's say I've got my image in. I've been working on Photoshop for the cover. But now I need to put it into this longer document you can see in design has a few different pages here. The reason why you just keep it as a PSD is that in design will keep that link and then when you do adjustments in Photoshop. So let's open up Photoshop and it's decided we're not using the text now we're going to hit save back into in design and and in design under the links panel there's this little asterix here that says caution, double click the update double click and it updates step back in Photoshop we want the text but we're going to change the wording dang because like writing my name all the way through this course. Okay, gonna save it back into in design and this one here that will click to update and there's the joint down in the background. It works the same for most other rW products illustrator you can go to file place and put in the same PSD after effects you can bring in illustrator. I've already said illustrator premiere pro adobe xD muse rest in peace. Just use the PSD is the easiest kind of inter application format. Alright, so that's kind of a brief roundup of the ways of exporting out of Photoshop. You and me are getting close to the end. There's a few more videos hang in there. I am just a couple more than green tea time
Ratings and Reviews
Adobe Photoshop Fundamentals is very useful for a photo editor. I learned very important tricks from this course.
Student Work