How to Copy from One Image to Another in Photoshop CC
Daniel Walter Scott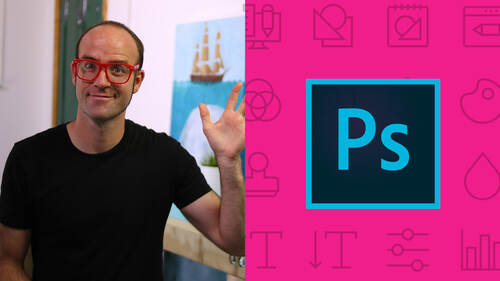 How to Copy from One Image to Another in Photoshop CC
Daniel Walter Scott
Lesson Info
29. How to Copy from One Image to Another in Photoshop CC
Lesson Info
How to Copy from One Image to Another in Photoshop CC
Hey there in this video, we're going to take this teacup at the storm and have storm in a teacup. It's a couple of quick selection techniques using the marquee tool in adobe Photoshop. Let's go and do it. All right. First up, let's go to file. Let's go to open and in your exercise files there's one called oh five selections. Open that up. Okay. And open up marquee tool. 01 and 02. Thank you royal pixel. Let's click open. So we've got this kind of storm video and we've got this teacup. Yeah, I know they have nothing to do with shoes. I've got this shoe theme going right. But to showcase these two tools, I had to make a storm in a teacup anyway, so what we're gonna do the name of this project? Well I guess the project that we've been given is we need to make an instagram post. It needs to be the square format and we need to combine this this and into a post ready for instagram. So an instagram file new. We're going to create a new document. This is the way I prefer working. And over here...
in an instagram post double check this at the moment. It's 10 80 by 10 80. Okay, so 10 80 pixels by 10 80 pixels. It's a square post. Don't worry about resolution, make sure it's on RGB but that it should be like that for default. So copy everything that I've got here and click create. So let's go to this oh one tab and let's first of all use the tool, the rectangle marquee tool. So it's the second key down. If you can't see it, you might have to click hold hold hold okay? And grab this top option the square one. Mhm. And all we're gonna do is we're going to drag out a selection like this. Okay and copy and paste it but because it's going to be square for instagram, I'm going to go to select de select and what key do I hold down my keyboard to constrain the proportions, make the height and width the same. That's right it is shift. Okay so I'm gonna hold shift anywhere about here and drag out. You can get it to kind of where I want now, you can move the selection afterwards. Okay. So I'm holding nothing down still on that market too and I can just move that selection to like find. It's kind of like I don't know how I want it to be centered. I kind of want I'm not even sure how I want it but that's how I'm going to do it anyway. So I've got this but here I'm going to go to edit copy. Okay. And I'm going to jump to this new document that we've created. It's called untitled one at the moment. Let's go to edit and let's go to paste. Okay so it's a little bit big. So we're gonna use you edit, transform scale. Okay Or remember our control T on a pc or command T on a Mac. Okay hold down the shift key again on the corner, drag it up. Okay I'm gonna get mine close enough and hit enter on my keyboard and that's gonna work for me. Okay so that's a rectangle marquee tool. We've done a square, you can obviously use it for any type of rectangle. Let's look at the next one marquee tool to. Okay and we're going to use this tool, hold down the rectangle tool and grab the elliptical marquee tool like the rectangle marquee tool. I can drag out any old ellipse. Okay. Long small thin tall. Okay but what I'm gonna do is go to select the select and I'm gonna hold that shift key down again to get a perfect circle. I'm gonna drag it out big enough. I'm not too worried I'm gonna move it because I want the kind of eye of the storm in the middle there and then I'm gonna go to use my shortcuts. Okay you can go to edit copy. So I'm just gonna use command C on a MAC Control C on a Pc, jump back into my instagram post and hit paste. Okay or edit paste. Alright let's scale this one again. Command T. On a Mac. Control Tianna pc hold shift to get the corners to do what you want and make it look like there's a storm in a teacup. Okay And what's going to happen is you're gonna have to I'm holding command T to kind of resize it and moving it at the same time, okay? By dragging it anywhere but that target. Okay. Um so I'm gonna get it kind of close. Here we go. It feels okay when I get it where I want it to be. Now, if you're finding it's kind of jumping around, can you see it's just those those smart guides repairing those pink lines. Okay. If you're getting it close, remember we can use our keys on our keyboard. So I'm just tapping my down key down arrow on my keyboard a little bit left and you can just use that as kind of like fine fine adjustment, hit enter and that my friends is a storm in a teacup. Now, if you are a kind of a seasoned Photoshop user and you're just kind of refreshing yourself if you're thinking why didn't you do a layer mask or why didn't he blur the edges a little bit? We'll do that in an upcoming video. Okay? But for the moment, yeah, we're using the tools and the skills that we've got. Okay, so what I want to do is let's save this now and I'm gonna send you a little project. So let's go to file save. I'm gonna save mine onto my desktop and this is going to be my storm and a teacup. I always call it V. One, okay for when we do adjustments, so the client comes back or I adjust it. Okay? So let's save, maximize compatibility. Remember that's just there to say that the file size gets a bit bigger, but it means that older versions of Photoshop are likely to be able to open this if you are trying to keep the file size small. Okay. And take that, but it might mean that if you send it to someone and opens it up in an old version of Photoshop, it might not work as well. Great. So your project is, it's gonna file, let's go to open and your exercise files. Oh five. Okay. There's marquee tool three. So I've given you the kind of base here. Okay, so this one's from Bridget. Thank you very much. You can go check her out and splashed for other photographs. But what I want you to do is go and find another thing for the center here. Doesn't have to be a storm. Okay, but go to something like unspool Ashour, find google images. Find something that you're allowed to use if you have access to a stock library site or slash is a good place. Another one is free images dot com. I can't think of any else off the top of my head, but go find an image and see if you can put something in a teacup. It can be a storm. It can be anything you like, but I'd like you to make it a square frame. Okay. Like we did in this whole tutorial, So square with something inside of it using the elliptical marquee tool and I'd like you to share it. Okay, so post it on the projects here on this page or on social media and instagram it's bring your own laptop. Tag me in it. I'd love to see what you do or on twitter. I am dan loves adobe. Alright, friends go have fun with this one and I will see you in the next video.
Ratings and Reviews
Adobe Photoshop Fundamentals is very useful for a photo editor. I learned very important tricks from this course.
Student Work