How to Use Layers in Adobe Photoshop CC
Daniel Walter Scott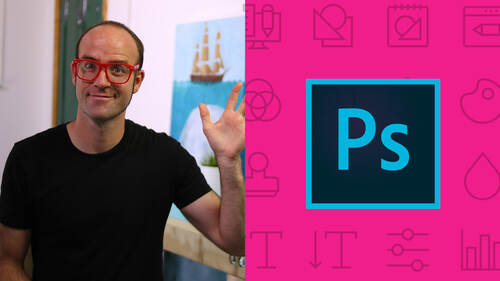 How to Use Layers in Adobe Photoshop CC
Daniel Walter Scott
Lesson Info
3. How to Use Layers in Adobe Photoshop CC
Lesson Info
How to Use Layers in Adobe Photoshop CC
Hi there and welcome to the first video. In this video, we're going to look at how layers work in Photoshop. It's quite fundamental as our bonus will learn the super quick auto fixing photo features in Photoshop okay, They're called auto tone contrast and color. And what it'll do is it'll help us really just understand layers properly. Okay, you can see my layers over here and you can see my super awesome adjustments. Alright, let's go and do that now in Photoshop. Okay, first thing to do is open the file we're going to be working with, we can do that under a file and go to open and what you're looking for is the exercise files you've downloaded. Okay. And then find a folder called 01 layers. Open that up and inside it there there should be one called layers dot jpeg, click on that and then click open. Alright, so remember this video is going to do a couple of things, it's going to show us how to use layers, which is quite fundamental to Photoshop but it's also going to introduce, it's...
one of the kind of most easy photo adjustments you can do in Photoshop. It's using the automatic features. So we're going to learn both of those. So first thing we need to do is we need to make sure we can see our layers panel. If you can't see it, go to window and make sure there's a little techniques. Two layers even I can't see it there it is. Okay. And make sure he's open and you'll see background and what I'd like to do is instead of just like changing this version here, I'd like to create a duplicate of that layer so that I can make an adjustment and then kind of see the difference between the original and the updated version. And that's a really common thing to do in Photoshop to do that. You right, click the word where it says background and say duplicate layer. Okay, now this window appears and what we'll do is we'll give this a name. Okay we're gonna call this auto tone. Let's click. Ok. Now what's happened here? Can you see down here in my layers panel? Nothing really visually has changed on our screen. But you can see down here I have two layers, one called background and one called auto tone. They're both looking the same. What I want to do is do this automatic adjustment and you can kind of tell you which one you got selected. Kind of goes a lighter gray to have that selected and go up to image and we're going to use auto tone. Cool. Huh? Okay. So it's one of the really quick easy things you can do open up an image and if the like our original there, if the lights and the shadows and the mid tones are all quite nice. Okay. This automatic feature will go and adjust them. Okay, so that's auto tone. So what we really came here though is to learn about layers. You can see at the top here, it's a little hard because it's kind of small but you can see auto tone, you can kind of see the icon or the thumbnail here has changed this newer version, but you can also see the background, has that faded out version? And what we can do imagine you when you're looking at layers, you see the top one first, you imagine you're a bird flying above and you see this one first and it's blocking out the guy underneath to turn this top one off and make it invisible to see the background. See there's this little eye icon here, just click on him. Okay, and now that one's completely can't be seen completely transparent and you can see the background underneath. It's just a good way to turn this eye on and off to see whether you've made a good adjustment or a bad adjustment. Okay, you can go back to that original, you haven't wrecked the original either. You can always go back to it if you like. The next thing I want to do is let's turn off the eyeball on auto tone. Let's click the background layer so it goes this lighter gray and let's duplicate it again. So right click, go to duplicate layer. Let's call this one auto contrast. So we looked at automatic tones. Okay, that's one of the automatic features and we're gonna go through the other two that are quite useful. Okay, real quick and easy as well. So we've got this kind of faded out version. Let's go to image. You can see we've done tone. Let's do auto contrast. Now this effect is definitely better than the original but probably wasn't as good as auto tone. You can see over here in my layers panel. I've got auto contrast. Let's turn the eyeball off on it so we can compare it with the original. You can kind of see this layer stack here. This one is invisible so I can't see it. I can turn auto contrast off to see the background. Okay. And but if I turn on the tone back on, I'm like yeah, for me personally, it's hard to see. I guess when you're watching these videos because color depends on your screen, but you probably notice auto tones are nicer one. Let's look at the last option and compare which automatic feature. We like all the walls getting used to layers. So I'm gonna turn the top eyeballs off and have the background selected. Right, click it, duplicate layer and this one is called auto color color even. Okay, let's cook. Okay, go up to image, let's go to order color and pretty good. Looks pretty close to auto tones. If I turn auto tone on and off, depending on what resolution you are watching this video and you might not see very much of a difference there, A little slight differences. Just kind of maybe tonal range ones, a bit more auto tones, you've gotta a warmer feel to it and auto color is just a tiny green tinge to it. So a couple of things we've learned is let's, let's kind of finish off layers and then we'll talk about these adjustments and where they're good for. So in terms of the layers, what I'd like you to do is practice turning on, let's say I wanted to just see auto contrast. Okay, so I turned this top one off. Let's see. One of the things, I guess I'd like to ask my classes when they're alive is like, hey guys, I'm turning auto color on and off. Why? Why is nothing changing? Okay? And everybody goes, yeah, we know dan. And eventually somebody says it's because this one's on top. Okay. And I just, we're just getting used to this, we're getting started. So okay if you, you can play around with all of these guys underneath and nothing's going to happen because this guy's on top and he's blocking the view of the other things. Now, two other things before we move on from layers is that you can change the order of them. So let's say that auto, you want auto color at the top. What you can do is grab auto color by clicking holding and dragging the text here, drag, drag, drag it turns into like a little fists like he's grabbing it and then you'll see a little blue line appear there it is. So that'll that'll drag it just above contrast if I keep going another little blue line up here. If you go crazy it gets lost. He's got to kind of drag and just keep an eye out for those blue lines. So at the top there means water colors on top. Let's say I want auto tone on top. Let's say what a contrast on top you get in the swing of it, you can drag it down, you can drag it up just looking for those blue lines. So the last thing I'd like to mention about layers before we move on is background background special. So when you open up a Jpeg or PNG okay often it's called background and one of the big things is that it's locked. The trouble with that is like it won't do it. Okay. Okay. It doesn't like it. So what we need to do is we need to give it a name. That's the best way to kind of play around with the lock here. Okay or remove the lock. You can double click the word background. Okay and up here you can give it a name. I'm just gonna call mine original. The cool thing about that is that the lock has been removed. I've never in my life gone man, I wish that locke was on there. It's always just a pain. So if you're finding like it's a bit weird, it is a bit weird I don't know, it's just one of the things. Okay, so called it original. Now I can move to the top and do what I like with it. We'll bring it up here because it's going to come more and more important as we go through the course is something that you just can't do the background because it's locked, you can lock it again by clicking this lock icon. We never want to, but that is it for layers. Now, what I will do is, let's turn off the original is these three here. I don't want you to leave this class thinking auto tone is always better. Okay, It's not always this is kind of doing later on in the closet. You look at levels. This is what this is trying to do. Auto color is dealing with the hue and saturation. They're just doing it automatically. And the thing is if this was a different image, you might find because in this case auto contrast didn't do a great job right? You might find that it's actually absolutely perfect for the job that you're doing. So I find the auto features, it's really good when I'm I don't want to do amazing photo retouching. I just wanted to be better. Let's say I'm uploading photos to my facebook or business web gallery and I just want them to be better. Okay, so I'm gonna open up Photoshop smash away at auto tone because I figured out that was the best one for my kind of photo shoot and then just keep doing it and saving them so I don't have to go through and do any kind of hardcore adjustments that we're going to do a bit later. Okay, so just quick and easy, but don't think auto tone is better than order contrast. It really depends on your images. Alright, last thing we'll do is we're gonna save this file. Okay, So we're gonna go to file and hit save and something strange is going to happen. It's not going to save it. It was called layers dot jp, you can see in the top left here, but because we've added layers, this is a specific Photoshop feature JJ Pegues can't have layers, so it needs to be saved it as a different format and photoshops clever and says you need to be PSD Now, if you're on a Mac like me, yours might look like this, that's fine. But see this little icon here, it's just better if it's opened up. Okay, I'm gonna make mine a little bit smaller as well if you're on a pc, it's already open. Okay, so on a Mac, just click that to open it up, you don't need to change anything. We're gonna call our layers dot PSD. And all it means is it's going to be very similar to last one, except it's got this little bit here. The file size is going to be a bit bigger, but it's great because it's got all these layers that we can go and turn on and off later on. So let's save it as layers dot PSD and click save. Now this pops up, we might as well cover this here, maximize compatibility. This is always on. You never want. It just means that this is likely to open an older versions of format. So sorry, older versions of Photoshop. So if you're sending this to somebody who has CS six or CS five, it's more than likely going to open the file size gets a tiny bit bigger. But it's not worth turning that off to save the file size because yeah, it just means somebody might not be able to open up. You can click Don't show again. I can't because I am a trainer and I need to show this to everybody that's new. It's a pain in the bum. Okay, but let's let's just click OK and ignore that. I'm not going to mention it again for the course. Alright, let's go to file close and move on to our next video
Ratings and Reviews
Adobe Photoshop Fundamentals is very useful for a photo editor. I learned very important tricks from this course.
Student Work