How to Create the Spotify Duotone Effect in Adobe Photoshop
Daniel Walter Scott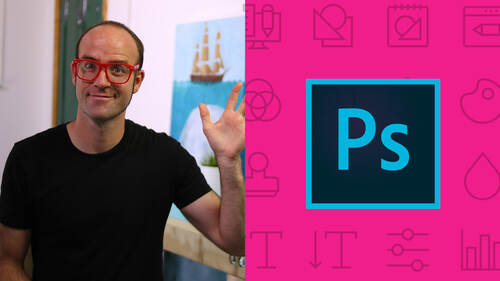 How to Create the Spotify Duotone Effect in Adobe Photoshop
Daniel Walter Scott
Lesson Info
71. How to Create the Spotify Duotone Effect in Adobe Photoshop
Lesson Info
How to Create the Spotify Duotone Effect in Adobe Photoshop
Welcome to this video about jewel tone effects. Okay, It's really easy to do the layer that goes over the top of any image, converts it into this. Cool to spot color, look after the whole thing, You can do 50 you can move it around. It's loads of fun. It's easy to do. Let's get started. Let's open up the images file, open And in your exercise files there's a new folder called 11. Okay, I'm gonna open up jewel tone one and 2. Now you can do this with any image but it does come out nicer if there's a clear contrast between your subject matter and the background, so you might have to do some masking or some sort of way to kind of dull the background. Like this one here is being dodged in the background to the really strong difference between the model here and the background. Anyway, it's really easy to do with the layer selected, Go to adjustments panel and you're looking for this one here called gradient map. It's the last one on the last row. Give him a click and instantly that's work...
ing, it's just the wrong colors is all so click anywhere in this colored bar here and you double click this house and this house to change the colors. You can start with one of the default ones up here. This one here is particularly good. It's almost kind of knocked out that Spotify look that that we're doing for a long time. There's some terrible ones in here as well. But let's click on this first one and I'm going to leave the purple because I like it and I'm gonna double click the orange and move to that more. Spotify color. Sh just drag the hue slider up and down to find where you wanted to go. I mean I wanted to be in that kind of minty green, that's gonna work for me now on this side here, I feel like it was a little bit more on the purples, Let's cook. Okay, let's click OK. Now if you're finding you've got the wrong colors, you can just come out of that color. So if you're like oh that's the wrong way around, you can click OK? And just click reverse. Just kind of switches, like two colors out. Let's go a little bit further. So let's open up, do a tone to thank you Anthony. And that first one was Drew Graham but this one here, I'm going to do the exact same thing, so we're going to go down to adjustments and you're gonna go here. Okay, pick out colors click in here. It looks pretty cool already. What I'm gonna do though is I'm going to use some more specific colors so I'm going to use remember this from earlier window extensions, adobe color themes. If your internet, it's not super slow. This thing will load up, you wanna click explore and then I'm just going to work with the kind of most popular colors and what I'm gonna do, I like this one here. Fine, click on the dotted lines and I'm gonna say add two switches and it just means that now closing the libraries if they open up, but if you get a window and go to swatches, you'll see this like little color box up here, I'm gonna close it down and now when I go into my gradient map, I can click on this white house. Okay. Actually double click on the white house and then I can just come up here and pick one of these colors. So those are the colors that came through from adobe color themes. I'm liking that one. I'm gonna take this one, I'm just going to cycle through what I wanted to be. Pick that one. Okay, so that's how to pick specific colors. A couple of other things you can do to enhance your rottenness. Okay, is to grab this midpoint and it just decides what becomes what color. So you might find that your image is, Let's click on this guy. Okay, there's midpoint here, just needs a bit of sliding left and right to get the right colors in the right place. Now, what you would have noticed there is like a little bit lost if you click anywhere, but there it adds another swatch and you can go for a third color, go for a tri color. Okay, it might be a double click this one. I'm going to go and pick one there, Do you mind horrible. You too can make your horrible if you want to get rid of colors so you just got lost and you're like me and you clicked on it by accident. No, there's colors everywhere. Click hold and drag them off into no man's land. So I'm clicking holding and dragging off and they disappear. Let's go a little bit further. Let's click OK. Jewel tones can look quite cool if they're kind of like maybe half and half. So what I'm gonna do is I'm gonna use my rectangle tool and just draw a box kind of halfway down there. So is the rectangle marquee tool. And what I'm gonna do is you can see my gradient map over here. Okay. It's an adjustment layer and by default if given a layer mask but the layer mask isn't doing anything because it's completely white. So what we can do is we can right click it and say delete that layer mask. And just like we do for any other member we did selections in the last one with our boat and our island. Okay. With the selection here, with that layer selected, I can click layer mask and I can do just half of it. So the black stuff gets hidden and the white stuff shows through it doesn't have to be straight up and down. You can do a selection with the say the political lasso tools. I'm going to undo. Okay. And I'm gonna go from this one over here. So I'm doing a really quick selection around kind of halfway through thin hit layer mask, you might do something more like that under again, I've seen them quite cool where it's just like this kind of like I don't know a box, I want to do that. Okay. And the cool thing about it is because it's on its own layer. Okay with my move tool, I can just kind of move it around to kind of best don't get where I want it to be, nowhere is good. I can transform it. So like I transform I use command T or control T on a Pc and then go back to my 50 return. I like that. Alright, so that is our jewel tone effect. We yeah, that's going to be us in this video. Let's get on to the next one where we set a couple of projects
Ratings and Reviews
Adobe Photoshop Fundamentals is very useful for a photo editor. I learned very important tricks from this course.
Student Work