What is the Difference Between RGB and CMYK in Adobe Photoshop CC
Daniel Walter Scott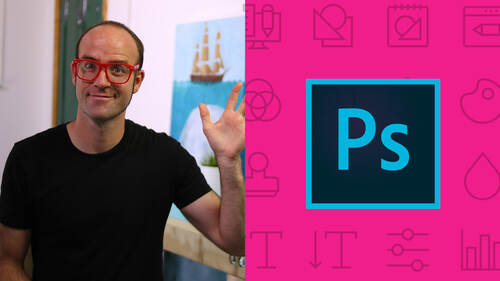 What is the Difference Between RGB and CMYK in Adobe Photoshop CC
Daniel Walter Scott
Lesson Info
80. What is the Difference Between RGB and CMYK in Adobe Photoshop CC
Lesson Info
What is the Difference Between RGB and CMYK in Adobe Photoshop CC
Hi there this video is all about the differences between C. M Y K and RGb. So why do we need two of them? And what are they basically? There is a way of mixing colors that your computer can do using red, green and blue. That's why it's called RGB and it can mix those three colors together to make all of the colors you can see in front of us in this kind of like color explosion. The trouble is your commercial printer or your printer sitting on your desk. If you pop it open and have a look, it uses a different group of colors to try and mimic what we've got here on the screen. It uses C. M. Y. K. Which is cyan, magenta, yellow and black. You probably bought lots of those cartridges in your life. The big difference is that RGB has a secret ingredient. Okay it has light so your computer screen looking in front of you has light shining out of its luminous so it's able to achieve different colors or more colors. Whereas C M Y. K. Has to deal with a bit of plain or white paper so there's no l...
ight coming out of it. So the colors can't be achieved. You've probably seen it before. It looks good on screen hit print your poor printer turns into mud. Okay because it just doesn't have light coming out of it. So it can't achieve some of those really strong rich colors. Let's have a look at the difference between the two. So I've opened up file open and in your exercise files called 13. There's one called RgB versus C M Y K. This one's an RgB, how do I know you can see it in the tab here? It is RGb and that's how most things are going to come to you in the world. Digital cameras shoot Rgb, downloading something from the internet. RgB. Let's have a look at it and see M Y K. Let's get an image mode and switch it to C M Y K. Reddy cd. I'm not sure how much of a notice change you can see in this video, but I'm going to go undo. Rgb. Rgb seem okay. Great. Not great. Great. Not great. Okay. So why would you end up in C M Y K when it doesn't look as good? It's when you're going out too often a commercial printer. So you've been asked to do a print, say it's one of your amazing photographs that you're getting printed commercially or you're working more as a designer and you're getting an image ready for a magazine, they're gonna say we want C M Y. K please. So what you're gonna have to do is open up your image and switch it to C M Y K and now save out a Jpeg and give them that. So it has a kind of a really specific use case it's physical printing might be sending it to a sign writer as part of their specifications. They might say it has to be this big, this much resolution and it has to B C M Y K. So that's how to convert it. The trouble is, is there's not as many colors. Right? So often I'll have two versions because so much of things we do today have dual use, especially for me, maybe as a designer, I'm doing stuff that's going to print, but it's also going to be downloaded from our website or uploaded to the website or going to social media banner ads, all sorts of stuff. So I'll, if I'm going to convert this 12 cm Y K to send a print, it's a one way street. Right? So I got an image, I gotta mode and I got a C M Y K. And then I go back to mode and go to RGB. Watch the colors. Just don't come back. You can't, it's a one way street. So once you've gone to seem like a okay, you can't like convert it back to RGB, it's still gonna look flat. It is RGB technically, but you've lost all those colors so you might want to do a save as so you've got two versions. I'm gonna go to edit. Step backwards until it was legitimately RGB still nice and colorful. So I'll just go to file save as and and I'll add the words C N Y K at the end. So I know it's a slightly more washed out version. All right. So it's I guess a funny one to understand, but uh I guess I didn't want you leaving this course because it's there's an only matter of time before it pops up that you need to understand what RGB versus CM YK is. Let's talk about to use cases and then we'll move out of this video. Let's talk about the first use case. So let's say I'm a photographer. I'm working on this photograph that I've filmed that. I've shot the color splash here, done my twig stomach levels done by masking. It all looks great. And now I've been asked for it from a designer. They want in C M Y K or from a print shop. They want it in some way K That's what I'm going to do. First of all, I'm going to make sure I've got an RGB version because remember it's a one way street. So I'm going to save it as I'm going to put this onto my desktop. This one is going to be called color splash, color splash GB. No, I've got that one right now. I'm going to go down the one way street for the one that bob. The graphic designer needs Okay, lost on my colors boo. There's just no way of getting that because paper just doesn't have that illuminates. So now we'll go file save as again and this one is going to be my CMR. Okay, so I've got two versions of it. Right. One of them is the one with a full of color and one of them without it. So I'm going to send this one to bob because that's what he asked for. Okay. And the other use case. And the more typical one is let's say I am this photographer or graphic designer and I've got this however, we got this image, this is my original nope. I want the original RGB one. Where is he The one with all the colours. Okay, so I've just got the RGB one open and now I need to put this into say it's going to go into some social media. I just use this RgB version copy and paste it into the file that I'm working with. But let's say we're doing something different. Let's say we're going to physical print and digital. So I'm going to load this into in design to make our little brochure that's going to be printed off and it's going to be both in the reception. So physically so I need C M Y K version but also it's going to be downloaded from the website emailed around. It's going to be used as a pdf. What to do then, do you have two versions of print version out of a magazine and a digital version. Know what tends to happen these days, there'll be, there'll be purists out there who don't like this method but for me in my experience what you end up doing is just use the RGB document wherever it is, it doesn't matter if it's in design and it's going to print, just leave it as RGB and let the printer change it on their side so that you've got one copy, one pdf that you've made that's got all the great colors in it. It makes life easier for you. And what ends up happening is modern printers. Okay so the ones that gonna physically print and bind your magazine, they have some pretty cool rip software and kind of pre processing software that actually extracts probably more color from your RGB and they have a really good conversion process to seem like a better than what just Photoshop is going to do here. A lot of printers will use more than just science magenta, yellow and black, they'll have a bunch of extra colors and try and match RGB a little bit more so I just grab this image, dump it into in design or illustrator into my graphics and just leave it as RGB. Send it to the printer, make sure they know say hey I'm just leaving it as RGB, can you convert it for me? They might come back and say no you need to go the traditional route and make sure it seemed like a before it's all in in design. But most of the people would just take your RGB print it off and it's pretty amazing what they can come up with some pretty good matches to this RGB. Alright are you a little bored of RGB seem like you've made, if you've made it this far, you get Gold star, go draw one on your hand that is you for the day, you hung out and watched this whole video. Um As a little surprise. Well it's not much of a surprise finding you. And one thing to note is when you're making a new document down here, color mode, you can pick RGB and seem like a before you get started, but if you pick C. M. Y. K. Now it will always default to C. M. Y. K. So just make sure color modes RGB to get started for pretty much everything unless you're going to print. And then they asked for it enough dan. Let's get into the next, very exciting video about resolution. Super important. Just as nerdy
Ratings and Reviews
Adobe Photoshop Fundamentals is very useful for a photo editor. I learned very important tricks from this course.
Student Work