Create a Digital Pocket Scrapbook Canvas
Traci Reed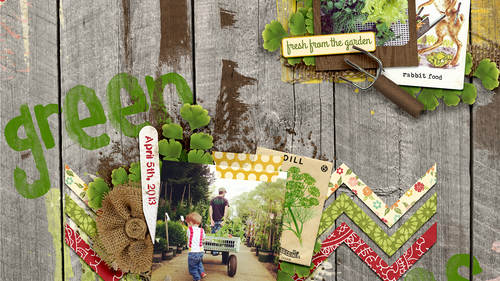 Create a Digital Pocket Scrapbook Canvas
Traci Reed
Lesson Info
18. Create a Digital Pocket Scrapbook Canvas
Lesson Info
Create a Digital Pocket Scrapbook Canvas
So let's talk about actual scrapbooking in photo shop, we typically for pocket pages, I have to twelve by twelve pocket pages next to each other, which makes twenty four by twelve inch canvas, so we're going to start with a twenty four by twelve inch canvas because we're going to be doing two pages side by side. I like to keep both of my pages side by side as I'm doing them instead of doing two separate twelve, I told layouts, and then at the end, I'll save them so that their twelve by twelve instead, or we'll talk about saving them for hybrid as well. So I'm gonna create a twenty four by twelve inch canvas with a transparent background. You see it's very long, so I'm gonna make photo shop a little larger so that we conceal, so I know that most people will start from a template and I saw templates, and that works, but you also need to know how to be a ble tio set up your own grid because maybe you want different pocket size is maybe you want to do things a little differently than the t...
emplates that you confined, so I'm going tio use the shapes again to create rectangles for every pocket, so I have a six inch rectangle by foreign jj, and I'm going to use the standard type a pocket page where you have to for my six is at the top and bottom and then for three by force in between, and I'm just going to click and drag to duplicate it all the way across. And now you're gonna want to change the colors of these so that you can see the edges easy, easily, and then you can just click and drag them down again. So now you have all all eight of your four by six is, and then we'll come in here and will create a three inch by four inch rectangle, and we'll have to for every four by six change of color before we duplicate them. Thanks that's change the car, both of them ok, and now we can duplicate them all the way across, and we have very quickly created a grid for our pocket scrapbooking page. Now there are other options out there in the community. If you are going tio create a completely digital pocket page, and in the end you are going to print it as a twelve by twelve. There are options out there. There are I saw some slip ins, which mimic the actual page protectors that you would buy for physical scrapbooking they're also stitched crews, there are so many different options out there that you can look for, um, for digital pocket paid scrapbooking but if you're going to go hybrid you're not going to probably use any of these so I'm just gonna leave this as it is and we can go later and we can decide ok I'm going to do digital or I'm going to do high rid and we can adjust our campus at the very end so I'm gonna leave it as it is right now there's no spaces nothing and I'm going to scrap book the whole page together ok so the first thing I always start with the most important thing in any kind of scrapbook is your photos so I like with my photos to have a variation um I don't like to just clip my photos to the three by four or four by six size I think that that is a really simple way to do it and it's it will make it easy on you if you're just starting out pocket scrapbooking but I like to have a little bit of variation in my um my pocket scrapbooking pages so I'm going to drag a few in to clip them to the entire pocket so let's start with let's start with some four by six is I'm going to make sure I select what pocket I want first because if you drag it in here you have so many layers now it's gonna be impossible so make sure you select the pocket that you're going for first and I'm going to d'oh photo and it's, my son and my husband walking into the ocean, and I really like the rule of thirds in this photo, so I'm going to put them down in the bottom corner rather than centering them in the pocket so you can bring it in and just like with any other template, you clip the photo to the template, the pocket, and I'm going to do this again down here with another photo. This is thus crossing the bridge into san francisco, actually where my husband likes to serve. I thought it was such a need gopro picture with the whole bridge and clip it make sure that you clip it because even though you couldn't see the outside edges because it was underneath all the other pockets, eventually you will see it and it'll cause problems. And then one more photo. I want to do this one down here now, even if you're going tio, use the entire pocket as a clipping mask for your photo. It doesn't have to stay like that. You don't have tio you don't have to be. You can adhere to other rules that you do in digital scrapbooking as well, so I'm actually gonna blend this photo I'm gonna create a grade eo radiant blend for this photo. And I'm going to make it so that it's solid over here and kind of blends off in this direction and what you'll see is that you'll be able to see underneath it the great template but that's okay, because we're gonna add to it so you want to make sure you create your grading tool, pull us all way back over here so that it's a normal grady in and I'm gonna click and drag from one edge and I'm gonna let it fade off the edge so you can see the black is where it's going to transparent in the white is where it's not and there you go and so right now, it's not looking great because it's great! So what we're going to dio instead of leaving it gray is I'm going to add a paper behind there so that it's blending into the paper I'm using my pocket life august collection and make sure that you clip are you you click on the layer that you're going to clip the paper too, so we don't want it to be on top of the photo we want to be in the bottom so I'm going to clip click that rectangle and then I'm going to drag the paper onto the layout and when I do that, you can see that he's blended in there now I'm not a big fan of that but I don't want to mess with the grady a mask, so I'm just going tio duplicate him and he will become less transparent around the edges on leaves them in a little bit, and if I duplicated a couple of times, you'll you can see that. Okay, now we can see his face a lot better it's a it's a way to if you don't want to go back in and say, ok, this radio mass in work for me even also just duplicate in his transparency will decrease, okay, moving on. So these are all of the full pocket photos that I'm going to have on this layout now by varying the amount of full pocket leah are full pocket photos and photos that don't take up the full pocket gives you a little bit more interest in the layout. Oh, actually have one more. I think I need one more three by four in here, so I have this picture of finn burying himself in the sand, and I'm going to clip it now I'm not a big fan of the girls that are basically sitting on his head, so I'm going to move him up so that you don't see them resize it just a touch, move him up again, and here we go, so what are the great things about pocket scrapbooking is that the products are designed to fit the size of the pockets perfectly. So instead of having to think about every single pocket on your page as its own little mini layout that you have to build from scratch, you can also auto fill some of these pockets with journaling cards. So I'm going to do that before I start trying to build my men. My little mini layouts.
Class Materials
Bonus Coupon - Sweet Shoppe Designs
Traci's Photo Workflow Actions
Ratings and Reviews
Great series of classes! For anyone from beginner to advanced Photoshop user, you will get something from these classes! Traci is a great teacher and easy to understand why she works the way she does. I would highly recommend these classes to anyone wanting to learn tips and tricks from a great scrapbook designer!
I'm currently halfway through the courses, and I am so glad I decided to watch these. I haven't been scrapping for very long, and am mostly self taught through tutorials found on the internet and youtube. I found that various concepts weren't explained to me (how to really use a template, designer intentions, how to use other layouts for inspiration) and so I sort of hit a wall trying to get further in scrapping digitally. This course basically broke down the walls and provided me with so much info and inspiration that I feel really comfortable in taking my efforts further. Whereas before I was thinking that I might always be stuck with a mediocre result :) thank you Traci!!
Student Work