Building Depth with Scrapbooking Embellishments
Traci Reed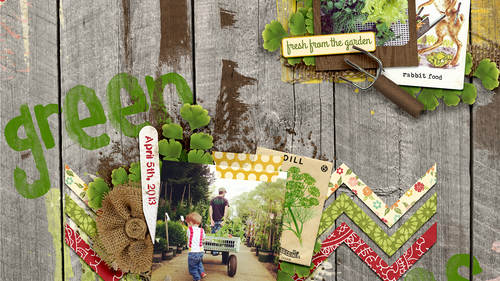 Building Depth with Scrapbooking Embellishments
Traci Reed
Lesson Info
12. Building Depth with Scrapbooking Embellishments
Lesson Info
Building Depth with Scrapbooking Embellishments
Now that I have my papers settled, I'm gonna start adding embellishments and I am going to follow the visual triangle rule with this layout and I am going to create three little clusters really quickly and simply for my page that will create a visual triangle and really finish off my page so I'm going to use a flower and I need a leaf for a flower and then I think I'm going to combine a paper flower as well to give it that dimension that we talked about in layering where you're using a bunch of different kinds of embellishments paper style embellishments sticker style embellishments to really build the depth in your layer and you're layering so I have a sticker and I'm paper flower I have uh dimensional flower a leaf and a button and that is a perfect way to make a cluster you don't need to make it super crazy he doesn't have to be a ton of embellishment but just enough to create some visual wait so I'm gonna come in here and I'm just gonna shadow to begin with we're gonna have a leave...
shadow the flower shadow that way I never have to think about it ever again and I normally do shadow as I'm going along eye shadow before I place and I just never have to think about it again I find that if I wait till the end I get so overwhelmed with all of the shadowing that needs to be done that I miss thing that I get frustrated and I never actually go in and work my shadows or anything like that because I'm like, ok, I'm done I just shouted everything all at once and I don't ever want to see it again it looks really different to you think you have the perfect cluster that you put shadows on oh yes uh huh and it helps you to find things like this end of this leaf is going to stick out so it helps you to see those things sometimes because we are putting it on a brown background and so sometimes something's going to hard to seen see until you print them and then you're going to have this issue with printed lee out that has a leaf stone that's going over your kid's face that you couldn't see and photo shop so shadowing helps you to see that too so I'm gonna add this leaf and I'm gonna move some stuff out of the way the flower of course needs to be on top of the leave simon hit command shift right bracket to move it all the way up to the top and it's a little large so we're gonna live it down her resize a town and remember if you hold down command and shift while you her command an option while you resize it will constrain them from our shift and option it will re size so that it constrains the proportions and moves from the middle ok, so let's start putting this where it needs to be I'm going it created right here in this top corner of this layout for of this photo and that looks good ad in the paper flower I think I wanted to be a touch smaller than the yellow flower has more visual wait so I'm going to make it a touch smaller and I'm gonna move by button up on top of my flower and resize it as well and use it to center and ground that flower because because of the way that the flower is designed, it has no center and so it kind of really needs something in there to really grounded and you know you would you have all that blank space in the middle to later so just in case if you decide to move that flower the bar and goes with it so you don't have to worry about yeah there's two ways that you can do that you can select both in the layers palate and you can hit the chain and they will be linked together or you can even just group them and then as long as you have groups selected, you can choose group or layer to auto selected give groups elected no matter what you d'oh, they'll move together so yeah, you can do it that way I don't actually normally do that because I move things around and sometimes I'll want to get rid of the button and then the the linking and all that will mess with me later, so but yeah, it is a really good tip, especially on a really late layer heavy layouts ok, so let's put this camera in here and I don't know we're covering up his head, so I'm gonna actually move the camera. But look, now I have that group and I'm like, what is in that group? You re name it so I'm going to move all of this together by holding down command and army holding out shift while I select players oh it's looking the group and there we go, there's one cluster in the layout and it kind of what it does that cluster brings your attention right to his head right to his face, right to a little hand on it face where I want people to look because that's the cute cute is part of the photo, but now it's kind of floating out there in space and it feels very off balance to me, so I'm gonna create a cluster down here in the bottom of the photo as well to just frame the photo on both sides now the key to creating clusters is to make sure that they have somewhat similar visual wait when you are wanting to use official triangle, so I'm actually just going tio start by replicating the cluster all together, just like it isthe and of course you can do that by holding down command an option while you click and drag and I'm gonna rotate this one so that the leaf is actually pointing away from the the photo, but I don't want it to be exactly the same that's too repetitive, but it does give me a great jumping off point to change it, so let's delete this camera, and instead of the camera, I'm going tio ad in a different piece at in this wood chip thing, I really like to make sure that I always include some kind of word art embellishment in my layouts, just like a little oh, I love this just something to really highlight the emotion of the thing, but I don't like the way that these two flowers air interacting together, so I'm actually going to move this down here and I'm going to delete this flower altogether and bring in a different one. So this love this is too low or to put it on top of belief, that shadow really helped me to see that, and I'm gonna make sure that I had a shadow. Ok, so what can we do to create the same visual wait and create repetition but not make it exactly the same? Well I'm going to bring in a flower that's pretty similar different color but similar flower and similar visual wait and I'm going to make it just a touch smaller for that variation and I'm gonna move it only what about right here and then we will take this flower the paper flower simmons mike and grab it and I'm going tio select it and move it up of it and now so I started with the same cluster but I just used it as this jumping off point for my own new cluster instead so you can see that it's similar and it carries similar visual wait um and creates a repetition but isn't exactly the same it's a really quick way to create new cluster's from existing clusters and make sure that they are going to give you that repetition that you like today so we're almost done we need one more um cluster to complete this visual triangle and I'm gonna put it up here in this blank spot um and that will give your eye somewhere to go so it will either draw your eye in and move it down the page from cluster to cluster which will move you over the photo or if you come in this way it's going to move you out of the layout too so I'm going to replicate this cluster one more time, I'm gonna move it up, but I need to change it so that's not exactly the same we don't want to love this is so I'm going to leave it all together and let's rotate this so that it is pointing at the layout or at the photo in the middle. So now is being used as an arrow for pointing directly to where we want the eye to go. Okay, so I'm going to again bring in a flower with similar a similar style and similar visual wait and make it a little bit smaller put on the page, and at this point I could use a different paper flower, but I'm just going to use the same one because that will create continuity in your clusters without making them repetitive. So they all have that purple flower, but the rest of them are different, so that gives you the balance. It gives you the repetition, but it also gives you the variety, and it still looks a little blank up here, so I'm going to add in aa banner like a little label banner to kind of bridge that space, and we're gonna put it on the very bottom and there you go no, no, no, paige is complete without a title or journaling. You could have either, or you don't have to have both. But I think there needs to be some kind of words on here that you can, that you can use tio to really ground the layout. So I obviously don't have that in here. But I am going to open up this one, and you can see this is my final product, and it has a title. Lazy day, very nice, very quick and easy way to scrapbook. Scrap lifting will give you inspiration that you need, and it also gives you a nice jumping off point to make your own layout.
Class Materials
Bonus Coupon - Sweet Shoppe Designs
Traci's Photo Workflow Actions
Ratings and Reviews
Great series of classes! For anyone from beginner to advanced Photoshop user, you will get something from these classes! Traci is a great teacher and easy to understand why she works the way she does. I would highly recommend these classes to anyone wanting to learn tips and tricks from a great scrapbook designer!
I'm currently halfway through the courses, and I am so glad I decided to watch these. I haven't been scrapping for very long, and am mostly self taught through tutorials found on the internet and youtube. I found that various concepts weren't explained to me (how to really use a template, designer intentions, how to use other layouts for inspiration) and so I sort of hit a wall trying to get further in scrapping digitally. This course basically broke down the walls and provided me with so much info and inspiration that I feel really comfortable in taking my efforts further. Whereas before I was thinking that I might always be stuck with a mediocre result :) thank you Traci!!
Student Work