Building Titles & Journaling on Pockets
Traci Reed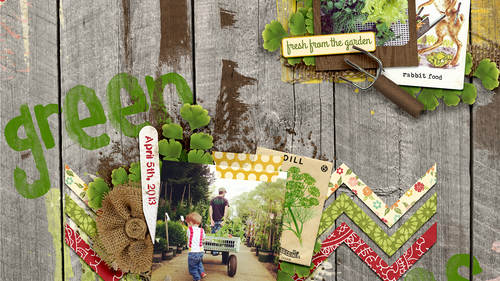 Building Titles & Journaling on Pockets
Traci Reed
Lesson Info
21. Building Titles & Journaling on Pockets
Lesson Info
Building Titles & Journaling on Pockets
Now I'm going to actually pull in some embellishments from another kit. I don't think that you I even have to use the same kit throughout the whole entire pocket spread if you want every single pocket to be a different, uh, different designers kid, something else totally fine with me. I know that a lot of people feel that their whole pocket spread has to coordinate perfectly across the page that's not how I roll, so we're going to build our, um we're going to build our title card with a kit called rockaway beats that I designed actually for these pictures that's about might cold weather beaches perfect for these pictures, so I need in this kit, there is a vw bus, we don't own a vw bus, but I think vw buses air fun way to represent surfing, very cliche, and I think it'll make a fun little accent on our pop on our title card, someone a drag in, and I'm going to reduce the size of it and then add a shadow. You can see that there's a clear area in this embellishment so you don't want to ad...
d a a washing style or acrylic south shadow, and then because it kind of is a lot lighter of a shadow. You can pull the distance out a little bit to see it a little bit more of the effect you want too much, but if we had just used the regular shadow it's going too dark in those windows up and make it unattractive, ok? And I'm going tio use the alphabet from this kit to build my title do you guys when you pocket scrapbook? Do you always use the same kit throughout the whole thing? Or do you mix and match make something that makes a match? Yeah, I always see the comments on I'm all of these pocket scrapbooking groups and things I always see people asking that question and it never occurred to me that especially I always see do you use the the same kit throughout the entire album? Oh, I could never do that, but I see it all the time, okay? We had all of our letters rock away boy warning yeah, it would be it would be pretty boring, I think, but it also would create a lot of consistency so they're after consistency maybe you're creating a gift for somebody else and so you just wanted to flow really well that would make sense, but as digital scrap bookers, we like to use a lot of product ok, so I brought all of the letters in here and to resize them because they're too large and I'm going to make my the main part of my title follow the line of this paper because I think it's a good place like a good horse on the line to ground the title so rock away whatever you can move more than one letter of time if you shift and click on them so I'm gonna move entire pieces all together and obviously still too large so I'm going to resize them all together way, way too high to something smaller okay broke away and I'm going to actually type beach and I have a cool stamp fought on here that's free by kimberly guess when called tribeca stare and I really like it it's a stamped fund and it easier for me then using an actual stamped alphabet with brushes so sometimes you can find some really neat fonds to take the place of brushes now let's change the color that's not really looking great let's change it to this green color so it blends in a little bit more. You could also change it to any of the colors in the layout that don't clash obviously that blues going to clash we could change it toe white anything that for your aesthetic but I really liketo pulling this green over here because also down here they happen to be the same greens and then make sure that beach is under all of your letters so that the shadow cast by the letters get um cast over the beach as well just for that extra layer of realism. Okay, and this looks pretty blank up here, so we're gonna add one more layer to our title. We're actually going to use the alphabet in the pocket life collection were going to use the orange. Uh I want to be able to see all these on not scroll forever. So a day at four letters to create a title I'm just gonna build it right here where I'm at and then I'll move it all up together. Okay? Stickers could be stuck on top of each other. No big deal. If you want to make sure that they're not stuck on top of each other, you can do that too. I like to have that little bit of imperfection in my digital scrapbooking because I would not have a perfect digital scrapbooking pay are perfect paper scrap booking page now to add journaling to these pieces um let's, look at this black pocket down here. Now we have lines on this journaling card that we probably need to follow in order to for our journaling to the ledge a ble if I were to just draw a journaling box and jake um, typical writer excuse my typewriter fonts white and twelve if I were to just start typing, it would start overlapping the lines now we can come in here and we can mess with the distance in between lines so let's start at twelve and we can make it work but you can see we start getting down to this some of them work in some of them down so instead of coming in here and messing with the distance between lines, I actually will just create one I actually wanted to be left justified create one piece of journaling and just copy all the way down and fill in my journaling one line at a time just so that I don't have to mess with constantly trying toe fix the distance between the lines perfectly now if you duplicate this one, two, three, four, five, six, seven more times and drag it all the way to the bottom exactly where you want this one to be you should be able to get a pretty good approximation of having them all aligned perfectly if you use the distribute vertical centers tool. So now you can come in and line by line, which can be a little bit tedious, but at least it matches up up line by line at in your journaling now in other places I'm gonna want a title and soon journaling in this card so I'm going tio first add my title how many is this gray alphabet? Not this great out of it I mean just cut out alphabet and I'm going to spell out mommy because I'm gonna put his quote as the title and then my thoughts about what he said has the journaling so um oh and him now this off a bit because it's supposed tio look cut out from whatever it's on top of you don't wantto you're not gonna want to overlap it, you don't want to make sure that they all the letters are are their own separate part of the layout, so I'm gonna resize him and then I'm going to line them up so that they're not overlapping m o m now in order to make sure that they're all and if you want a perfect title, you want to make sure that they are all perfectly um at the same height and everything you can actually click up here tio aligned top edges and it will move them all up so that the top edge of every single letter is in a straight line now if he tried to do that with a line bottom images because you have that, why it's not going to work out so well? She has to be conscious of what letters you're using to align that perfectly mommy let's use the stamp stamped bond very me must change the font color to blue it's mommy, why do we have a comma mommy bury me exclamation point and the story behind this and why I think it's good to note is that he it was being a pill and I really did contemplate bearing him because he was being such a brat so it was quite quite funny he's digging in the sand he's all mommy bearing me and I'm like, okay, very you know, problem so I thought it was pretty funny so what I would do in this case because I have this awkward kind of hangover right here where the title ends I'm actually going to draw a custom journaling box so that my journaling wraps around the title so we're going to hold down shift to get straight lines and I'm going to go all the way probably to the edge of the white here and then I'm going to curve it with the curve of the bottom close enough and then you can add in your journaling and when you type black when you type it will type into the bubble of course, if you have a very long word it's not going to fit in the top so we're going to add smaller word so that we can see how about you really made me want to bury you okay, so it follows the line of that journaling box that I created so we just have a few more things adding here um I'm going to add some stars to this pocket I like these cut out stars I'm going create another triangle around this lake because we have always a dead space in here, so I'm gonna add some stars over here I'm going to re side them and place them as I bring him in when you dropped more than one file onto your layout um and it's going to start adding your smart objects of only add them one at a time so you can work with them one at a time if you were to just drop, dragged them into photo shop and open them separately, it would open them all at once and I'm all about saving time and I don't I dragged them directly onto my layout not only because they turn into smart objects and you can edit them late later, but because the whole opening up its own file takes forever and then copying and pasting back over to your layout takes forever, so I just dropped them directly onto my file. Now this still looks a little bit dead over here and I need some journaling, so I'm going to add a little bit I'm at a little tag and I want one of the ones that's going to point down, so where did those video? But I don't want it to say overheard because I didn't over here anything when he was out um out on in the water so instead of pulling all the way in, I'm going tio drag it here and I'm gonna make sure that that overheard and its little tail goes off of the page and then when I clip it it's not going to cause a problem later and it's completely gone and I can use this little tag part for journaling and I'm not even gonna I'm not gonna bother to make my own little custom journaling box I'm just going to click and drag toe ad journal okay? And then this pocket over here I'm gonna add title to you could have more than one title on your pocket scrapbooking pages like I said, I looked at every single pocket as its own little lay out most of the time unless it's a group of pockets that go together so the ones about my dog would all be one lay out together. So I'm going to add in a title for this one because this was at the end of the day and he was tired so he's relaxing someone at relax to the pocket all right following up now in this instance you can actually use a line bottom edges to align that l up so make sure they're a little closer together and I like to use that tool a lot um to make sure that all of my letters or at the same level so moved all those other letters down
Class Materials
Bonus Coupon - Sweet Shoppe Designs
Traci's Photo Workflow Actions
Ratings and Reviews
Great series of classes! For anyone from beginner to advanced Photoshop user, you will get something from these classes! Traci is a great teacher and easy to understand why she works the way she does. I would highly recommend these classes to anyone wanting to learn tips and tricks from a great scrapbook designer!
I'm currently halfway through the courses, and I am so glad I decided to watch these. I haven't been scrapping for very long, and am mostly self taught through tutorials found on the internet and youtube. I found that various concepts weren't explained to me (how to really use a template, designer intentions, how to use other layouts for inspiration) and so I sort of hit a wall trying to get further in scrapping digitally. This course basically broke down the walls and provided me with so much info and inspiration that I feel really comfortable in taking my efforts further. Whereas before I was thinking that I might always be stuck with a mediocre result :) thank you Traci!!
Student Work