Photo Transfers for Mixed Media Collage Work
Stephenie Hamen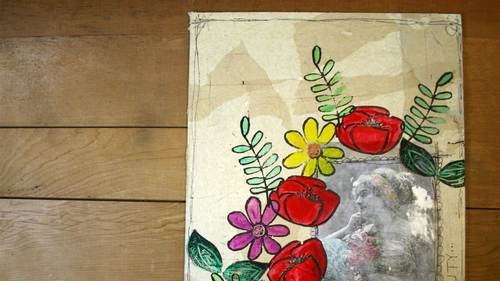 Photo Transfers for Mixed Media Collage Work
Stephenie Hamen
Class Description
Photo transfers add detail and interest to your work and, best of all, they aren't difficult to produce. Learn how its done from Stephenie Hamen in Photo Transfers for Mixed Media Collage Work.
Stephenie will teach you all about photo transferring and demonstrate how you can add color and alter the images within the piece. 
You'll learn how to:
Create a transfer using gesso, gel mediums, and paint
Use Gelatos, markers, or watercolors to add color
Integrate transfers into a mixed media piece
You'll also learn about using clear gesso to create a writeable surface for doodling and journaling along with some basic stamp carving techniques.
Photo Transfers for Mixed Media Collage Work will teach you how to add a fun, unique element to your work and inspire you to get creative!
Class Materials
Photo Transfer Handcarved Stamps.pdf
Photo Transfer Vintage Images.pdf
Photo Transfers Supply List.pdf
Ratings and Reviews
I like the class overall and it was nice to see a process with easy to find materials. It would be very useful for the students taking the class to have a list of materials needed. Clear Gesso, Decoupage and matte medium were mentioned... but which ones specifically and what brands? Also, I didn't see the use of watercolors (only gelatos). I wanted to see watercolors being used as mentioned in the class info.
I've taken both of Stephenie Hamen's classes on Creative Live. She's a great teacher, and I thoroughly enjoyed the class.
I really liked this class! What I was wanting to learn is how to do photo transfers and I learned that and more. It was neat to see how stamps can be incorporated into the project. My 8-year-old son jumped in as I watched and now wants to give this type of project a try too. Perfect for our new homeschool life.
Student Work