Create Balance with Clusters
Traci Reed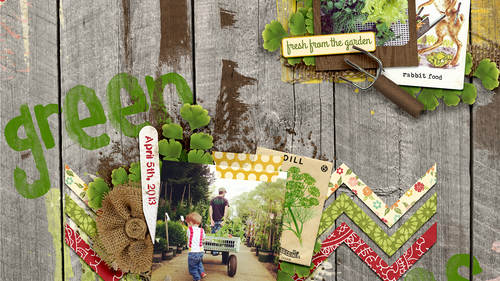 Create Balance with Clusters
Traci Reed
Lesson Info
14. Create Balance with Clusters
Lesson Info
Create Balance with Clusters
So now I'm going to resize this one a little bit smaller and I'm going to layer them and obviously if I have that photo on the bottom it covers up too much of the photo so I'm going to move it up to the top a little bit up on top of the other photo and now we are ready to start rocking and rolling now I don't want to detract too much from that blend I think it's fun I just want to add in a few things teo finish this this is becoming its own little cluster I just want to finish the cluster so that it has enough visual wait and makes enough sense that it doesn't look like these two photos were just floating out in space so that our shadows to these beforehand and I'm just going to add a couple of things let's add look there's a hard we're going at the heart and we're gonna add I'm super sarcastic so we're gonna have the first place ribbon and I think I want a few stars for a visual visual triangle balance so we're have the heart and the stars and the banner and I'm going to replicate the...
se two times duplicate them so that I have three of them for the visual triangle I'm big fan of the visual triangle and I'm gonna make them a little smaller because they're way too big for what I want and then I'm going tio add my sarcasm and I'm going to move them down in the layer order so that there on top of that bottom photos still but underneath the top photo you gotta make sure you can read everything by using these like jonty angles we're just creating a little bit more interest than if they were perfectly straight and everything was, um all lined up, especially since we're underwater here and ok, this doesn't this is too much blue and it the's yellow stars I don't know it just kind of looks weird to me and I can't figure out why, so I think that I need to look through my files again and add a little bit more because it's just isn't enough for me. So instead of using an embellishment, I'm going to use a journal card now these journal part is you don't have to on ly use them in pocket scrapbooking in fact, most of the time they are really great word are pieces that you can just incorporate into your you're layouts your twelve by twelve layouts as well. Just because it says it's a journal card doesn't mean that you have to avoid it if you're not a pocket scrapbook er so I'm going to use this one is word are and it's going to give me that a little bit of yellow too to really balance it out so that it's not all blue in here so now we've got it clustered together pull it down a little bit so how do I make this um stamped heart look realistic I wanted to overlap a little bit this journal card zoom in so we can see I wanted to overlap the journal card a little bit so I'm going to just like I do with the brushes I'm going to duplicate the layer and drive one underneath the journal card and one directly on top of the journal card and I'm gonna clip them together so that we can see the shadow between the two so it looks like it's stamped directly onto that journal card realistically and now we can go in and we can resize them together a little bit by holding downshift inspecting them both and we can move them together and at this point and I'm like ok, I'm a big old yellow card and I have yellow stars too so let's get rid of the yellow stars and use a different color outlets do red red is a good visual triangle color we talked about that already so let's use a red star and again I like tio rotate not everything is going to be perfectly straight up and down with me and there we go and we have a visual triangle with the stars that draws your eyes over to this cluster of crazy photos now of course no play out is done without an alphabet so we don't want more blue and we don't want to mess up our visual triangle of red so let's do green and I'm gonna add sophie is now this alphabet is individual files so I'm going tio drag every letter over together so you s e l f I yes ok one so they're gonna they're gonna land on my layout all together in a pile so you got a separate amount make sure you spell it right it's nothing worse than finding misspellings in your title down the line so no where do I put this title that it's going to make sense if I put it uh in the middle it certainly doesn't make sense but if I put it down here it's kind of distracting if I put it up here it doesn't make much sense so I'm going to actually put it right here with this cluster of photos and I'm going to rotate it a little bit just to match the rotation and actually if I rotated the opposite direction that everything else is rotated I'm actually rotating it towards the blended photo and it gives your eye a direction to travel ok, I know you have to d'oh azad your journaling and I'm going to make my journaling match the angle of the title but the first thing I'm gonna do is actually add the journaling journaling oh, I spelled journaling room. See nothing worse than finding a misspelling, but we're just going to rotated and put it underneath the title there. So now you have a blended photo and a layout. Um, with additional photos and just something more than just the blended photo and maybe a title. It just gives a little bit more interest to your scrapbook page and also allows you to add more than one photo. Or maybe if you don't have more than one photo, you could just do the whole thing with embellishments and create like a little title cluster. But you, just because you use a blended photo doesn't mean that you have to just leave it the way it is.
Class Materials
Bonus Coupon - Sweet Shoppe Designs
Traci's Photo Workflow Actions
Ratings and Reviews
Great series of classes! For anyone from beginner to advanced Photoshop user, you will get something from these classes! Traci is a great teacher and easy to understand why she works the way she does. I would highly recommend these classes to anyone wanting to learn tips and tricks from a great scrapbook designer!
I'm currently halfway through the courses, and I am so glad I decided to watch these. I haven't been scrapping for very long, and am mostly self taught through tutorials found on the internet and youtube. I found that various concepts weren't explained to me (how to really use a template, designer intentions, how to use other layouts for inspiration) and so I sort of hit a wall trying to get further in scrapping digitally. This course basically broke down the walls and provided me with so much info and inspiration that I feel really comfortable in taking my efforts further. Whereas before I was thinking that I might always be stuck with a mediocre result :) thank you Traci!!
Student Work