Digital Scrapbooking for Beginners
Michelle Stelling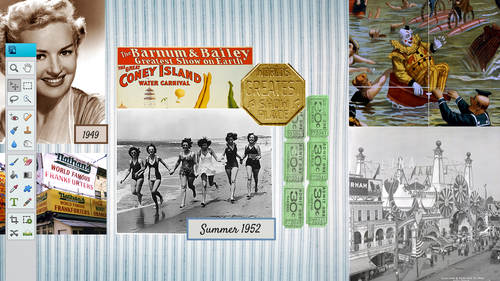 Digital Scrapbooking for Beginners
Michelle Stelling
Class Description
Tired of having a closet full of scrapbooking supplies? Ready to save your images in a more secure, permanent way? Join Michelle Stelling for an introduction to digital scrapbooking.
In this course, you'll learn how to use Photoshop Elements 12 to edit images and create simple templates, digi-kits, and retouch old photos. Michelle will cover feathering, clone stamping, adding text, and other tips and tricks for presenting your images. You'll learn how to troubleshoot common image issues using red eye reduction, spot healing techniques and more. You'll also learn about working with brushes and textures to create your own papers and backgrounds.
Whether you're an at-home crafter or professional photographer, by the end of this course, you will have mastered a whole new way to preserve and share your images.
Class Materials
Coupons with Purchase.pdf
Sporty Sass Cluster - Quick Sheet.png
Sweetums Cluster Gift - Quick Sheet.png
Kimberkatt Scraps Lil Tots - Quick Page.png
Coupons with Enrollment.pdf
Ratings and Reviews
I really enjoyed Michelle's teaching style. I'm new to digital scrapbooking and am on my way to becoming an die-hard convert. Thank you so much for explaining everything so clearly. I'm so glad I bought the course and all the extras you gave me were wonderful - a quick way to get started. Hope to see you again on CreativeLive soon!
Student Work