Deliver Page: Examples
Casey Faris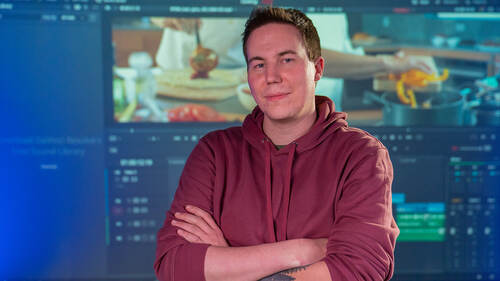 Deliver Page: Examples
Casey Faris
Lesson Info
34. Deliver Page: Examples
Lesson Info
Deliver Page: Examples
Let's take a quick look at some of the most common settings that I use in the deliver page. Over here in the render settings, this is where we can set all of the specific details of whatever format we want to render. But I'm gonna give you a couple of the settings that I like to use for rendering for YouTube, as well as a high quality version that you can kind of just keep on your hard drive, which we call an archive version. Here in my render settings, I'm gonna start by clicking on the YouTube preset up here, and that will load all of the recommended settings for exporting to YouTube. Now, just because these are the recommended settings from Resolve, or maybe from YouTube, it doesn't mean that it's actually going to be the highest quality. That's why we're going over this, you know what I mean? So what I like to do is once I'm on the YouTube preset, is go over and click on custom. And that will open up a lot more options for me to adjust, but it will have everything set with the YouT...
ube kind of preset to begin with. So what I usually like to do, here under format, I'm gonna leave this as MP4, and under the codac on the free version of Resolve on Mac, you can actually switch it to H.265, which is a much better looking codac for uploading to YouTube in my opinion. If you're on Windows, unfortunately, the H.265 is only available in the paid version, which is too bad. If you only have the free version, you can use H. and it's still pretty good, but I'm gonna switch to H.265. I'm gonna use hardware acceleration, and network optimization is fine, but we don't have that set up here. And then for resolution, what I like to do is actually switch this to ultra HD. Even if you have an HD timeline, if you up-res everything to ultra HD, YouTube actually treats it a little bit nicer and it gives you a little bit higher quality conversion on YouTube, even though it doesn't technically look better from up-resing it in Resolve. Frame rate will be whatever your project settings are, and under quality where it says restrict to, I'm gonna give you my little recipe. This is something that I've tested out scientifically over the past couple years. What I like to do for this is make this twice the frame rate in thousands. So if it's 24 frames a second, let's do 48,000 kilo bits per second, and that is gonna give us a really high quality render that we can upload to YouTube that's gonna look amazing without it just being insanely huge as far as file size goes. Everything else is probably fine. I'll go under audio, codac AAC, data rate 320 is great and that looks good. Let's call this something. We'll call this cooking render underscore YT, for YouTube. And once we have all of our settings here, we'll go down and click add to render queue. What that'll do is take all of those settings and it will package it up into a job, and it'll throw that over here on the render queue, and when we're ready to hit render, it will render out our whole movie with those settings. The other format that I pretty much always render is a archive format. Pretty much the idea here is we want to have a really high quality video that we can convert again, if we need to, something that has plenty of quality and plenty of space in it to be able to make whatever we want afterwards. So we can just kind of start with this YouTube preset, that's fine. I like to go to format and choose QuickTime. Under codac, I'm gonna select Apple ProRes. If you are on Windows, you could also pick DNxHR. That's a good format as well. But I like apple ProRes, 422 HQ is probably just fine for most things. And then resolution, we're not going to up-res this, we're just gonna keep it at 1920 by 1080. And that looks good. Under our audio, under codac, instead of AAC, we'll do linear PCM that is not compressing our audio. I'll switch bit depth to 32, so that we have lots of quality there. And the last thing that we need to do is adjust our file name. And so we'll call this instead of YT, we'll call it archive and then we'll hit add to render queue, and now we have one that's gonna be render YouTube, and one that's gonna be render archive. And I can either select none of these or both of these and it will render all of them. And I'll go ahead and hit render all, and it will export the movie. And once they're done, they'll show completed in green right here, and I can right-click and say reveal in finder, and I can open this up (chill music in background) and make sure I. When I was a boy. Always good to watch your render before you upload it or before you give it to a client, make sure it looks good, and everything is hunky dory. Which is something that people say when something looks good. I don't actually know what hunky dory means. But whatever it is, this video looks like it. So that's the ins and outs of rendering in the deliver page.
Class Materials
DaVinci Resolve - 17 Shortcuts.pdf
Ratings and Reviews
I'm glad to see the DaVinci Resolve courses have been added to Creative Live. Casey Faris does a great job with his teaching. In this course he clearly explains the layout of each page and shares example workflows for each. It's really good as an intro to Resolve.
Helpful class if you are interested in DaVinci Resolve. Casey Faris presents the information clearly and doesn't waste time. Looking forward to his Color Correction and Fusion classes.
Made navigating through Davinci an exciting thing to do! Great work!
Student Work