Color Page: Basic Workflow
Casey Faris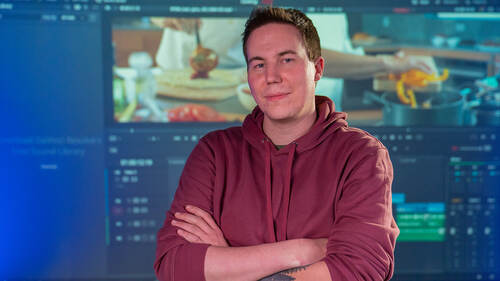 Color Page: Basic Workflow
Casey Faris
Lesson Info
25. Color Page: Basic Workflow
Lesson Info
Color Page: Basic Workflow
Let's have a look at the basic workflow for doing some color inside of the color page. To show that, I'm gonna switch back to the edit page for just a minute. Let's say we have this edit that is beautiful and we wanna do all of our color correction. Well, normally what you would do inside of a editing app, is you would put some kind of color correct effect on each of these clips and you would kind of have to adjust them all separately. And that would be something like going to your effects panel and finding something like a color corrector and dragging it on and then opening up something that controls that plugin, and that's cool and it totally works. It's just, if you have a thousand shots to do that with, you have to do that kind of step on each one where I don't know if you grab something like color compressor and you grab this and throw it on there. And then you have to select the clip and go up to the inspector up to the effects and then you can adjust your colors. And then for th...
e next shot, you have to do kind of the same thing. And it's just kind of takes a lot of setup for every single clip. Well, the color page is designed to make things go a lot faster and a lot less miserable than that. So I'm gonna hit Command + Z to get rid of these effects. And instead of adding a color filter to each of our clips, we're just gonna be in whatever timeline we want to color grade and just switch to the color page. And that will bring up all of our shots here in the color page. And whatever shot we have selected is the shot that will show up here in the viewer. And it's also what all of the color controls down here in the color palettes are going to affect. So then you can make your adjustments here in the color palettes. Let's say, I want to make this really warm and you can use your various tools here to refine your images. And when you're done with one image, you can hit up or down on the keyboard to go to different shot and you can adjust those images as well. If you want to a copy what you're doing in one image to another one, since you have a three-button mouse, you select whatever clip you want to copy the grade to and then middle button mouse click on the one you wanna copy from, and that will copy that color grade over. So you can really quickly move through all of your shots and do your adjustments here. And so I can make sure this looks the way that I want, right? And do a little bit of work here at a little bit of saturation and kind of get this looking nice. And then I can middle button mouse click on other shots to make those look nice as well. Isn't that nice? It's great, right? And when you're done with your color, all you do is click back to the edit page and all of your color grades show up here in the edit page. Again, without any round tripping, without any rendering, it's just there in the timeline for you to continue working on or to render out whatever you wanna do. And the nice thing is if, oh, man, this is a little bit too bright, I can switch back to color page at any time and take this brightness down a little bit so that it's a little bit less harsh and I can move fluidly in between the different pages.
Class Materials
DaVinci Resolve - 17 Shortcuts.pdf
Ratings and Reviews
I'm glad to see the DaVinci Resolve courses have been added to Creative Live. Casey Faris does a great job with his teaching. In this course he clearly explains the layout of each page and shares example workflows for each. It's really good as an intro to Resolve.
Helpful class if you are interested in DaVinci Resolve. Casey Faris presents the information clearly and doesn't waste time. Looking forward to his Color Correction and Fusion classes.
Made navigating through Davinci an exciting thing to do! Great work!
Student Work