Boss Move 4: Endings
Dia Bondi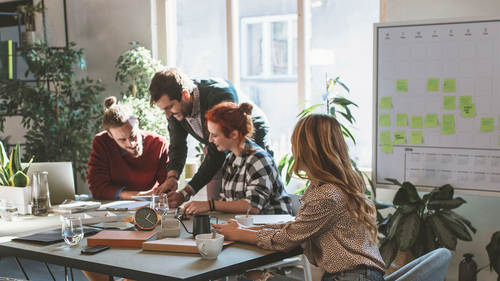 Boss Move 4: Endings
Dia Bondi
Lesson Info
7. Boss Move 4: Endings
Lesson Info
Boss Move 4: Endings
We're going to talk about endings. You know a question came up in our earlier module about, is it about start strong end strong? Yes, and I gave you some prompts for how you might create a nice strong beginning, now we'll talk a little bit about how you might create and think about a nice strong ending. The last words absolutely matter too. Especially if you're, I mean so many of us have seen talks or the ends of the moments that just kind of trail off into nothingness like all right, okay, and so that's it, you know. And there is a better way to do it that really helps land what the purpose of the whole story or your time in front of the room was really about. It helps us stand on something. Maybe you've helped us see something differently, maybe you've helped us want to take action on something that we didn't think was important to take action on before. So what is that place that we land on that helps us, that we can stand on as we think about our life after our experience with you?
And I have a set of prompts. These are not the only prompts in the world but here's a set of prompts you might use when you think about all right, I've got this thing down, I've figured out how I'm gonna start, now how am I gonna end this darn thing? First question is do I have a hope or a wish for my audience? This is a question I use in my coaching all the time when I work with someone. So great, I get it that we worked with you to help you be compelling on stage, but for what? For them, for the folks that you're talking to. For the people that you're trying to move in one way or another. So my question is, do you have a hope for them? What is your wish for them now that they've heard you? So I put this in both a hope and a wish for them. It can be one or the other or both. Is there a recommendation that it's time for you to make? Now this is particularly important if you're in a position in your career right now where you're going from one sort of status to another. One profile of client that I work with often and I love to work with, is somebody who's maybe founded an organization or was a lead in a movement or done something awesome, and up until this time in their career they've been asked to come talk to other people at conferences, at other organizations, at all hands events, to talk about their work. And now they're being asked to tell the future. They're not just seen as an example of great work, they're being asked to talk about, what does the future look like in particular territories? So that's the time when I wanna ask a question, guess what, might you have a recommendation for this audience that wants to hear a recommendation from you? Now's the time. So that's a great prompt to think about how I might end. Is there a particular action that they can take right now that pays off the time that you spent onstage with them? It can be small or big obviously, it can be multiple actions, or it can be an invitation. Sometimes an invitation is like a wish and a call to action but a little softer. You're gonna invite them to do what? Invite them to think about what? Invite them forward somehow so that they don't just receive what you've heard and then leave it there. Now this is not the only set of questions you can use but it's a few to kind of get you going. What I love about using prompts as a way to explore beginnings and endings is that they have answers that you can get out of your body and onto the page and then you can choose from. You can just see which ones work. Instead of asking the question, what should I do, what should I say, these kinds of prompts maybe are a little bit more productive for you. So we're going to, guess what we're going to do? I would be surprised if you didn't know. We're going to do demos on this in just a second. But if you've then taken those prompts and written out all the possible ways I might end, and for some of you it might be 10, for some of you it might be two, I've got two choices that feel really good, you're going to go back to the same question which is what impact do I really want to have in the room? Do I want to have the kind of impact that allows people to step into like I said a new perspective and they're more maybe contemplative about something? Do I wanna call them forth a little bit and get them into action? Do I wanna scare them a little bit? So that might inform which of the choices you might pick.
Ratings and Reviews
This is a super helpful class! It helped open my eyes to how to communicate better just by changing the speed and volume of how I talk, as well as paying attention to the beginning and end points. She is easy to listen to and follow, both a good teacher and speaker. I loved the exercises she did live with the audience members, and I felt a lot of their feedback was helpful too. I liked her teaching style, and I could definitely watch her for a 3 day seminar if I had to, but luckily this class is short, concise, with no fluff and very helpful.
Dia's style of coaching is fantastic. Its not a one size fits all approach and she is skilled in relaying her feedback in a way that is incredibly constructive and supportive. Dia's energy is genuine and sincere. It's her personality and presence that kept all of us engaged and wanting to learn more.
Student Work