Maximize a Location
Davina and Daniel Kudish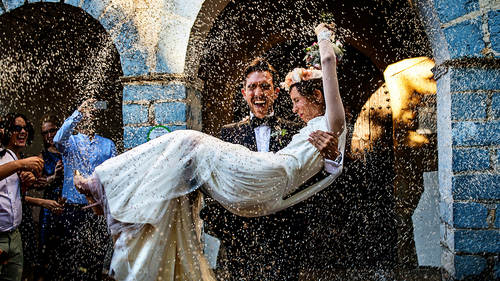 Maximize a Location
Davina and Daniel Kudish
Lesson Info
32. Maximize a Location
Lesson Info
Maximize a Location
So, along those lines, you know, really try to maximize when you have a good opportunity, or a good idea. Really milk it for all it's got, and execute as many versions of it as possible. So, if Catherine and Richard, this is a wedding that we photographed in Montreal several years ago. And their venue is at the Ritz Carlton Hotel. So we're in a beautiful you know, ballroom. There's no need to really go out on the streets and do anything else. You can really maximize the space that we're in. So, still thinking in the same context as if we were outside, more environmental, showing more of the scene itself, really showing the space that they're in and where they got married. One photo, and then a second one that's a little bit closer, shows our bride and groom a little bit more. They're in the same spot as in the previous photo. Still in the same spot, just framed a little bit differently. Showing more of the table, making sure that we see their full bodies. So, you know, within that same...
spot, we're getting them three different photos. We're also giving them color, black and white. So again, you know, giving them anywhere between like six and 15 photos that are just different versions of each other. These were all in color, but there will be other versions in that. Exactly. And then because we have so much to work with, we just had them sit at the table. You know, getting really, really close and be themselves, and cuddle in together. We also just moved the light here. You know the other ones were all backlit, so now we put a light on them. Um hmmm. And then while one of us is doing this photo, which is a little bit more literal, the other one is shooting through the candles themselves, trying to get something a little bit more abstract. Again, having this like very simple calculated approach to their portraits allows you to work in a very zen mode where you're not freaking out, you're not stressed about needing to go to different places. OK, let's spend 20, 30 minutes in this one room and really make the most out of it because it is such a good location. And remember what Max said, "Calm the fudge down," right? Is that what he said? I thought he said a bad word. The same idea with Annalie and Haig also in Montreal several years ago. We're fortunate in Montreal that we have this beautiful old part of the city where the architecture is really interesting. And so this is in their hotel room where they got ready that morning of. They did the first look on the street just below where that frame was taken. And then we knew we wanted to include a lot of the architecture, so we just had them go back up to the room and frame them in there. Again, no need to really do anything, you know, beyond this building because it is so beautiful. So let's just maximize and really make the most out of it. One photo. This is still the same suite, so it's just the corner basically. And you see the light changes so much because it's on the shade on one side, and here they're in direct light. So working with the harsher light just posing them for that. A little Titanic-ish. Yeah, and then a closer-up you know, with the two of them. how do we, you know, overlay that texture of the building with a closer photo of the two of them. We ended up doing a double exposure on them. What matters here is just have them in a really good pose where there is good light on them. The background didn't really matter so much, and then just turn around the second exposure on the architecture. So this will obviously be on top of, you know, all the safe stuff because they're in a hotel room. Which means, you know we have control of the lights. Turn off all the lights. Use just the window light. We can even play with the curtains and have more, you know, that tiny sliver of light to go more dramatic. Or a little bit broader, so we get all of our safer photos out of the way. And also, you know, play a little more creatively. Yeah, one more, Joriana and Jay in D.C. Very clean spot, good pocket of light, clean background. So safe photo of the two of them, safe photo of the details, and then closer up photo of the two of them, one horizontal color, then a vertical black and white. And then all of the photos of the details, and with their bridesmaids and the groomsmen. Really, there's no need to go anywhere else. We have such a clean background, such good light. Really maximize it and they'll get and make the most out of it. Can you go back to the previous photo? Yes. We actually opened with this photo. This was the opening, which doesn't happen very often. That it's a close up or that it's a vertical. We actually try really avoid vertical opening photos. We just prefer the look of a horizontal. But, I went into this wedding having, she's a wedding photographer, and we were friends or whatever on Pinterest. People hate Pinterest boards very often when brides send you that. She didn't send me this. I went and I looked, and was looking at her inspiration. And I was just like snooping around basically getting to know her. And I noted that she had a board about freckles and how like portraits that embraced, you know, people with freckles. And I was like, "That's amazing." 'cause I love freckles and she has freckles and that means she likes her freckles. We never talked about it. It was just something that I saw. So I told Daniel going into this wedding, I'm like, "Let's showcase her freckles. "Let's make sure we get like an ultimate close up "because I know that she likes that." But this is something she never actually talked to me about. I just, you know, was sneaky, and found that out. So I actually really loved, it's like the total opposite of what the type of photo we normally open with. But this photo, this wedding wasn't about the location so much, you know, it was where they lived. And, yeah, it just wasn't about landscapes or, you know, elaborate venues, or anything. So I loved the idea of going really, really simple and just showcasing that.
Class Materials
Wedding Photography Contract
Ratings and Reviews
Holy Moly! I have been very familiar with Davina & Daniel for several years and I also work closely with Image Salon for the past 3 years. I loved their relatability, raw honesty, human connection, and their teaching method. It was also super helpful to see the GoPro footage on a real wedding day and walk through their thought process with them. A refreshing wind of inspiration has now flooded my mind and attitude. I am excited to begin my 8th year of weddings with a clear mind and full heart. These two are the REAL deal and I am so happy I made this investment. Thanks, CL for always bringing the BEST of the BEST.
I've been following Davina and Daniel's work for years and suffice it to say, they are in my top 6 all time favorites. I was so excited to watch this creative live and it didn't disappoint. From their approach to shooting through the moments, to their stunning locales and minimalist gear, there is something for everyone in this class. Both Daniel and Davina have a tremendous knowledge of photography and their willingness to share and educate is second to none. Oh, and just so you know, they are also the nicest people on the planet. Super sweet, amazingly talented. Thanks for having them on.
Davina and Daniel are fantastic presenters as well as an exceptional photo team (plus they are super nice people, too!). I love their approach and methods and felt like there is so much value in this course. Even though I've been photographing for a long time, I took away a lot of great value gems from their course and look forward to applying several to my own business!
Student Work