Creating a Call Sheet & Shot List
Finn Beales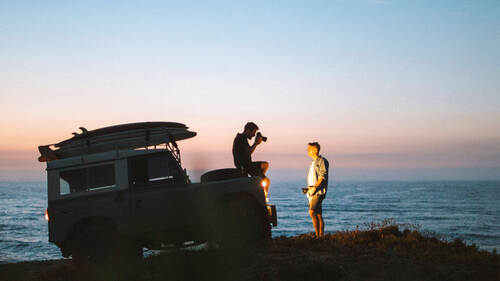 Creating a Call Sheet & Shot List
Finn Beales
Lesson Info
17. Creating a Call Sheet & Shot List
Finn walks you through an example call sheet and creative brief he made for a job he shot last year.
Lesson Info
Creating a Call Sheet & Shot List
Clients awarded you the brief, congratulations, what do you do next? My next step is to create a call sheet and a creative brief from which to work within the field. And I'm gonna walk you through an example document from a previous shoot so you can get a good idea of what's contained within it. (soft music) Okay, let's dig into an example call sheet. This is from a real world shoot I did end of last year. You may recognize the brand. Again, for consistency's sake, I start with my title slide and just put some ownership on the document. Whereas the treatment was quite high level, just gave me a mood of where I wanted to go, this document is a bit more detailed, a lot more detailed, in fact. It contains an example of the type of image I'm looking to make. It explains the scenario here. It details, this is for a watch shoot, it even details like the position of the hands on the watch. If you're ever shooting a watch, it should be at 10 past two. So that displays the logo perfectly withou...
t hand being in the way. And the date window should always be set to eight because that's nice and symmetrical. I'm also detailing props here to help build out the story, build out the scene. I'm also detailing the call time. So that's the time that I want my model, Jackson, to be on set and the location. Again, picture two, gives examples of the type of image I'm looking to make. I'm not looking to copy these images. These are just inspirations. I'm gonna put my own spin on it but this just gives me and my model and also my client, an idea of where I'm gonna go before I actually shoot it. Again, I'm detailing props and also wardrobe. You know, I'm listing not just specific details here. I'm thinking good textures, leather gloves, I have some yellow biking gloves, might be a bit full on, you know. Again, I'm listing call time and the location. I'm also detailing the type of shot I'm looking to make. So here, as in the shot types episode, I'm actually referencing that here, medium pose shot of wrist with watch exposed. That was our good friend, 1924us, Christian Watson. He's actually been inspiration for a lot of these images. Again, detailing props, detailing wardrobe, call time, location. Same again, so this shoot comprised of five images that was established in that initial exchange with my client. The deliverables were five images. So these are the five images that I'm gonna be making. Here's his direction, the scenario digs into the direction I'm gonna go with the scene. So Jackson who is my model will be guiding a friend to shore with lantern. It's a twilight scene so that tells me what time of day I need to be shooting. It also digs into details like Jackson's gonna be holding up the lamp with his left hand. I'm gonna be shooting over his shoulder. There's gonna be someone else in a canoe on the water in the background, out of focus. I'm really digging into the details here. So when it comes to shoot time, I can concentrate on capturing that image I have in my mind. I'm gonna be making this picture, not just taking what's happening in front of me. I'm actually directing right from the outset. And I finished up here with like an overview of the location where I'm gonna be, what time dawn is, what time sunrise is, what time the sun is at its highest sunset, dusk, and also the weather on this particular day. Saturday will remain cold and sunny with isolated snow showers and wind easing wrap up warm. Remember this document's going to my model. It's also going to my client so everyone is on the same page from the outset. Always finish with a thank you. And that's it for a call sheet. These call sheets can be incredibly complicated and you could go all to town on them. As you can see, there's quite a lot of work, a lot of work actually in pre-production that I do before shoot day and all this is time and skill and your creative vision. And this is chargeable time. So you need to account for this time when you're pricing your jobs. And in the next session I'm gonna be having a chat to Alex about this aspect of photography, and we'll dig into it a bit deeper. (soft music)
Ratings and Reviews
Fantastic My thoughts on the storytelling workshop. The short is; it's fantastic. The long is I loved all the details covered, from shot types and the ideas behind them to the call sheets and shot lists, and the whole process. I felt like I had a better understanding of how to schedule a professional shoot and I really felt like I had a much better grasp on many ideas and concepts, and I believe I've been able to improve my photography with them, so thank you and Finn. It really is fantastic.
A path to better stories Very happy I got this workshop. Finn and Alex do a great job at teaching highly useful methods and specific advice to help you improve your own work, and more importantly, tell better stories that are meaningful to you.
Simply the best This is simply the best workshop out there on photography and storytelling. Finn is awe inspiring and so real and authentic. A pleasure to watch, a joy to learn from such master. I really hope a volume 2 is coming soon! Thank you for this one!
Student Work