Photography as a Medium
Finn Beales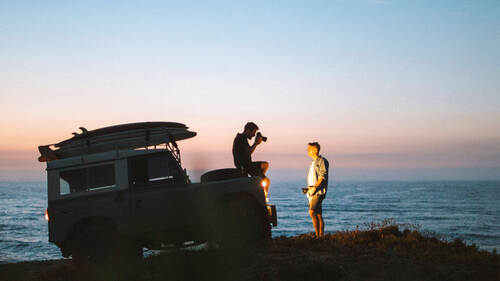 Photography as a Medium
Finn Beales
Lesson Info
10. Photography as a Medium
Finn talks about generating mood and feeling using your characters, and how to involve your audience's own experiences in your work.
Lesson Info
Photography as a Medium
Photography is a medium. I think what I love about photography over other mediums is the fact that the whole story isn't relayed. Something is always left to the viewer's imagination. You could liken it to a movie versus a book. I love both. I love movies, but I also love reading. And I'm often disappointed if I watch a movie after I've read the same book because the book allows me to imagine my own image. I can get deeper into the narrative. The movie is one director's representation, his take on the narrative. I feel the same way about photographs. I feel telling a story using a series of still images, leaves gaps in the narrative that my viewers can fill. So when creating a story, I'll think in like major scenes. I might think, right, I've gotta start here. I've gotta capture this scene. And this is where I'm gonna end up. And then I just fill in the dots, leading my viewer through. I don't reveal everything in the way a film might. There's always something left unanswered with a st...
ill image. There's no verbal communication. There's no sound adding atmosphere. I need to generate these feelings through the still images alone. That mood might come from lighting, or maybe a closeup on my character's face or hands, something visceral. Relaying emotions and photographs, I think you need to use closeups of your characters like closeups of eyes or hands, capturing processes. I like to think of my work like pieces to a puzzle. It's almost like a jigsaw puzzle. I'll lay out the sort of basis but I won't include all of the pieces, so that the audience can add their own interpretation. Their own experiences will feed into the story. (piano music begins)
Ratings and Reviews
Fantastic My thoughts on the storytelling workshop. The short is; it's fantastic. The long is I loved all the details covered, from shot types and the ideas behind them to the call sheets and shot lists, and the whole process. I felt like I had a better understanding of how to schedule a professional shoot and I really felt like I had a much better grasp on many ideas and concepts, and I believe I've been able to improve my photography with them, so thank you and Finn. It really is fantastic.
A path to better stories Very happy I got this workshop. Finn and Alex do a great job at teaching highly useful methods and specific advice to help you improve your own work, and more importantly, tell better stories that are meaningful to you.
Simply the best This is simply the best workshop out there on photography and storytelling. Finn is awe inspiring and so real and authentic. A pleasure to watch, a joy to learn from such master. I really hope a volume 2 is coming soon! Thank you for this one!
Student Work