Analog Film Elements Using the Exposure Plugin
Finn Beales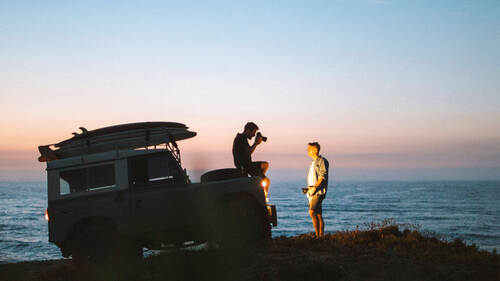 Analog Film Elements Using the Exposure Plugin
Finn Beales
Lesson Info
29. Analog Film Elements Using the Exposure Plugin
A step-by-step approach to adding inconsistencies like film grain and light leak effects into a digital file to give your image a nostalgic feeling.
Lesson Info
Analog Film Elements Using the Exposure Plugin
Okay, we've established our grade within "Lightroom" and I could finish there. The image looks good, I like it. It's got a good vibe much further on from the raw file that we started with. But I just wanna show you a quick program called "Alien Skin Exposure." I don't use this across the board for all of my work, but when you want to introduce analog film elements, such as light leaks or film grain into a digital file, this program is awesome. "Lightroom" has a grain slider in it, as I'm sure you know, but I find it applies grain across the whole image too evenly, and can in some ways make the image just look noisy. What's brilliant about this program is you can selectively add it to different tonal parts of the image. So I can add grain to these shadows and not affect the highlights, keeping them nice and clean or vice versa. So this is where we're gonna end up. I'll just show you zoomed in. You can see there's a nice chunky texture going on in these shadows. I knock it out. That's ba...
ck to the original raw file. That's all really clean. You see this texture? But there's nothing in these highlights. I'm also affecting the tone of the image within "Alien Skin," pumping contrast, just making it feel more intense. So let's, as the final image, let's just quickly run through the program. So as I say, it's a plugin. You can download it from their website, "Alien Skin." This is not an advert. (laughs) I'm not being paid to say this. In fact, I'm using an older version of their software, exposure 7. I think they're on exposure X now or something, but this does everything I need it to do. I only really use it for the grain panel. I don't think that's been updated in the new version. And they might email me and tell me I'm wrong, but for my needs, this suffices. So let's just quickly run through that panel. They have a whole bunch of presets here, add detail to blocked up shadows. I think you can see that straight away. It's made a difference to the shadows but not the highlights. Similarly, you can add detail to blown out highlights, tick, tick, tick. It's added it in here. I tend to start without a preset. I just set the grain strength to a hundred and then will selectively add it across the image. So this is too intense for me. I drop that down. I kind of want to bump it into the shadows here, less within the highlights, less within the midtones, maybe a bit more within the shadows. I don't tend to touch roughness. I don't touch color variation. Certainly don't touch push-processing, which just basically boosts the contrast of the entire image. Feel free to mess around with it if you want. Size, I might might alter, depending on the type of image I'm working with. This will simulate different types of image grain. So for this scene, I'm going to use 135. It's quite a chunky look. If I was working on a portrait on someone's face, that might damage the fine gradations of skin tones, but if you still wanted to introduce grain and give it that nostalgic feel, maybe up for something with a finer grain image, something like 4x5 or even 120. As I say for this one, 135 is fine and I'm not gonna touch the relative size either. I also do a little bit of work using the tone curve here, introduce more contrast into the image and split tone it again, using a black and white blue tone across the whole image. That's without that was the "Lightroom" image. That's the "Lightroom" image, no grain. Add the grain in, add the tone curve, apply it. Tick, tick, tick, tick, bam. So for me, that image has much more impact and has this lovely, subtle grain effect running through the shadows. Like I say, don't use it for every shoot, but for something film inspired, I don't think you can do any better. (ethereal piano music) Another thing "Alien Skin Exposure" is really good for is introducing light leak effects into digital files. So I'll quickly run you through that panel within the program. I'm using this daylight shot image, balanced out the contrast as best I can within "Lightroom" itself. But what I'm gonna use "Alien Skin" for is to add a sort of sepia tone. Again, I'm using a preset here within the black and white section. The tone curve panel gives it a little nostalgic feel again. Keep using that word, but seems fitting. I'm also using a little selective defocusing within this panel. Grain effects again. This is before, harsh, digital, more filmic, more Kodachrome in its vibe. So I'll apply that. So I've got the color to a more interesting filmic quality. Then I wanna add a light leak effect. So what I do here, I could have applied it within that previous run-through, but what I like to do is create a new layer, a black layer. So fill it with black, go back into "Alien Skin," turn off all of these and just go to the overlays panel, turn that one on, and go to light effect. This is gonna you a whole bunch of different light leak effects. These are a bit heavy for my liking, but I do quite like these side ones. I'll apply that. So that's gonna apply it to that black layer, actually duplicates the layer and applies it to one above. So let's delete that layer, select that light leak layer. And then what I like to do, I think the red is too full on for me. So what I do is go Image, Adjustments, Desaturate, and then change the layer effect to screen. And the effect of that, it's gonna remove the black, leave the white, and put the light leak effect over our image here. What I like to put this on a separate layer, because now I can move this effect around. I can put it over there if I want. I can, cuz I've knocked out the black, I can move it across here and (indistinct), I can run it straight through his face if you want. So this is active degradation of a digital file. But you know, if you shoot film, you're gonna experience especially in like an old cranky Hasselblad where the wind is not working properly. Or if there's like holes in your casing, it's gonna let light in and introduce these inconsistencies. And that's actually what I love about film. And you just don't get that with digital photography. So I quite like to introduce it now and again on certain shoots on certain projects to tip on digital files back in era. You can go on for hours with this and you can use lots of different, they have lots of different effects, but putting it on that black layer, desaturating it, and changing the layer opacity to screen just gives you more flexibility here to put it where you want have. Have fun, enjoy it. It's quite, I spend hours in the editing room doing this sort of thing. There's loads of different presets, light leak effects, grain effects going on within that program. So have a play around with it. See where you come out. Differentiation is the name of the game. You know, make your work look different to all those people just hitting those one-stop-shop presets and have fun with it at the end of the day. That's the key. So I'm gonna move on to Squarespace and how I build stories using that platform coming up next. (ethereal piano music)
Ratings and Reviews
Fantastic My thoughts on the storytelling workshop. The short is; it's fantastic. The long is I loved all the details covered, from shot types and the ideas behind them to the call sheets and shot lists, and the whole process. I felt like I had a better understanding of how to schedule a professional shoot and I really felt like I had a much better grasp on many ideas and concepts, and I believe I've been able to improve my photography with them, so thank you and Finn. It really is fantastic.
A path to better stories Very happy I got this workshop. Finn and Alex do a great job at teaching highly useful methods and specific advice to help you improve your own work, and more importantly, tell better stories that are meaningful to you.
Simply the best This is simply the best workshop out there on photography and storytelling. Finn is awe inspiring and so real and authentic. A pleasure to watch, a joy to learn from such master. I really hope a volume 2 is coming soon! Thank you for this one!
Student Work