Q&A: Pricing Your Work
Finn Beales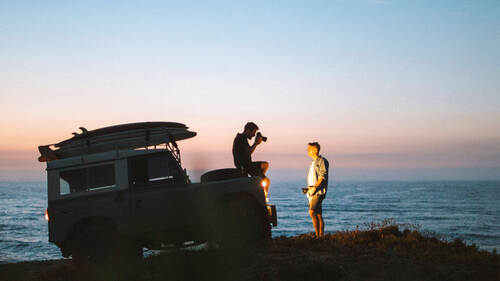 Q&A: Pricing Your Work
Finn Beales
Lesson Info
33. Q&A: Pricing Your Work
In this episode Finn and Alex discuss the tricky topic of pricing your photography and give you examples and advice to help you value your work.
Lesson Info
Q&A: Pricing Your Work
Big one here, big one. It is short episode on how to price your work. How do you price your work? Then I'll share how to price. How do you price your work? Hmm. And I guess I don't involve my agent here because he does price some of my work. That's true. What if you don't have an agent? If you don't have an agent? I think first up you need to, well, if a project comes in and you are wondering how to respond to it. Well, yeah. What is your work worth to you? Like how much do they pay? It's more like what it's worth to your client. I think that's the best place to start. Okay. And it's probably worth a lot more than you think it might be worth and you need to have the right questions to bounce back to them. So they're aware that you are aware of how much your work is worth. So questions? Yes. What are these questions? Usage. Okay. How do you intend to- I want to use as a- How do you intend to use these images? Big one. Yeah, because usage is... There's m...
any different ways you can use an image. They're just gonna put it on their social account and tag you, all right? Yep. So not gonna be worth a great deal, but they might, if they haven't mentioned it, use that same image on a billboard in Times Square, and that's gonna be worth Different. A lot more. That's a good paycheck. Yeah, completely, so definitely ask them to specify the usage. If it's a project that you are being commissioned to shoot, ask how many deliverables they require. Usage, deliverables. Usage and deliverables. That's good, yes. So does that encompass film? Does that encompass stills and how many of each if so? And the stills shouldn't be vague, not like five to seven, 'cause we see that sometimes in contracts. Five to ten stills. 'Cause if somebody puts back to five, the client wants 5 to 10, the client wants 10 and you probably wanna do five, so precise precision in the numbers I think is good. Yeah. Another question relates to once you've established that, whether they'll put any money behind promoting those images, that's called paid placement. Whether they are spending money to promote that content on Facebook, there is a price for that. Yeah, 'cause they're promoting, you're using the work for promotion as well in there. Correct. Use of likeness is something that's increasingly coming into the industry. So you might be a young, cool-looking photographer or creator and they want to use your likeness, Your face. your face and your Brand. your brand to advertise their product. So ask if there's any use of likeness. Are they shooting any BTS, behind the scenes, footage of you doing your job, which they may then put out on their social channels? All of these have value and you need to establish on the outset and you then need to contract that up so you have it in writing. Yes. And you can download contracts off the internet or maybe we could do- Did you ask them to do contracts for you or you just go and do them? I have done contracts myself. Really? Yeah, I've walked people through the entire process. I could probably maybe give that away in like a PDF. A sample contract? It's something, might be quite a nice little Useful. That'd be useful. download, yeah. So yeah, having that in your back pocket is great, 'cause then they take you a bit more seriously. Yeah, 'cause this guy's got a contract, he's prepared. Oh, okay. And if they're serious, they'll go through it. So that's like a project that comes in. If a brand approaches me and asks to use an existing image for the show. Like licensing? Yeah. So they've seen something on Instagram, they've seen something on my website, I might ask them all those same questions again. Sure, yeah. And they say, "Well, this is how we want to use it, this and blah, blah, blah." How do you price it then? My go to is something called a Getty image Yes. pricing calculator. I can't remember the web link, but if you bang that into that Google. Yeah, just get off on it. It's a good place to start. It's a great place to start. So that will give you like a dropdown list that will say like, how do you intend to use this image? "I wanna do a print Camma for like 5,000 prints, blah, blah, blah, blah." How long are you gonna use the image for? And so I fill in this question about it and then it'll pop out a price. I'll then screen-grab that price, put it in an email, and say to the inquirer, "I put in your usage to Getty You send it? pricing calculator." Yeah, I'll blur out the actual image that it's pricing, but basically it's on the usage. And say, "This is an established market rate for the use Yeah, it's a market rate. Does that mean it's your price? It's a market. Doesn't mean it's my rate. Yes. But it's a starting point from where we can negotiate. And you might have in your mind, "Oh, I'm gonna sell it for like 200 bucks or something." And Getty usually comes in way higher. It's like two and a half grand or something. Yeah. But you know- Helps you be based on something too. You're based on something to come down from and that is usually quite a high rate. And it also gives you a bit of credibility. It's interesting 'cause sometimes I feel like if the image, I think I agree 100% with that, starting there, I feel like if the image they wanna license is the image of a float plane over auroras with dolphins in the back, something crazy to recreate, it'd be very expensive to recreate, I usually price those higher. Yeah? Because they're very hard to recreate. If this is an image of somebody walking on the beach, Yeah? They can make it all day long, they can get somewhere else. But if it's something really specific, I'd go and jack those up really higher than Getty. Yeah. So to say, if it's really... Yeah, yeah, yeah. You put the image. Yeah, yeah, yeah, right, okay. I definitely agree. Well, in that case, I might not even send them the Getty bit. No, I think it's a place to start, and then.... Yeah, I'd get that in my head. Like okay, that's market rate, but actually I really care about this image. And there have been times when, I haven't got the budget and I was like, "Well, I'm not gonna sell it to you then because you can't recreate this, you can't get it anywhere else." And I know It's gonna be a quid, yeah. I can sell that elsewhere or I'm pretty confident I can sell that elsewhere. So I don't want to give you- Really? Yeah, I've done that before. If it's a band. My bad, band. If it's a brand you don't wanna be attached to? Well, if they haven't got the budget. Oh yeah, yeah. That I have in my mind for that image. You don't wanna lower, yeah, the value. I don't wanna... Because once it's being used in a campaign by a brand, then it's unlikely to be used by another brand. Depends how, again, it depends. How big the campaign is. Depends on the usage. But I have turned down stuff like that. I think more than anything, value. Your work has a value. Yeah. Don't just give it away. As soon as you give something away, you just become, you know, it's worthless. Yeah, I mean, there's a few instances where I've worked for free and it's for if it's like a good cause, you know? Like if it's some- Just different. Yeah, or rarely when it's a really dear friend. Different again. It's doing something, yeah. But there's also instances where you can also be not let's say human, but you can also, look at all the conditions. He's my friend and he's just starting out this little brand. I'll shoot a couple photos for him, it takes me two hours. Yeah, for sure. Still two hours of my time but... And you gotta make, at least I wanna make sure that the friend knows I'm doing him a good solid. Yeah. But yeah, there's some instances rarely, right? Yeah, I mean, I guess I'm answering it 'cause I guess people out there want to know how to make money out as a photographer in that. Yeah, yes, this is an isolated case where you can just do that. Yeah, yeah. But how do you feel about working for cheap? or if the brand exactly has a thousand dollars? So I have this rule, it's called the three F rule. I love this. The three Fs? Three Fs. Fortune, fun, and fame. I nearly forgot my own rule then. If a project fulfills two of those, Two of the three Fs? yeah, I'll do it. So if fortune, Fortune? if there's fortune there, and it's fun, for fortune, I'll probably do it anyway. If it's just one? Only needs one. Only needs one. You gotta pay the bills. Yeah. But you can twist it each way. So like fame and fun, but there's no money. If it's gonna extend my profile. Yes, if it's on the profile, yeah And I'm gonna enjoy it. I agree. I'll do it. If it's gonna extend my profile, but I'm gonna hate it. Maybe not. I'll breathe in. So fun, fortune. What's the other triad you could do? You had the fame. Fame and fortune, yeah. So basically, and if something's gonna add to my portfolio and I haven't got that- So you wanna get that and you haven't got it yet. Yeah. So if the opportunity is there to fly a helicopter over a volcano and- It's exploding. Yeah, and there's, yeah, like you say, dolphins diving in the background and I'd like to create that myself, it's gonna cost a lot of money. But if they've got $1,000. If it matches your taste, yeah, yeah, yeah. Right, I'll do it. But yeah, so that's my three rules. I like it, this is good stuff. Just to recap, start with questions. Yeah, establish how the image is gonna used. Usage, deliverables. Use of likeness. Use of likeness, and then start with the Getty pricing tool. Yeah. And then your three rules, it's gotta fulfill fortune, fame, or fun. Yes. Okay, good stuff. Do you use a day rate? No, rarely. I mean, it is always the question that comes in. "What's your rate?" I'm like, "Well, I don't really have it." Yeah, there's no rate sheet. Yeah. Oh man. Again, am I gonna enjoy this? Then there's like a creativity budget scale, you know? If the creativity's really high and the budget's really low, then I'll probably do it. If it's the other way, and it's not a very creative campaign, but the budget's really high, then I'll do it. It's like tipping point, yeah. There's no like fixed... I agree with the no day rate thing, I'd rather have a big lump sum budget for the whole shoot that includes everything. And then... 'Cause otherwise, there's too many line items. Some brands wanna see all the line items, but when they start seeing them, they're like, "Oh, why do we have this little line item? Can we just do less of these for example? Or can we just do three days instead of two days 'cause we don't have this budget", and then it ends up being a shit show. Yeah. So I just keep it to budget for the whole project base. This is how much it is to actionate, to do this project. Yeah, yeah. Then you can move on that if you have to, but you have to take some things away. I think that makes sense. I mean you are talking more as well about production. You did a lot of your own production. Yeah, I love it. In your shoots, yeah. Encompasses everything. So that's a whole other sort of cost that I guess I haven't addressed. I'm talking more about being a photographer commission. Timing it. Yeah. That production... Production takes up so much time. And is crucially important in terms of the end result. Yes. All that preparation. So when you land on the ground, and I don't think people really think about that. No, no, no. The brand is in their office. "They're like what? So much money to get there and do this?" Yeah, yeah, yeah. I think that on taking things away though, when the client starts to negotiate, I feel like there's a moment where you can't go any lower. They're like "We just have this money and you gotta match it". Sometimes you just say no I feel like. But in some instances, you can make it work. because it's going under your, I guess it's your brand, you're putting your name on it. So it's gotta be good. Well... Go on. Well I guess for me, at least a threshold is I could still make it happen for that budget, but I wanna start it in a really high place so I can stick a few things away. Yeah. How do you approach that? Again, it comes down to usage. 'Cause you say you're putting your name to it. You're talking about like that public declaration, that this is my work. Yeah, when they're gonna negotiate But that's not necessarily the case if it's being published without any reference to you. So if you wanna take the job, and your name's not gonna be on it, and you feel like it's gonna be a little bit compromised, but it's a fair budget and you can shoot it for them and you make them aware of it. You can do it, yeah. You say, "Well, this is gonna compromise the end result. I'm not gonna be able to get this, this, this, and this. But if you really wanna do it and my name's not gonna be attached." You could approach it. No, you could 100% do it. Yeah, I agree. And then you don't put it in your portfolio and you're just like, "Well, that's not-" You don't talk about it? No, just don't talk about it. It is a job, yeah. Yeah, so you can approach it like that. Yeah. Yeah, I think I wouldn't compromise my image, Your brand just for one job. Yeah, through compromise made on their end, you know? I think that would be a mistake. You gotta keep a standard. Yeah, 'cause you're in it for the long game, so. In 10 years, you just need- You're only as good as your last job. That's a good one. That's a thing that I sort of say to myself as well, it's like. That's a good one. Yeah. So flipping it around, how do you price? I'm intrigued. Oh yeah, yeah. Well I think that pricing, just for pricing my work, I always look at... I start with, you have your three rules. It's a bit similar, but I'm just wondering, my first question I ask to myself, "what's my time worth to me?" you know? Every year, I ask myself that and that changes. What is a day of my time or a day going through airports and annoying moments. So I just do the whole math of it. Is it worth my time? And as you do this for years, you establish more credibility, higher rates, so your time becomes more valuable whether you want it or not. You just have to be aware of that. I think being aware of that self worth without getting without crazy about it, but I just start with what's my time worth to me. Yeah. And then if that day I'm gonna spend there makes it worth it, 'cause I could be doing something else. Yeah, sure. I could be building something else, a cool concept that I'm gonna pitch somebody, and then that money would come somehow else. So I just wanna start with what my time is worth to me. And then I can move from that. If it matches it, then we would start talking, otherwise. Yeah, end the conversation. I think it's difficult. Well send somebody else at least, you know? I'll just be like, "Yeah, we're busy on this." I'm super polite about it. I'm like, "Yeah, busy on this date. Sorry, I can't make it happen." Always use that. I'll never say no, right? Always use that. That's a, yeah. Easy. Don't make them think that you're not interested. Yeah, you don't want them to feel bad. I'm busy but this? I'd love to do this in the future. Hit me up again because- And sometimes I'll send him somebody's name. Like yeah, "My buddy Joe will do this." Yeah, yeah. Yeah, I'll text Joe. Be like, "Do you wanna do this? Yeah, okay." Then Joe might be up for it, done. I think it's tricky starting out establishing how long a project Starting out, yeah. can take to put together. Are you talking about like production and stuff like that? Yes. Well, when you're starting out, your time is worth nothing so forever. Yeah. I remember putting a lot of trips together for weeks just in my kitchen, but I was like, "What else am I gonna be doing anyways?" Yeah, but also in terms of like shoot days and like a client will come in and say, "Well, we just wanna shoot for like three days in here", but then all that time in like talking to them, meetings, establishing concepts, Yeah, there's a lot of tasking before, yes. blah, blah, blah, and then all the edit afterwards, obviously. So all that, you've gotta factor in to the time Yes. aspect. And I think that can be tricky sometimes starting out. You don't calculate actually how long a project might take. No. When you calculate all the back and forth at the beginning. So keep that in mind, yeah. Now on the whole pricing thing. Yep. And I hear people asking this, it's a difficult one, but how do you price, okay, how do you price an Instagram post? Oh, tough question. Yeah, it is. But brands sometimes want that, "How much is it for one post?" is the question you get. What do you tell them? So I try to get them to answer their own question. So I try and swirl a budget out of them because they have a budget for a post. Everyone has a budget. They know, everyone has a budget. Even though they say they don't have one. Yeah, so what I do is I try and tip it back to a real world example. So it's like, I go, this is like asking a builder how much does a house cost Yeah. to build? What kind of house, yeah. He'd say, "What kind of house?" But this is more specific, this is one post. So this is like a two bedroom house. Yeah. Depending on your audience, one bedroom, five bedroom. Yeah, but there are variables that will play into making that image or... Yes. Right? Yeah, yeah. So... I'm making the image and posting it, yes. Yeah, so. 'Cause I've gotta make it. So yeah, I've gotta make the image. So and I might ask a bunch of questions. Basically I try keep hitting it back to them all the time, asking what their budget parameters are. So they could say like, "What is your sort of budget?" What if they're like, "Sorry, we just don't have one." Then it goes- "No, but we don't have anything in mind. What's your rate?" I'd ask them, have they done campaigns in the past? That's smart, yes. What have they paid in the past? What if they're like, "Oh, you're the first person we work with your audience, you know, with your audience size or whatever." (guest sighs) Yeah. I'm not gonna like say this is how much. You won't tell them? No, I'll keep it. Or I might pick a number based on the campaign as to what I would... For a campaign? Yeah, what I want. Do you try to sell them more? Sometimes when they want just one post, I'm like, "Well, we're not gonna do one post, but we could do a series with a film and there's gonna be this much." Yeah? Try to, yeah, upsell them. That's happened? Yeah. Yeah, yeah, yeah, upselling? I feel like it's just an opportunity to upsell them onto something. Yeah? Because they're ready to spend with you, right? Yeah. So why not just upsell them? Sometimes, they're like, "Sorry, we just want one post." Yeah, yeah, yeah, yeah. In this case, what do you do if they just want one post? Like do you do it, do you do it, do you not? Right, it depends if it hits my three rule, you know? Fame? Am I into the job? And how much like you said about valuing your time, you have a value. Oh yeah. You gotta think about that. I mean, when you're starting out, sometimes you're gonna do stuff for free. Like say it's like a trip to Indonesia and you get to fly with these helicopters, You're gonna build your portfolio. You're starting out. You're starting out and it helps build your folio, but- Do I get a couple hundred bucks? Yeah, it's a tricky one. Yeah, you're starting out, yeah. Yeah, but you are never gonna make a career out of photography if you keep doing that. No. I always have to charge. I think for me, I'd try to charge more each time. Each time and establish with the client or the brand that you can bring something different to the table, you know? Different. And say, "This is how I'm gonna approach this. But obviously this is gonna take me more time." Or are you gonna send me a watch and I'm gonna go. (guest mimics popping) That watch. It's not gonna be worth much money, but if you go back to them with a really sound concept and say, "Actually, this is how I want to approach this project. If you wanna work with me, this is what you'll get." Do you give them like, just email or a PDF or do you make a day? I'll do a treatment. I'll do it deck, yeah, yeah, yeah. If it's good, if it's worth your time. Yeah, if it's a good brand, if it's someone I wanna work with. Alright, even if I haven't got a budget on the table, but I would really wanna shoot it and I know I could- You can convince them? Yeah, I'll totally put the time into that. Put the effort into this treatment. Yeah, yeah, yeah, yeah, yeah. That's good. So like I'll have mood boards and all that come-ins. So if I've shot a campaign that's not social related and they come to me afterwards and ask me to post a picture on my social. Again, I'm like asking myself questions. Like, do I wanna work with this brand again? Yeah, again, yeah. Do I see myself- It's a tricky position. It is a tricky position. Do I like the picture? Do I wanna share it with my followers, you know? I would say 90% of the jobs that I do, I'm happy. I'd just share anyways. Yes, I'm happy. Yeah, and I like the pictures I put the time and the effort into making them and I kind of wanna share them. Yeah. So maybe in that instance, I've been paid, I probably would if I like the brand. Yeah. So we just not even up charge is what you're saying? I might try it. Might try it first, right? Yeah. Yeah, try and get it. Might say well, but if they say, "No, I haven't got any money," but if I want to share it and when I want to work with them again, and I want to develop that relationship with that client, that brand, It's worth it. and I know it's investment. Yes. Right? It's like, I'm investing my product that I know has a value back into that client, because in the relationship's it's like, "Oh, we like this guy." They're gonna come back. It kind echoes to this, at least for me, I try to always under promise on a project and then Over develop. over deliver. Yeah, yeah, yeah. Like we're gonna get five images and then I just send them 50, you know, just 'cause I'm really happy and they're happy too. It's like, "Wow, we got so much more." Yeah. But it's good to really start Yeah. It's really tight, under promise, and then boom, you can surprise them, blow them away. Yeah, and don't get too bogged down in pricing because then you just get this sort of, on their end, they're like, "Oh, this guy." He's like only gonna deal and, you know? Here to pay? Yeah, yeah. It's a relationship. It's a two way relationship. And like I say, invest in those relationships, 'cause they'll come back to you. "You're a nice person to work with. You produce good work and you're not a jerk." This pays a lot if you're nice to work with, if you don't have problems. 100%. 100%. You're good on set- Be nice. Yeah, be nice. Yeah, yeah, yeah, totally. And yeah, don't get too bogged down in that fame. Be humble. Fame, fortune. Be humble. Yeah, yeah, yeah. Yep. Yeah. (wistful music)
Ratings and Reviews
Fantastic My thoughts on the storytelling workshop. The short is; it's fantastic. The long is I loved all the details covered, from shot types and the ideas behind them to the call sheets and shot lists, and the whole process. I felt like I had a better understanding of how to schedule a professional shoot and I really felt like I had a much better grasp on many ideas and concepts, and I believe I've been able to improve my photography with them, so thank you and Finn. It really is fantastic.
A path to better stories Very happy I got this workshop. Finn and Alex do a great job at teaching highly useful methods and specific advice to help you improve your own work, and more importantly, tell better stories that are meaningful to you.
Simply the best This is simply the best workshop out there on photography and storytelling. Finn is awe inspiring and so real and authentic. A pleasure to watch, a joy to learn from such master. I really hope a volume 2 is coming soon! Thank you for this one!
Student Work