Shoot: Layer With a Mirror
Dave Krugman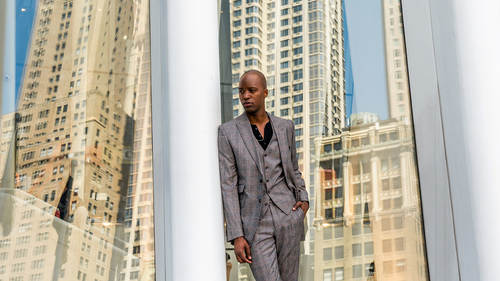 Shoot: Layer With a Mirror
Dave Krugman
Lesson Info
8. Shoot: Layer With a Mirror
Lesson Info
Shoot: Layer With a Mirror
Think this is like an exciting mirror for me here. So, let's see. Let's see if we can demonstrate. We can move that here wherever you want. Okay, that's fine where it is. Yeah, this is great. So, the question that was asked online, who asked that again? I'm not sure. Yeah, don't worry about it. The question was how do you take the picture and not be in the frame. So if you notice, where I'm standing right now, I think there's no way I'm gonna pick up my own reflection. But also, I only see the computer because it's... So if she moves over, now you can see me, you can make eye contact with me. I know you guys can't see this, but you'll see on the monitor in a moment. So, perfect, yeah, look right here. Sweet. So, again, using, adding a layer to create a frame is something that I always, that's why I love mirrors to use. And you can see, it's just a garage door with a mirror, but you do get this cool sense of like a portal to another place, or you can keep adding mirrors. I think...
the most mirrors I've shot through is like four, and at that point, it starts to get distorted 'cause every mirror has a little imperfection in it. But I've gone through like four mirrors, like mirror, mirror, mirror, mirror, mirror. It's crazy, but... I also wanna show you guys because I was talking about it. This mirror has that bevel thing that I was talking about. So let me see if I can find it here 'cause this is usually really fun. Yeah. So, understanding the way that light is working with the surface. You can do a lot of interesting stuff in camera. Yeah, so you can create, you know, you can create just with the edge on the mirror, you can create this weird kind of trippy sense of balance because, you see, there's a third face happening in the middle. Let's see what's going on there. (audience laughs) See the third? This is really interesting. So it's like playing with lay, and I'm right there, I've never seen that third little reflection. So there's something in this mirror, some weird little aberration or, actually, I know what it is, there's like a little gap in the bevel. But it's really cool because you're learning something new every time, and the amount you can mess around with this stuff, it's just limitless, and that's really fun. Let's try a few, I'm gonna try a few more of these ones, just 'cause it's really cool. I'm like thinking about what you can do with so little, it's like really interesting. Nice. Let's see here. You come over a little bit this way, actually? Yeah, maybe put your hand up on the mirror. Yeah. Yeah, there's so much you can do with so little. I'm gonna show you guys, too. So, this is shooting wide open. (camera clicks twice rapidly) I'm creating a little foreground element. Yeah, that's it. And now, I was explaining earlier how sometimes, I really... So, you kind lose the sense of that being her hand. So, what'd I do here? So I'm gonna turn up my ISO a bunch to 3,200, and I'm gonna make my aperture much, I'm gonna stop down, as they say. I go to 60 f. And can you do the same thing with your hand? Yeah. So now, I'm at a higher aperture. (camera clicks) So that changes the composition because, now, we get the context of her ring and where her hand is and stuff like that, it's really interesting. Again, adding layers, and another thing, will you hold your hand up to me like this? Yeah, a little bit closer to your face? A little bit down? Yeah, so like, you can create, let me see here, you can create really, let me go manual. Actually, I'm gonna do something about. Just because there's not a lot of stuff in the room, doesn't mean you can't work with layers. Sorry, I'm not gonna make you hold your hand up there. Spirit fingers. Okay, one more time? So like, you know, never think that there's not interesting stuff. Oh, where are we here? (camera clicks) (camera clicks) All right, this looks cool. And then, put your hand back on the mirror for a second? Let's see if we can, will you spread your fingers a little bit? Yeah. Huh. You're just adding any element of depth is really gonna help any composition. (camera clicks) Cool, okay. Let's see. Yeah. (camera clicks) (camera clicks twice rapidly) Just looking for different ways to work with this room. (camera clicks) Cool, okay, thank you.
Ratings and Reviews
I enjoyed the class. I'm trying to get better with my street photography skills, and this course gave me a few things to think about. I appreciate that Dave added before and after photos for his lessons.
Student Work