Shoot: Compositional Awareness
Dave Krugman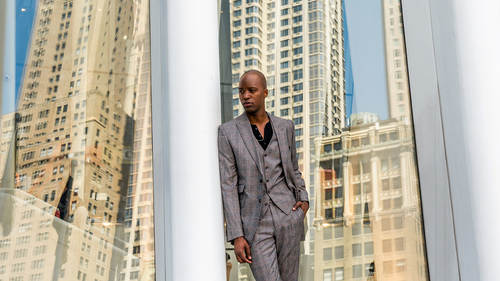 Shoot: Compositional Awareness
Dave Krugman
Lesson Info
7. Shoot: Compositional Awareness
Lesson Info
Shoot: Compositional Awareness
So when I'm in a space, you know, if we were outside I'd probably have a different ability to move around and use different elements, but I'm gonna do what we can with this grid space. So I really like, we shot a little bit of the back-lit stuff earlier and that got me thinking about composition in this room, 'cause I was already thinking about what we're gonna do now. And to me one of the things that I really liked about these windows is this like, square right here. And so, again, just talking about your situational awareness, even though this is a very simple scene. Do you mind just standing a little bit closer to there. So, here, come a little bit this way. I'm gonna do it wrong first. So, to me, there's kind of this, you know, let's say I'm shooting a back lit shot and I shoot it like this, or like this. We'll see if they pop up. So the first one is like, I don't like all these lines coming out of her head, right, there's so many more interesting compositions in this grid behind h...
er, and then the second one is like, I expect there to be some like, vertical or horizontal consistency, and I can tell that that's just a misfire for example. So if I could have you move a little bit to your right, yeah, and so, a little bit less, actually, come a little bit this way, uh, a little bit back. Yeah, that's good. Okay. Great, so actually just lean a little this way, yeah. Little less than that, yeah. Yeah, exactly. So, you know, if we do have to have this background behind her, like I'm gonna be very careful about where we're positioning her head, and where we're gonna, that to me I don't think that it's like a strong image, but it's a stronger image than the ones where there's lines like coming out of her head and stuff like that. So being hyper aware, you saw how careful, even like, I'm making her move, probably frustrating you and making you move a few millimeters back and forth, but it makes a difference, you know, if there's a little bit more room on the left than on the right, then that whole sense of balance is broken down again. Again, but like I don't, I kind of don't even like that the line's going right by her eye line, because that's, again that's really distracting. So what I would probably do is I might even get a little bit lower. Slide back a little bit, yeah. A little bit, yeah, right there. So now, if I change my angle, change my perspective, now we're gonna have a much cleaner composition. So that to me, you know again, like this is not gonna win a Pulitzer prize, here, but that to me is a much better frame. There's also an interesting thing, that if you notice, you'll never look at magazines the same way again, but they always photograph female subjects from above, like slightly above, and they always photograph male subjects from slightly below, and it's just this weird technique that they use, 'cause it's like they, I don't know, it's like they're trying to force your perspective so you're looking down on someone or you're looking up at somebody, and it changes the way that you perceive them, and that's really interesting. So when you think about photography and if you're taking a low angle or taking a high angle, think about that too. Again, we don't have to be straight on to use these compositional techniques. I'm gonna do a little bit of, kind of like what we were doing earlier, but now I'm gonna talk about the composition of it, the leading lines idea. So if you could move a little bit over this way. So any line in the world is a leading line, it just depends where you stand. So in this frame, I wouldn't really consider these leading lines, I'd consider this more of like a framing grid. But now if you see, yeah like actually come even closer, yeah. So if I take, let's see. Nice, thank you. So now that we've taken a slight angle on it. Oh, it's there sorry, I was like looking over here. So now your eye automatically goes straight to the subject. I'm gonna just show you, again, the wrong way would be this. Actually look this way, too, 'cause I'm gonna do two wrong things at once, why not. So the two mistakes I made here, on purpose I'll remind you, nothing against Kenna, you're a great background subject. She's looking off the frame, that's very distracting, and also I'm not utilizing that line to lead into the frame, it's just kind of being wasted. So let's go one more time, and I'm gonna change that frame to fix my mistakes. Look off this way. Yep. Then actually, one more. Cool. So, I mean look at, go back to this one for a second. So look at the difference between this and the previous one. And I know it's like, such an obvious mistake, or such an obvious thing, but if you think about looking into the frame, having a big length of line leading in, and then all of these kind of vertical lines and this strong black vertical line here, it just has a much better sense of balance in general. Actually I really like that picture, it's nice. And then go to this one. Ha, good job, Dave. And then again, making the decision, so, sorry to make you keep flipping back, but go back to this one again. Again, this kind of bugs me that this goes straight into her eye line, but if we, if I was like so okay so if I get a little lower, that line is a little lower with me, so then go back to the other one, this to me is a much more natural cut. So just be kind of conscious of where your lines are, whether they're in the background or in the foreground of your image and that's that. I think that's pretty good.
Ratings and Reviews
I enjoyed the class. I'm trying to get better with my street photography skills, and this course gave me a few things to think about. I appreciate that Dave added before and after photos for his lessons.
Student Work