Color is a Tool For Balance
Dave Krugman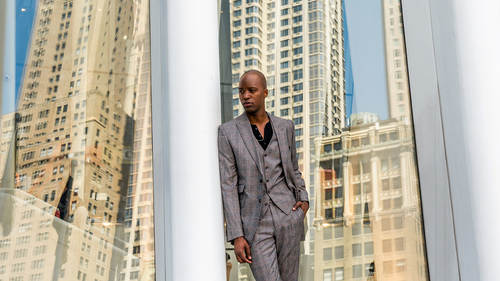 Color is a Tool For Balance
Dave Krugman
Lesson Info
4. Color is a Tool For Balance
Lesson Info
Color is a Tool For Balance
Color as I mentioned is a tool for balance. This is something that I often see in posts unless when I'm in the field. When I am in the field, I am very much in my zone. I am working all on instinct and gut. I shoot a lot and ask questions later. I'm just going to talk a little bit about how color can unite an image and really create balance. Because splash of blue on the right can be counter balance, similar tone on the left. If there is complementary colors like the cars that I showed you or primary colors like red, yellow, blue. These are things that our brains are a tuned to and can really help you unite an image and balance out an image. The more you see this the more they start to pop out to you, you are like oh that's interesting. Everything that is designed is designed in a really interesting way. It's like graphic designs or posters. You'll start to notice the way the people are composing and balancing color. Even clothing, I'm wearing all black not a good example. You'll start...
to see this stuff all around you. Even when you are not shooting. I think that's really the key to learning photography. When you're not shooting to even be looking. I took this picture, I was on assignment for Sony testing out a new lens. This was the tail end of Hurricane Florence kind of came over New York, it wasn't a hurricane by that point, it was just really crazy rain. I love shooting New York in the rain. It turns everything into a watercolor painting. Especially in Times Square where there's all of this neon light bouncing around. Times Square is packed, it's a very complicated place. It can be really hard to create a well balanced image there. This to me, was an example of where this little touch of color goes a really long way to balancing out the entire frame. I know it might not seem like much. But this little tiny reflection off this T-Mobile sign, off these bags, all the blue tones coming through here sweeping around here and the little patch of purple here. Just talking about purple, there's a sense of purple balance in this frame. And even the darks and this guy right here is balanced by this shape right here. It's really just an innate sense of balance and a lot of it in this frame has to do with color. See the Statue of Liberty hats? The green in the bottom right? Is counterbalanced by this Starbucks sign. Sometimes I'm in Lightroom at the end of the day. I'm like, wow, it's not even the work I did. It's just the way the city is set up. It's like oh, this is amazing. We have these balances that are already built into the city. So I just thought this was an interesting example. Definitely one of my favorite photos and most indicative of what I'm going for when I make my work. Again, using color and layers to change composition. So if you ever want to take a shot like this the key here is that I had extended my depth of field. I had a really wide depth of field by shooting an F16 on my lens. I actually put my ISO all the way up to in the middle of the day, typically I would never do that. But the reason is because I didn't want to loose the subjects in the back of the frame. They would all be blurred out if I was shooting wide open. When you're working with layers if you stop down, on your aperture higher number, smaller hole. It can really go a long way in preserving the different layers. This one I included because it's about color again. These blues, first of all two guys with umbrellas. They're balancing themselves out a little bit. Blue of his umbrella matches the blue of his shirt. The red of his umbrella is kind of continued throughout the frame in this red line of the firetruck and the red in all of the drops. Even in the bottom right corner. I just love how all the color here plays together. How the drops pick up a little bit of that color and spread it throughout the whole image, creating even more balance. I was talking about primary colors. The reason that the composition of this really appeals to me is because everything is red, yellow, blue. The sign is yellow, red, blue. His Michelanglo umbrella, which I also like the word Michelangelo on there I thought it was a nice touch. Is red and then there's the yellow light and the blue of the street again, this image is almost automatically united because it has all the same color scheme. And then you can see where I have him sitting in the frame. A little bit off to the right as a subject because he's kind of counterbalanced by that. The darkness of his jacket is counterbalanced by the brightness of the light from the headlights behind him. A little subtle bit there.
Ratings and Reviews
I enjoyed the class. I'm trying to get better with my street photography skills, and this course gave me a few things to think about. I appreciate that Dave added before and after photos for his lessons.
Student Work