Adding Layers
Dave Krugman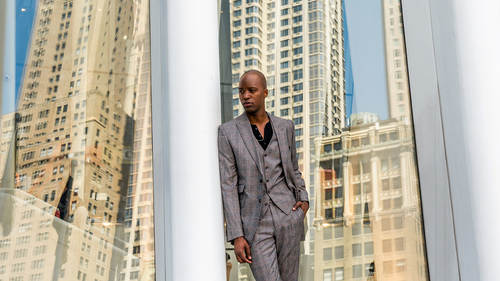 Adding Layers
Dave Krugman
Lesson Info
5. Adding Layers
Lesson Info
Adding Layers
One of the problems with social media is that, I think it's really pushed people to make extremely digestible work. Like work that is just immediately appealing and then it can be scrolled past and I think that that's something that we all kinda have to push against, is the tendency to do the most, you know, the path of least resistance, especially online. So I think digestibility content kind of supersedes craft sometimes and that's why so much of Instagram is like, you know, a person on a mountain and then a person in the middle of the frame and it's just the same thing and those are the shots that get the most attention. That's because it's very easy to make and it's very easy to consume so it's like, if people ... If you know you're gonna get 200 more likes on a photo because you put somebody in the center of the frame, the temptation is very strong to do that so, just as a piece of advice, I think it's interesting to push against those easy gets and try to figure out different way...
s to balance the image, even though, you know, I will make symmetrical images and I love to at times. I just don't want it to be the only way I know how to balance an image. So I think to push these boundaries, it's really important to complexify what you're working with and, again, I think of photography as, like, this ... It's this beautiful equation where there's an infinite amount of variables and there's an infinite amount of answers and that's what's so exciting about it so I think you can add layers to your compositions to create stunning framing and add a sense of balance. You know, I've shown you a few examples already and I'm gonna show you some more but shooting through windows, working with reflected scenes to add layers, adds new compositional elements and can add really interesting frames like, you know, the kid looking in the mirror. He's creating his own frame. I think those are all techniques worth learning and everything you learn, again, is another layer, that, once you multiply it by everything else you know, the possibilities are absolutely exponential and every time you learn something new, you get to, you get to, like, re-multiply your knowledge, and I think that's really great. So, back to examples here. You know, this isn't a bad photo. I'm pretty happy with that photo but to me, the one on the bottom right is so much more compelling and all I did was I added one more layer. And so on this one, I was like, "ah, you know, there's just a little too much space up here. It's not quite balanced enough." So I found a little ... a different angle. The trees were tighter and there was all this grass coming up and if you look in here, the subject is, like, perfectly kind of in this little nook that I moved very carefully to put him in and I think that, to me, this is a much more flowing and compelling image, down here on the bottom right than this almost identical image up on the left but, again, too much space, this is too dark, there's not enough sense of balance here, whereas these ones really match up nicely and the grass makes a great layer. So, adding layers can really make your scenes more complex but also more interesting. Again, this is a situation, I was in Cuba and it was kind of a sun shower, it rained, and everyone was rolling down the window to clear the water drops off and I was like, "I'm gonna shoot with the water drops on because, to me, it creates another compositional element" and I really like this kind of approach because every one of those little water droplets is like a little lens and you can, if you zoom in on this picture, you can see the entire scene in every droplet. I think that's just a cool compositional element. It takes what could be a kind of boring picture and makes it a little more interesting to me and, again, you have this. The blues counterbalance and primary colors all over the place and just another image, to me, that just has a central balance to it even though it's not centered. So, working with portraiture, you know, shooting street, take it over to portraiture and adding layers. That, to me, is what makes this a more interesting photo. These foreground elements and background elements and being aware of where everything is creates a space for the subject to exist in and I think that creates an innate sense of balance. Obviously, this is a centered shot but, you know, there's this kind of angle moving through with the potted plants and really nice light and I took plenty of versions of this without the foreground elements and it's just not as compelling. It kind of unites the whole scene to have a foreground and background, midground, just as many layers as you can add. I would encourage you to always try to put more and more and more into your frame. This I also included in the natural light, a different version of this shot, but making a more compelling frame by, you know, this is one frame but it's almost a double exposure or what could balance somebody more than themselves, again, reflected. So I included this one where it's not a typical composition but I think it's a frame that sits well on the eyes. Again, adding layers, just creating a space for your subject and this, to me, without shooting through this bamboo, it's just a picture of somebody in a red dress. But once you add the bamboo, it's like where's the context now? Now we're in, like, the jungle. Now we're in this incredible spot. And it's just fun. It's another fun game to play. It's like how much can I obscure my scene while still creating a scene. I think it's really fun. You can combine all sorts ... This is an image I included because I wanted to talk about as we add layers and as we add things that we're learning about, how those all could combine in these, like, kind of beautiful moments. This is, like, there was a beam of light falling across a glass shower door and there was like, somebody had just gotten out of the shower and we were shooting in the room next to it and I went in there and I saw this beam of light falling across and I was like, "oh, this is an opportunity to combine all these different things I know." One is the shape of light which is this one beam coming through. The other is adding layers which is the layer of water and glass. And then, you know, understanding where the light's coming from and putting that right on her eye and creating, you know ... So there's all these different elements that come together to make a compelling image. I just think that's an example of the additive nature of what you learn about photography. Now you can just stack and stack and stack and stack. And you know, if I turn to the right, I could've shot this in the mirror on that. You know, how many layers can we go? Or if I went outside, could I shoot through the window into the mirror and then ... Like, how many layers can we go? It's a fun challenge. (laughs) It's really fun in New York too because there's so much light bouncing around that you can just trace it all over the place and as you trace it, you're learning about how light works and it's really fascinating. Again, this is ... So when they turn over a store in New York, this is a store that went out of business or something, they go on the inside. They kinda, like, paint out the windows so nobody can see into the construction and what they're doing for the new place. But I noticed it was picking up really interesting reflections of the street behind me so I kinda just camped out for a minute and, again, I made my aperture, I stunted my depth of field by making my aperture really high so that I could get the definition of the brushstrokes but also get the scene behind me. So I liked this one because it was like, you know, I could've just turned around and taken a picture of this guy but it looks so painterly in the window and it looked like ... It just was such an interesting ... I'd never done anything like it so I'm like, "I'm gonna make this picture work by adding an extra layer of reflection and then an extra layer of obstruction" which was the paint that was on the window. So this, to me, is a shot that only works because of including those extra elements, those extra layers. Yeah, including foreground is something that, like, when I first started out in photography, I think I was very conscious of trying to get things out of my way and then, like, the more, the deeper I get into photography, I'm, like, trying to put things back in the way. This is an example. I could crop in on this. I could zoom and it would just be a very nice postcard of New York City from a helicopter but even the lens I had, I had the 24- so I could've zoomed in and I'm sure I do have that shot but I actually preferred the wide because you get this context. Like, you get this incredible pilot who took us up here, the sunlight is, like, streaming in, and, again, she's the only yellow element in this frame except for this over here. So this absolutely balances this in a way that allows your eye to go to the real subject of the frame which is what's in focus in the distance. And so this kind of beautiful circular frame of the window counterbalanced by the color and then this nice touch of blue, that, to me, is an image that the composition works for and I prefer, I way prefer that to just a static image of the New York City skyline. So this is my friend, Paige and we were at an apartment showing and it had one of those, it had, like, French doors so they opened like this and right when I got there, I saw the light was so amazing and I wanted to make all these portraits and then somebody walked by one of these French doors and I saw their reflection for, like, a split second against the city. And I was like "Oh, I saw some really cool layers in there." So I had her come over. I was like, "Look out the window" and then I moved the glass back and forth until these elements all lined up, like the water tower right above her eye, there's just a way the things kind of fit together in the structure of her face with the city that I was moving that composition back and forth until I found a sense of balance in it. And this is the image we ended up making and I really like it. It's cool. It's interesting. Again, such a different photo than if I just, you know, pointed the camera at her in that light. By complicating it, by adding layers, I think we created a much more interesting and much more compelling composition. Again, working with mirrors and reflected light, this is one shot. There's these ... I have a friend in Nashville. He has a hotel called Urban Cowboy, it's amazing. If you ever get a chance to go to Nashville, highly recommend it but he has these little, it's kind of like the bulbs behind you, but they have these, what's the word, beveled mirror reflectors around them so when you turn on the light, it, like, really shines. And I kinda, like, went over to grab a battery or something and I looked into one of those, it's kinda like exploring the light. So I looked into one of those things and I saw that I could see the whole room, like, mirrored like crazy, like, this big arching mirror. So I had the model, Lauren, kind of position herself in the perfect position, like, across the room, and I just shot into this tiny, little, like, this tiny, little mirror that was stuck to the wall and got this image where I'm like, you know, this is balancing itself over and over and over and over and over. And I just thought that was kind of interesting because I love interesting looking compositions that you can make in-camera because you can do this in Photoshop, you can layer things but, like, to find it in the real world is so satisfying. It's like finding these little diamonds in the rough.
Ratings and Reviews
I enjoyed the class. I'm trying to get better with my street photography skills, and this course gave me a few things to think about. I appreciate that Dave added before and after photos for his lessons.
Student Work