Apple Final Cut Pro X: In-Depth
Larry Jordan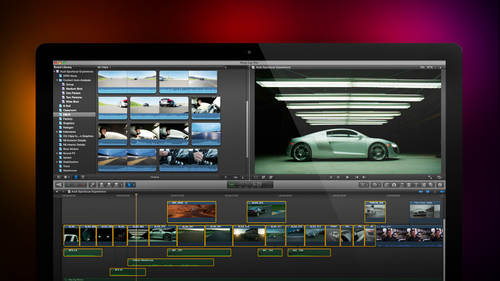 Apple Final Cut Pro X: In-Depth
Larry Jordan
Class Description
AFTER THIS CLASS YOU'LL BE ABLE TO:
Import media into Apple Final Cut Pro X
Use its media management tools to organize your files
Explore the endless possibilities for creating amazing video effects and dig into audio.
Sharpen the skills you need to edit, trim, and combine clips to create a dynamic, engaging final cut.
ABOUT LARRY'S CLASS:
Apple® Final Cut Pro® X has been rocking the film editing world since its initial release in 1999. Today, eleven upgrades later, the video editor's users number in the millions and its editing tools have powered major motion picture and small screen edits. Join Larry Jordan to learn what makes this video editing software so powerful, versatile, and indispensable.
Now an industry standard video editor alongside options like Adobe Premiere Pro, Apple Final Cut Pro X encompasses pro-level editing tools for Mac. Final Cut Pro is a Mac-only program with professional tools that blow the free video editing software and budget video editors like iMovie, Adobe Premiere Elements, and Movie Maker out of the water. The video software can handle everything from 360-degree video to Hollywood-level productions. But navigating those advanced editing tools is a daunting task for beginners. Pretending Final Cut Pro is an intuitive, beginners program will only leave you frustrated and missing the biggest features.
WHO THIS CLASS IS FOR:
Whether you are brand new to editing, self-taught, or a seasoned pro, this course will take your editing skills and Apple Final Cut Pro X mastery to a whole new level, from upload to save.
SOFTWARE USED:
Apple Final Cut Pro X
ABOUT YOUR INSTRUCTOR:
Larry Jordan is an internationally-renowned consultant, digital media analyst, and trainer with over 35 years of experience as a television producer, director, and editor with national broadcast and corporate credits. He is recognized as the foremost trainer in both Apple Final Cut Pro (Mac) and Adobe Premiere Pro (Mac and Windows) where his informative and entertaining teaching style provides video editors around the world with unique resources to increase productivity and enhance their skills. Jordan is on the faculty at both USC and Video Symphony and the host of the DigitalProductionBuzz.com weekly podcast.
Ratings and Reviews
Absolutely one of the best & easy to follow teaching / learning sessions for this product. Larry has a great approach & insight into delivering a wealth of information from his years of experience that budding video engineers will certainly benefit from with a product that is powerful & great to use. I'm enjoying the journey to better understand & use this great product, expanding my experience in producing awesome video presentations. Great work Larry, & also huge fan of creativelive Keep up the great work you all do to assist budding producers in mastering their skills. Noel Blake Melbourne Australia
Final Cut Pro with Larry Jordan has been of enormous help to me just stating in FCPX. Larry has a unique way of getting the message on the basics across in an easy to understand manner. I have not yet looked at the entire course as I am practicing the steps as I go through the course. Many programs of FCP are not presented in the easy to follow manner thatL array does so well. I am 100% delighted with my purchase. I am in Sydney, Australia, and, due to the time difference it is impractical to view courses live. So I had to purchase on trust which in this case was a good choice. It would be good if Creative Live could perhaps rerun programs so overseas folks could view them at a convenient time. The courses still need to be purchased as I find it best to run it on another monitor and put what is taught into practice. Well done and thanks for the special offer in July.
Attending this class was really a life-changing experience. Larry is a wonderful teacher and clearly on top of the program and methodology, and the way he structured the course, did frequent reviews and constant technique reminders (naming keyboard shortcuts as he did them, for example) really added a lot to the presentation. The depth of the class was very much appreciated, and his command of a complex subject showed that it was possible. I have wanted to understand FCP for several years and have only gotten the beginnings of a handle on it in the last 6 months or so. This class was an exponential knowledge upload and I hope will allow me to do lots of things I've only wondered about. I thought Jim was a good foil for Larry and did a nice job keeping things together, even when there was a technical problem. The value for me of being able to sit through the class before deciding to purchase was huge, and I am very much looking forward to reviewing the videos as questions come up. The class was very thorough and I didn't feel anything was being left out. Thank you so much for making it available.
Student Work