Different Methods of Quilting
Blair Stocker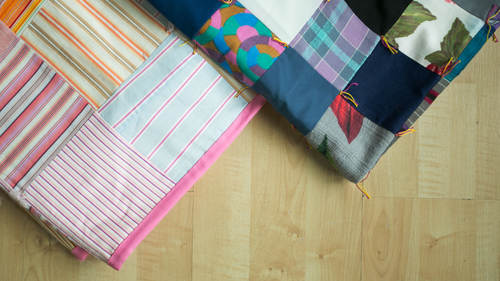 Different Methods of Quilting
Blair Stocker
Lesson Info
10. Different Methods of Quilting
Lesson Info
Different Methods of Quilting
So let's talk about how we're going to quote this I think hand quilting is really interesting I love it I think it makes a draping your quote I think um I think that sometimes we have a tendency to over quilt things to the point where they could almost stand on their own and I love the drape eve feel of hand quilting you're not putting as many stitches into all three layers and it's just allowing you to feel the different layers together in a different way so for these four patch quilts I like to tie them at the corners and I'm going at the corners of we're all these things mean I'm going to show you how to do that said because we've washed all of these layers are thes layers are able to be thrown into machine I like to quote these with wool yarn and I am usually it's whatever I have around but you know it's just as another texture to the surface and it's just I think it makes it more interesting has anybody tied a quilt before have you elephant what thickness of wool yarn are you usin...
g you know likes it what is it d k worsted understood usually worsted but it's whatever I have okay because as long as you can get your needle through it and I've cited some needles in the resource is you to do this to quote with this you need an embroidery needle with a large eye that has a sharp point. You always have to have a sharp point and tapestry needles have large eyes, but they have blunt points. You want a sharp point and then if the yarn gets through it, then that's the art amusing and most of the time any basic wait will work. So what I like about using wool yarn and this is worsted actually, that I'm using right now is that when you tie these after you wash the quilt these matt up into little balls and it's on this like a pom pom, I'll show you in the baby quote that I did. This was a yarn that was a wool, and this has been washed too many times and he's just mad up into these little pom poms, almost it's, really, and I like that because they're not going to come and tied number one and number two just adds a little bit more texture. So the other thing that I use, he is not sure if I have it here, but another thing that I use you can use embroidery floss, that's not going to matter up that it adds a nice contrast. There is a pearl cotton embroidery that I like to use have they have really fun colors and you can get those online I think they sell them pretty pretty much everywhere. It's, a little bit thicker than embroidery floss citizen threat out as much as embroidery floss.
Class Materials
How to Make a Quilt Label.pdf
Sunshine Medallions Quilt Pattern Electronic.pdf
Tips for Using Upcyled Clothes for Quilts.pdf
Ratings and Reviews
This class is a very basic class on making your first quilt out of square blocks. And on tieing a quilt. It is good on that level. She didn't go into much detail about how to work with different fabrics, advantages and disadvantages and different applications for say using jeans vs. linens vs. cotton. Or how to combine them so it does work. I did like that she wasn't from the quilting police and really encouraged us to try things. And to get stuff from Thrift stores, yards sales, etc.
I have been sewing for about 55 years and have made a few quilts. This class was better than I expected, in that it got me thinking about how I can use fabric scraps, fabric from my stash, and designer swatches I got from Fabmo in Sunnyvale!! The teacher had good ideas that you may not find in more traditional quilting classes. So not so perfectionistic and limiting. GO for it!
Student Work