Trim Up the Edges Before Binding
Blair Stocker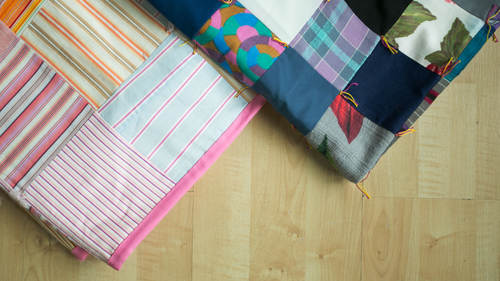 Trim Up the Edges Before Binding
Blair Stocker
Lesson Info
12. Trim Up the Edges Before Binding
Lesson Info
Trim Up the Edges Before Binding
Let's put this one away because what you're left with when you do that, as you can see, we've got all this extra fabric that we don't need any more on the side, so you're gonna trim all that away, and I, um, that would be when I would use my rotary cutter, and I would not trim the quilt top edge unless it were really wonky on the edges I just don't like because then you're it's just too chancy thing you're cutting off something you actually need. So I have a doll quilt that we're going to do that on, and we're gonna bind it. And this is an example of this has a flannel are actually slickened muslin inside of it, and this one is tied with pearl cotton, and they actually used to colors of pearl cotton in the same needle to show, um, just to have to contrast. So so this one's ready for binding. So what? We're going to dio trim up the edges? This is when you're goingto these air really helpful and and move my cutting matt around a lot, I actually have a really big cutting that a home that ...
I use and I move it around a lot when I'm doing this part, but I'm lining this edge up. With the edge of the quote top and like I said unless there's a part that's really poking out I don't want to trend the quote top I just want to trim all the excess of everything else trump all of this off and this is kind of a condensed for him he would of course be using a much larger quote that this the exact same idea yes trimming say you're a beginner quilter and you're assembling your four patch block and you measure it and it it's like ten and a half inches could you then trim that block down so that all yeah yeah if it came out really wonky I would trim it down to ten inches ten ten by ten just to be sure and that can happen that even happens to me sometimes so and when you're using different kinds of fabric and different same allowances just decide in the beginning when you're planning your quota can using corduroy fabrics I think I'm gonna use uh half inch steam allowance versus a quarter inch and you'll have to do a little math and say ok, well then to get ten inch squares I'm gonna have to add this much to each one does that make sense like you were just making cuts a little bit figure you couldn't make supergiant square for patches with close unless you piece them all together and that would be entirely different class we're just gonna do this on all four sides, okay?
Class Materials
How to Make a Quilt Label.pdf
Sunshine Medallions Quilt Pattern Electronic.pdf
Tips for Using Upcyled Clothes for Quilts.pdf
Ratings and Reviews
This class is a very basic class on making your first quilt out of square blocks. And on tieing a quilt. It is good on that level. She didn't go into much detail about how to work with different fabrics, advantages and disadvantages and different applications for say using jeans vs. linens vs. cotton. Or how to combine them so it does work. I did like that she wasn't from the quilting police and really encouraged us to try things. And to get stuff from Thrift stores, yards sales, etc.
I have been sewing for about 55 years and have made a few quilts. This class was better than I expected, in that it got me thinking about how I can use fabric scraps, fabric from my stash, and designer swatches I got from Fabmo in Sunnyvale!! The teacher had good ideas that you may not find in more traditional quilting classes. So not so perfectionistic and limiting. GO for it!
Student Work