Audience Development: Superpowers
Dan Misener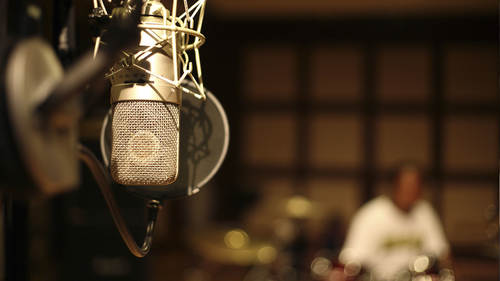 Audience Development: Superpowers
Dan Misener
Lesson Info
6. Audience Development: Superpowers
Lesson Info
Audience Development: Superpowers
I wanna talk a little bit about audience development superpowers. A lot of the shows that I work on come from brands and brands have audience development superpowers. And when I say superpower I mean an unfair advantage when it comes to building a podcast audience very quickly. And I wanna walk you through just a couple of examples of this but before that another way that I like to think about superpowers is a phrase from Tom Webster. He works on The Infinite Dial study and he likes to say only we. What can we do that nobody else can do? And this applies to editorial. I mentioned this earlier. What is the show that only you can make? What is the perspective that only you have? what is the story that only you can tell? but only we also applies to audience development. What are the audience development tools that you have that nobody else has. So a couple examples. This is the front page of Firefox. Firefox is a web browser. There're a lot of people who have Firefox installed. Mozilla ow...
ns Firefox. They control what you see when you open up a new tab in Firefox. When we launched IRL, this is what you saw when you opened up a new tab in Firefox This is a great placement. You can't buy this. This is an owned channel but it goes beyond being an owned channel. This is a superpower, right? Is this grow the pie? This is grow the pie. This is good for everybody in podcasting. When more people are being turned on to high quality content and learning to listen to podcasts. This is a great day. So this was driving specifically to the trailer. Mozilla has an in product messaging system that they call snippets, right? And the front page doesn't look like this anymore but if you open up a new tab in Firefox today on your desktop, on mobile, through many of their products, you're gonna see IRL. That is that is an audience development super power. I'm gonna show you another example of a superpower. I mentioned Charles Schwab earlier. We do a show with them called Choiceology. It is about making better decisions. It's not about finance. It's not about investing and because it's such a regulated industry, it's actually difficult to make a podcast coming from a company like Schwab that is directly about investing or finances but you could totally make a show about how to make better decisions in your life broadly speaking. And what you may not know about Charles Schwab is that they have a print magazine. I did not know that they had a print magazine. They've got a print magazine. This hits millions of households. They own this. They control this. It's a good magazine. I've read it. There's interesting stuff in there. They can also put a full-page ad for their own show in their own magazine which they will then deliver to millions of people. This is a good thing. This is a superpower. Is this preaching to the converted? Is this growing the pie? This is totally growing the pie. I don't know what your version of this is but you probably got a version of this. Somewhere within your network. Staying with Charles Schwab, this is sorry for the blurry photo. I don't know why it's so blurry but we work with Charles Schwab on the Choiceology show. Charles Schwab has branches. Physical places that you can walk into and talk to somebody about your money. They have TV screens in those physical branches. What can they put on their TV screens? They can put financial news. They can also encourage people to listen for free to their new podcasts that is designed to help them make better decisions, right? Is this growing the pie? This is growing the pie. Who tends to go into a Charles Schwab branch? A certain demographic. This is growing the pie. The other thing that's interesting about going into a Charles Schwab branch is there are human beings there. We've looked a lot at sort of digital and out-of-home stuff. People. Word-of-mouth advocates for your show, right? If you were Charles Schwab what can you do to deputize the frontline people in your organization who are working with clients all day long to say hey we've made this thing for you that's gonna help you make better decisions here you go, let me show you how to download a podcast. I don't know how many of you own investment houses. Maybe not everybody but I bet you know some people who would be great word-of-mouth evangelists for your show. How can you deputize those people, right? I would think about that. And we've been looking at some pretty high-profile examples of this. It needn't be high budget or necessarily all that high-profile. Particularly if you're going after a very specific kind of audience or a very targeted kind of audience. I'm gonna show you one more superpower. This is Trader Joe's. Trader Joe's has a podcast. I didn't work on the Trader Joe's podcast. I think it's a pretty good podcast. Trader Joe's has a lot of stores. I think those stores are superpowers. So this is a shot of just I think this is a little tiny sticker. Hand-done. You could do this. You probably shouldn't put it up on the salad bar at Trader Joe's but you could do this kind of thing. This is a superpower. They've got the stores. They've got room for signage. This is a, I think, a sign outside one of the stores, right? Very much in their brand voice, right? This looks a lot like a lot of their signage that they do. And if you thought those were the only two Trader Joe's podcast examples, no, there are more. That's another Trader Joe's sign outside a store. Another one outside a store. Hand-done, right? Very much in their brand voice. What is your version of that? Many of you probably don't own grocery stores but I bet you've got something like this where you have access to something like this or you know somebody who has access to something like this that is going to be as relevant to your audience as a trader Joe show is to people who shop Trader Joe's. It's like what is your version of this. That's what I want you to be thinking about. Another show that I had nothing at all to do with but I admire quite a lot, Gimlet Creative and Tinder works together on a show called DTR which stands for define the relationship and they did a really smart thing. What does tinder have? They've got an app that a lot of people have installed on their phones and they ran a campaign where in this dating app you could match not with a person but you could match with the podcast and if you swipe in the right direction it deep linked into the Apple podcasts app. Isn't that smart? Is that preaching to the converted or is that growing the pie? I think it's a little bit of both but every iOS user has the Apple podcast app already built in. I don't know about you I run into people on a regular basis who swear they don't have a podcast app on their phone and they do because it came built-in and they've just never opened it. What I love love love about this DTR example, is that for a lot of people I bet the tinder podcast was their first experience of a podcast on their phone. Now not everybody here in this room probably owns a dating app. Some of you might own an app. Maybe you if you are working at a business and you were a software business and you have an app. What does this kind of integration look like for you, right? Or if you work in the content world and you've got an existing blog with a deep back catalog. What does inserting embedded players in relevant articles look like? What are the things that you already have access to where you can inject a little bit of podcasting or create an integration. Maybe not at the scale of tinder but at your own scale for your own show.
Ratings and Reviews
I love that not only was Dan easy to listen to, he was practical and provided a great frame to keep going back to. As a pedagogical coach - KUDOS for modeling effective instruction!
Authentically and clearly shared his experience with practical tips: extremely helpful.
I enjoyed this lecture. It was easy to consume and had some actionable takeaways.
Student Work