Write to Different Audiences
Brooke Shaden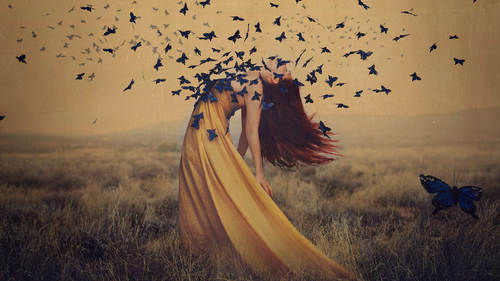 Write to Different Audiences
Brooke Shaden
Lesson Info
116. Write to Different Audiences
Lesson Info
Write to Different Audiences
Now, if we're going to write to galleries, we have to know what makes us interesting. Otherwise, why are we pitching ourselves? They're a business, too. They want to know what sets you apart so that they can take a chance on you, or not. So you're going to want to tell galleries who you are, and make it interesting, but also informative and very short. No pressure. What you do, what you like about the gallery, what you want from the gallery, your website link. The same as writing to publishers. You're gonna want all the same things. And then, it's the same writing for grants. Writing for anything, you're gonna need to say who you are, what you do, what you want. Right? In any situation. You need to tell at least that to somebody. But then there are a few other things that you're gonna want to think about. Like if you're asking an entity for a large sum of money as you would do when you're writing for a grant, you had better be inspirational. In your own way. It doesn't have to be tradi...
tionally inspirational, but you had better say something that sounds very intriguing to them, that inspires people in some way. Now I went through a whole bunch of grant websites. Like a whole bunch. And these were all of the key words that I saw over and over and over again that they want to see from artists submitting. Forward thinking, innovative, having a new point of view, point of view was used again and again. Technologically interesting, you know a lot of people are looking for you to really push the boundaries of what you can do with technology these days. So maybe that's not relevant to you, maybe it is. And conceptual depth is something that I found a lot of when I was looking up grants. And a lot of people saying you know it's great if your image is beautiful, it's great if you're doing this thing to help a community, but where is the depth of concept in this idea? So if you're gonna propose an idea, make sure that is has lots of layers. And usually grants are genre specific. You'll see a lot of grants for documentary work for example, conservation work, things like that. Maybe your work falls into that category. There are grants for fine art, for pretty much every single thing you can imagine out there somewhere. Now if you're gonna write to a juried show, so we've covered galleries and publishers and music artists and stuff like that, so that's when you're going to share who you are, what you do, and what you want. Okay, and then if you're writing for a grant you better bring out your inspirational and aspirational views. But now if you're writing to a juried show, it's a little bit different because you have to describe the work. The individual pieces themselves as well as your work as a whole. So we've got a statement about your body of work plus one to two sentences per image. So here's an example of my Fourth Wall series. And this is general statement about the whole body of work, which says Fourth Wall looks at the fears and emotions we feel we cannot share by constructing a metaphorical insiders' perspective of the mind. So here's a little blurb about the series. Now you can make this longer, like I wrote, just a statement. Paragraph is appropriate, a page could be appropriate, it depends. But now I need to hone in on a single image and figure out, Okay, I've written about the whole series but what about each individual image? What makes it unique? What makes it stand out? So for this particular image, which is called "Undone", I wrote "Undone" took 60 hours of laying yarn down on the floor, and 4 hours of sewing under the skin of the model's hand, to create a scene of bloody metaphor. Okay, so I'm using some keywords like bloody and skin. Should have said flesh, right? I agree. But then also giving interesting facts about this photo. So they know what the whole series is about, that's like your chance to be a little bit flowery and abstract with your language. But with this particular image, why do I feel the need to say anything about it? Well I'm gonna tell you. It's because I thought my back was gonna break when I spend 60 hours on the floor laying the yarn down. So I wanna tell you that. Because one, it shows how much time put in to this image in particular. And it also shows the dedication to this series, which I think is really important in selling it to somebody when you're trying to get an award. You know, if you're a jury right now and I'm giving you two images, one like this that has conceptual depth and layers and took 60 hours of working on to produce, versus one that maybe took me 10 minutes to shoot, an hour in Photoshop, and is pretty obvious what it is, aren't you going to award the one that had more depth and more time spent on it? Probably. It depends, of course, on what the situation is.
Class Materials
Guided Daydream & Writing Exercises Workbook (Lessons 1-11)
Creating an Original Narrative Workbook (Lessons 12-18)
Finding Your Target Audience Workbook (Lessons 19-27)
Planning Your Series Workbook (Lessons 28-34)
Set Design Workbook (Lessons 35-41)
Compositing Workflow Checklist (Lessons 42-49)
Editing Workflow Checklist (Lessons 50-55)
Location Scouting Workbook (Lessons 56-60)
Stock Image Downloads for Practice (Lessons 61-72)
Organizing Your Portfolio Workbook (Lessons 77-81)
Pricing & Editioning Your Work Workbook (Lessons 82-89)
Writing Contracts & Licensing Images Workbook (Lessons 90-98)
Gallery Best Practices (Lessons 99-106)
Pitch Package Workbook (Lessons 107-111)
Writing Your Brand Workbook (Lessons 112-117)
Marketing Workbook (Lessons 118-122)
Social Media Workbook (Lessons 123-127)
Printing Methods Checklist (Lessons 128-133)
Self Critique Workbook (Lessons 134-137)
Ratings and Reviews
I tuned in for most of Brooke's lessons in this course and watched some of them more than once as they were rebroadcast. First I want to say that Brooke is a very good instructor. Her easy-going, friendly, down-to-earth, somewhat quirky manner cannot be mistaken for unprofessional. She is very prepared, she speaks well (not a bunch of hemming and hawing), she is thoughtful, she is thorough, she is very relatable and at ease, and she is definitely professional in her presentation. I really thought when I first tuned in that it would mostly be background noise while I was at work, sound to keep me company. Not because I didn't like Brooke but I really didn't think I was into fine art photography nor did I think I cared about the business side of things much. Not now anyhow. I was really wrong. Brooke sparked a deep interest in me to delve into fine art photography, to consider creating images for myself, from my imagination. In fact, I realized that this was something I'd been thinking about for a couple of years though I hadn't put a name to it (the idea of creating pre-conceived images based on my own creative goals). I gleaned many little treasures from her about image sizes, working with printers, different types of paper, selling, interacting with galleries, and so much more. I may not need all of what she taught right now because I'm definitely headed in another direction at the moment, but she planted ideas and information in my head that I know will be useful at some point. Things I may not have thought of on my own, but that seed is in my head now so when the time comes, I'll know. I'd really like to buy her course but at the moment, with the holidays right around the corner, it's not in my personal budget. I'm grateful to have caught the live and rebroadcast lessons though, and her course is on my list to own. I think it's a great reference to be consulted over and over again, not watched once and forgotten. Kudos Brooke for really putting together an excellent course.
I'm retired now, but spent decades in the people and training business. Brooke is extraordinary! Even though this course is extremely well organized and she's left nothing unattended, she moves through it with friendly conversational manners and without a sense of it being stilted. It's as though we are all her friends, not students, as she shares her heart and passion with us. What a joy it is to listen to her. And what a clear, unambiguous command of her subject. Wow! She explains it with such ease using explanations and techniques that won't overwhelm artists just starting their portfolio or the Photoshop-squeamish among us; but despite its simplicity her resulting art is breathtaking and beyond original. I wish more of my professors at school were as engaging. This was by far my best buy at Creative Live yet.
When the title says comprehensive, it means comprehensive! I loved every part of this course. It's inspirational, motivating, and insightful towards creating art work. Even if you are not necessarily considering a fine art specialty, the concepts discussed in this course are applicable to many areas! I find this super useful as a videographer and photographer and look to apply all of these exercises and concepts for my personal and business work moving forward. It is lengthy, but you will not regret a single minute. Brooke Shaden is an amazing artist and educator. I recommend keeping up with her work, presentations, and any future courses that may come in the future.
Student Work