Class Introduction
Brooke Shaden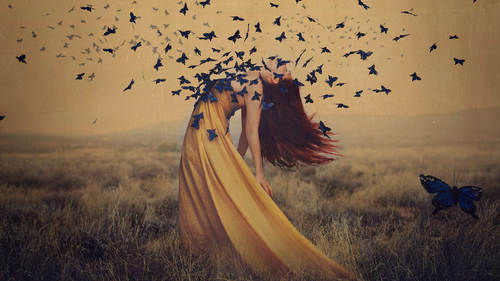 Class Introduction
Brooke Shaden
Lesson Info
1. Class Introduction
Lesson Info
Class Introduction
I am so honored to be here with you guys, with everybody at home. This is one of my biggest dreams in my whole life, is to be able to educate people, to share my story, my experiences, in the hope that it can help you with yours because I genuinely want you to take all of this knowledge and far surpass anything that I have ever done and I really genuinely mean that. I mean I think that if more people educated others in what they love and what they're passionate about with the intent that the person learning that knowledge could go so much further than we ever imagined think of the possibilities and and what fuels my desire to educate, to inspire, to share what I have. So that's what we're going to do with this bootcamp and this is something that I've put together for quite a long time, it is everything that I have to give you. Like really everything. I've gone through and dissected my business, my creativity my craft and I've broken it all down into as many pieces as possible so that y...
ou can go on your own journey in fine art from concept to creation to selling and making a out of it because that's the goal isn't it? To have a business in the end. So I'm gonna take you through what we're going to be learning about in this class okay. So it's called The Complete Guide and I tried to make it a complete guide. So first we have the first two lessons, day one, this is happening today, we're going to talk about storytelling and idea exercises and this is my way of giving you concrete ways of finding ideas because it's really challenging and frustrating sometimes and you know this is to be a journey, this is meant to be something that takes a long time and that's good, art should, it should be something that we really struggled through at times that sometimes flows easier than others so we're going to start with a good foundation. We're going to do an idea finding exercise. We're going to do storytelling exercises and hopefully give you the inspiration to create. That is my end goal with day one. Then we've got the next set of lessons which is going to be creating an original narrative. Now this is something that's very important to me, very dear to my heart because there's this keyword, this hot word of originality that people are afraid of, that's very intimidating and it should be because it's hard to do something original right? That's at least the story we tell ourselves and that's how we psych ourselves out from not creating anything at all. I know that I've been there, I'm sure that you guys have been there in the past. So we're going to talk about finding your voice. How do you cultivate that voice to be able to move forward and create something unique, interesting, whatever word you might want to use. Create work with depth. It's one thing to see a location, to see a beautiful model or whatever you like to shoot and take a picture and be happy with that image 'cause it's beautiful but how do we add layers to that and really create something that has more meaning than what was originally there and then layering inspiration. So not just okay I like this model, I like this location but what are the different influences that went into the, into you coming into that space and saying I like this? How is it that your inspiration has built up over the years, over the course of your life? And then we're going to talk about finding your target audience. How do we find the tribe of people that was meant for us and how do we market to those people as well? And that's another one of those like hot button words, market and sell and pricing and things like that that we tend to shy away from wanting to talk about a little bit because it's uncomfortable or its awkward or whatever, we're gonna talk about it all. So how to find your target tribe. How to create applicable content for that tribe. So how can you actually create something that those people want to see and specifically that they need to see not just once but really that, that would be a gift to those people and then how can brand yourself into your dream life? That's something I'm really passionate about and it's another one of those words, branding, where it's, it's sort of like when you come from an art background and that's your goal is to create art and then you use a word like branding it feels really awful you know, like people are like "oh you can think branding if you're and artist." I'm like "like heck I can't say branding, "watch me say branding over and over" because if you don't, if you don't think like that then it's gonna be a lot harder to get your work out there and to create the business that you love. So it's really important to me. Next we're gonna talk about planning your photo shoot and these are all individual lessons, so planning your photo shoot is something that has to happen in some capacity and you might be thinking not for me, I just shoot on-the-fly, okay I get it, some people like to do that, that works really great, it doesn't work for me personally. So we're gonna go through how to maybe plan your photo shoot ahead of time just a little bit more so that when you go into shooting you'll have more success maybe with the final product. So we're gonna talk about considering all options when you're creating, like literally a checklist of what you might need to know before you go in, how to simplify your workflow, how is it that we can break down a process, really understand our core goal of what we're doing so that we don't have all these extraneous pieces of information that we don't need to put into that final product and then how to create with greater impact? I mean how can we take the vision that we have, the tools that we have and put it into one finished piece that's really the greatest impact possible? Set design is another thing that we're going to talk about in some detail and this is a little bit of a scary one for some people if you come from the opposite background, maybe it's documentary, maybe it's compositing, but set design is really my way of saying not just how to design a set like putting things together you know in person to make something but also how to design an image, how to incorporate design elements into what you're creating so that it looks cohesive and it looks right. It's really easy to make an image that just looks off, that something isn't quite working so we're gonna go over that by learning compositional cohesion, talking about color theory as well, which is my favorite things in the world to talk about, I could talk forever and creating balanced imagery as well. So how do we make images that feel balanced, that feel appropriate to the tone and the message that you're trying to convey and then compositing because I couldn't do a class without compositing right? I mean I love compositing, I use it in almost every single image I've ever created and to me compositing is so much fun because it opens up a whole new world for you, anything is possible and anything should be possible. So I love embracing compositing, I think it's just so much fun. We're going to talk about how to switch somebody to a new background, things like that that are so difficult sometimes to do and really hold people back from even starting a composite, creating consistent lighting across the images that you're putting together and then just easy compositing tricks, little things that you can do to make your workflow easier if you're trying to composite. So you might be wondering why set design and compositing? How does that have to do with fine art? Now fine art just to define this huge broad topic is all about creating personal work. I mean it could look like commercial work, it could look like anything you want, it could look like fashion photography but if you create it for yourself first and foremost and then your goal is to sell that work that you've created that is fine art. So compositing, set design, these are all things that we would want to have a grasp of so that we can create whatever we want. So my goal here is to give you as many tools that you could possibly use to create whatever you want really well and then sell that later, that's the hope at least. Editing workflow, this is our next topic. Editing workflow is going to go through some important things like color theory again 'cause there's quite a difference between color theory on a set versus color theory in Photoshop. So color theory, light manipulation, how do we literally drastically change the lighting within an image that we already have and compositing so we're gonna go over more compositing. Alright then we're going to get into location scouting, test shooting and I'm really excited to say that we've got a really cool location to go film at and were going to go through the ins and outs of what you need to know when you're location scouting, when you're doing lighting tests and how to prepare your set so that you can shoot fast because were doing something really insane so we're photographers in here, we know how a photo shoot work and we're going to create 11 images in the span of 90 minutes. So we need to know how to prepare a set so that we can go boom from one to the next to the next and honestly that's how I like to shoot normally because if I'm going to go through the tedium of getting my camera, my tripod and everything and going out to the location that's maybe an hour away I don't want to one photo shoot and walk with one image, I'm gonna do three photo shoots and be prepared to shoot them all in a short period of time so that I have the best light possible in that period of time Actually shooting the images. So we're gonna go through how to shoot a series and I want to make a point in saying that this class will be highly focused on shooting a series, creating a series because a series is what so many people want to see when you're approaching galleries, when you're approaching agents, things like that, so it's gonna be really important that we focus on a series. Working through issues as they come up on set which they well and we will work through them and see how that goes, but how can you still work within a situation if everything is seemingly falling to pieces as so often we perceive them to be doing and then getting the right shots. What shots exactly do we need on set to make sure that we can put these images together. You will imagine that shooting 11 images in a row and then having to share them live on CreativeLive is a little bit stressful especially when that that location is two plus hours away. You don't have a chance to go back, you got a get all those shots in a short period of time, so how do we do that, what are the right shots to get? And then we'll go through some advanced editing for a series. So specifically editing cohesion, selective edits and what I mean by this is how do we make certain selections in Photoshop to be able to make selective changes within our images and finishing tools, so what might you want to do, what tips and tricks to be able to polish off your image and be ready for print. This is a very long class you guys, I don't know if you've gathered that yet. Okay so we're on lesson 77 to 81, this is like a really long class. So still going through the overview. So we've got organizing final images and this is a really important topic to immediately go over right after we've done the shooting, we're doing our editing 'cause if we don't have the organization down business will fall apart and I don't want that to happen to anyone as it has happened for me in the past. A large part of what you're going to hear me say is I've made this mistake, now you don't make this mistake. I don't want you to make the same mistakes. So how do we organize files for print, how do we organize files to sell and finally how to choose the images that we do have gathered together for our portfolio? Okay, next we're going to talk about framing, sizing, editioning, pricing, everything that you need to know to price and sell your images and I'm going to be very candid here. I'm going to talk about pricing, I'm gonna try to give you pricing structures so that you know exactly how to price your work and I hope, I hope that you walk away with all of this information down like you just know okay I'm going forward, I have a plan, I know my sizes as I know my editions , know my prices, all of that, that's my end goal there. So how to print, how to frame we're gonna talk about. If you want to create limited editions what that means, how you can figure out your edition sizes and how to price your prints which is like the scariest thing ever and that's why I'm glad that there will be a Facebook group so then I can just jump in there and help anybody who needs help, who wants to get feedback, stuff like that. Finally after that one we're gonna talk about licensing, commissioning your work, contracts, basically everything that you need to know about selling your work and digitally to somebody is going to be really important here so how to sell digital files, how to create for clients and how to write simple contracts which is another one where you're like oh I don't want to do that but we have to do it so he might as well do it well the first time and not struggle through all of these drafts of contracts like I did and then we're gonna have a gallery day where we're going to actually talk to a gallery which I'm very excited about because it's so valuable to hear from pardon the term, the horses mouth, we need a better phrase for that, the horses mouth isn't good. Well we're gonna hear straight from a gallery, their perspective on what they're looking for in an artist, everything, how they curate a show, how they like to receive submissions, things like that. How to approach galleries in the first place and what galleries want, what do they want out of you, you the artist who is supposedly going to make them money. It's a lot to handle. And then we're going to create a press package. Now a press package is going to be things like head shots, articles about you, your biography, things like that. So we're gonna go through the ins and outs of creating a press package which will include your artist statements, branding documents and I'm gonna talk about that in more depth as well and then how to diversify your content for publicity. Writing for fine art is our next topic and I bet that immediately you're hearing that, at least half of the people watching and you're like "I'm not a writer, I hate writing, I don't want to do this." Do any of you guys feel like that? Yeah. Lots of nodding heads. So I get it and I feel very fortunate that writing is my favorite thing in the world to do, like even above photography I would say. It's my favorite favorite thing and I'm going to try my best to guide you through the different ways that you might need to write for fine art and some of those ways would be blogging for example, writing for juried shows, awards, things like that that you might want to submit to and how to write for your brand. Another use of that keyword that people hate that I love and so we're gonna learn all those things during that segment and then the dreaded thing is speaking about your work. Now clearly I'm standing up here very happy to speak about my work because I love doing that, I love presenting what I have to share and it's taken a lot of years to get to that place, a lot of years because I used to be deathly shy and terrified of stuff like this. So how can we get everybody to a place where you can speak about your own work? So we're gonna do public speaking practice, you guys are in the hot seat, hope you enjoy yourselves. I see lots of terrified faces, which is great, I love making people uncomfortable. So we're gonna do that, public speaking. Specifically we're gonna talk a lot about creating video content where you're speaking on video and how to create branding with your videos that you're putting out there and we're going to do elevator pitches which will be really fun, can't wait. And then social media because how can we talk about building a fine art business without social media? We're gonna talk about best practices in social media. Creating amazing content, not just good, not just great but amazing content, not that it will always happen but sometimes. How to share your work in a smart way, in a way that really gets it out there in a way that feels authentic, that feels really genuine for people who are absorbing that information and how to increase your effective reach. Not just your reach, we're not talking about SEO and stuff like that, we're talking about how to really connect to people through social media which I think is the best thing. We're going to talk about printing. Guys we're almost at the end of the summary. We're getting so close, this is 20 days, 20 days y'all, it's really long. So printing, we're gonna talk about everything that you need to know about printing your work from paper choices that you might need to look through, printing methods that you might want to go over. We're going to do a live printing demo. I'm going to show you the final images that we shot here together from my little series that I did. So many things, how to talk to your printer, how to find your printer, all of those things and then finally we're going to do a critique segment where I'm going to pull up my work and critique my own work, you guys sitting here in the audience with me are going to critique my work and I can't wait, I can't wait to hear how you rip it apart and we'll see and then I'm going to critique your work, yay, so fun. (laughing) Nobody wants critique but it's something that's really necessary so how to critique yourself. We're going to do student critique and then I'll just share with you my closing thoughts. We also lots of bonus materials for each of these lessons. So that I was 20 different lessons that I went over, or 20 different days of content I should say and so you're not have workbooks and checklists and you're gonna have a download for every single day for the bonus material. Editing videos, bonus editing videos, one that's 45 minutes long. A few that are speed edits just so you can see how those images that we shot here together on set are being put together in the end and stock images as well. So those are all things that the bonus materials contain.
Class Materials
Guided Daydream & Writing Exercises Workbook (Lessons 1-11)
Creating an Original Narrative Workbook (Lessons 12-18)
Finding Your Target Audience Workbook (Lessons 19-27)
Planning Your Series Workbook (Lessons 28-34)
Set Design Workbook (Lessons 35-41)
Compositing Workflow Checklist (Lessons 42-49)
Editing Workflow Checklist (Lessons 50-55)
Location Scouting Workbook (Lessons 56-60)
Stock Image Downloads for Practice (Lessons 61-72)
Organizing Your Portfolio Workbook (Lessons 77-81)
Pricing & Editioning Your Work Workbook (Lessons 82-89)
Writing Contracts & Licensing Images Workbook (Lessons 90-98)
Gallery Best Practices (Lessons 99-106)
Pitch Package Workbook (Lessons 107-111)
Writing Your Brand Workbook (Lessons 112-117)
Marketing Workbook (Lessons 118-122)
Social Media Workbook (Lessons 123-127)
Printing Methods Checklist (Lessons 128-133)
Self Critique Workbook (Lessons 134-137)
Ratings and Reviews
I tuned in for most of Brooke's lessons in this course and watched some of them more than once as they were rebroadcast. First I want to say that Brooke is a very good instructor. Her easy-going, friendly, down-to-earth, somewhat quirky manner cannot be mistaken for unprofessional. She is very prepared, she speaks well (not a bunch of hemming and hawing), she is thoughtful, she is thorough, she is very relatable and at ease, and she is definitely professional in her presentation. I really thought when I first tuned in that it would mostly be background noise while I was at work, sound to keep me company. Not because I didn't like Brooke but I really didn't think I was into fine art photography nor did I think I cared about the business side of things much. Not now anyhow. I was really wrong. Brooke sparked a deep interest in me to delve into fine art photography, to consider creating images for myself, from my imagination. In fact, I realized that this was something I'd been thinking about for a couple of years though I hadn't put a name to it (the idea of creating pre-conceived images based on my own creative goals). I gleaned many little treasures from her about image sizes, working with printers, different types of paper, selling, interacting with galleries, and so much more. I may not need all of what she taught right now because I'm definitely headed in another direction at the moment, but she planted ideas and information in my head that I know will be useful at some point. Things I may not have thought of on my own, but that seed is in my head now so when the time comes, I'll know. I'd really like to buy her course but at the moment, with the holidays right around the corner, it's not in my personal budget. I'm grateful to have caught the live and rebroadcast lessons though, and her course is on my list to own. I think it's a great reference to be consulted over and over again, not watched once and forgotten. Kudos Brooke for really putting together an excellent course.
I'm retired now, but spent decades in the people and training business. Brooke is extraordinary! Even though this course is extremely well organized and she's left nothing unattended, she moves through it with friendly conversational manners and without a sense of it being stilted. It's as though we are all her friends, not students, as she shares her heart and passion with us. What a joy it is to listen to her. And what a clear, unambiguous command of her subject. Wow! She explains it with such ease using explanations and techniques that won't overwhelm artists just starting their portfolio or the Photoshop-squeamish among us; but despite its simplicity her resulting art is breathtaking and beyond original. I wish more of my professors at school were as engaging. This was by far my best buy at Creative Live yet.
When the title says comprehensive, it means comprehensive! I loved every part of this course. It's inspirational, motivating, and insightful towards creating art work. Even if you are not necessarily considering a fine art specialty, the concepts discussed in this course are applicable to many areas! I find this super useful as a videographer and photographer and look to apply all of these exercises and concepts for my personal and business work moving forward. It is lengthy, but you will not regret a single minute. Brooke Shaden is an amazing artist and educator. I recommend keeping up with her work, presentations, and any future courses that may come in the future.
Student Work