Titling & Graphics: Roll And Crawl Effects
Abba Shapiro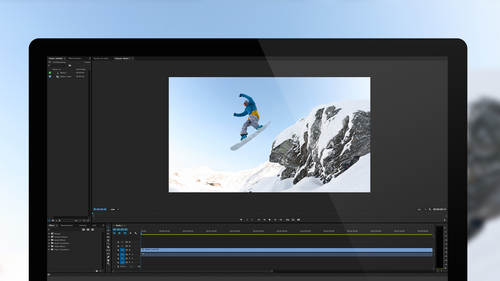 Titling & Graphics: Roll And Crawl Effects
Abba Shapiro
Lesson Info
33. Titling & Graphics: Roll And Crawl Effects
Summary
(Generated from Transcript)
In this lesson, the instructor teaches how to create rolling credits and crawling credits in Adobe Premiere Pro CC. He explains how to initiate the roll and crawl effects, how to adjust the position and speed of the scroll, and how to modify the title to start off-screen and end off-screen. He also demonstrates how to use the copy and paste function to avoid typing errors and how to use the area type tool to create a text box for wrapping text.
Q&A:
How can you create rolling credits and crawling credits in Adobe Premiere Pro CC?

You can create rolling credits and crawling credits by using the roll and crawl effects in the title menu.

How can you adjust the position and speed of the scroll for the titles?

You can adjust the position and speed of the scroll by modifying the start and end positions of the title in the modification box.

How can you avoid typing errors when creating titles?

You can avoid typing errors by copying and pasting the text from a word document or text file.

How can you create a text box for wrapping text?

You can use the area type tool in the title menu to draw a box and type the text inside, allowing it to wrap within the box.
Lesson Info
Titling & Graphics: Roll And Crawl Effects
The other thing you can do is you can actually make rolling credits, and crawling credits. So like, the end credits to a movie you want it to scroll up or that's very easy to do. You can initiate it from when you create it. So, if you notice when I created that text that said still, I could go ahead and when I make a title, here let me close this old one so it doesn't get confused. Title, new title, and there you see rolling crawl. Obviously, roll is up and down, crawl is left and right. Again, it gives me this default box. I'm gonna call this roll, hit okay. And look what happens. Like wait a second. I thought we threw this away? This is gonna get everybody. This gets me all the time, it got me just now. It grabbed whatever information that was below the play head and guess what, I had another title there. So it thinks this is part of the background. I turn off the Eye, it's not there. The reason it was there, I'm gonna go ahead and close it, is because I was parked over this and it j...
ust assumed that was the background. And trust me, I've created like a new title, I'm like wait a second, why can I not delete this? Why is this here? And I'm like, you know, it's three o'clock in the morning, you're not thinking clearly to start with, right? Which is why you don't start editing at two o'clock in the morning the night before. So I'm gonna go ahead and reposition this over a nice blank space. And we're gonna do the same thing, title, new title, default roll. Gonna call that roll, hit okay. Same interface. Now, let me go ahead and type in some text. And you can do this a couple ways. You can do side by side text, I'm gonna keep it simple, I'm gonna just write director, producer, writer, they're usually at the bottom, nobody cares about the writer. Okay, craft services, that's food. That's what we had for lunch today. Okay, and let's go ahead and make this a less a less or a Sans Seraph font. Okay, I'm gonna Seraph there. This is an interesting font, I have never used Geeza Pro. Geezer Pro, very popular in my line of you know. But, not Geeza Pro. So I have this. And if I go ahead and I wanna add some spacing here, just put a couple of returns. As a matter of fact, I can even if I wanted to, return it off the page, okay? Because it's going to scroll up. Now, it's already an animated title. And I know that, but if I go to this little area here and go to my Roll and Crawl options, it says roll. So if I had a still, and I said, "Ugh, that should have been a roll." You can change it, and vice versa. You're not locked in, it just kinda pre clicks on it to start with, or pre selects it. For left and right crawl. Now if I hit play now, it's gonna start right in the middle of the screen. And that's not necessarily what I want. I'm gonna show you what it's gonna do, and then we're gonna do a quick fix. So, close this out. Remember, it doesn't put it in. It just creates it and puts it inside of your project pane. I can put it on any layer I want, 'cause it has transparency. But you'll notice, it's starting with it on screen, and then the speed of the scroll is based on the duration of the clip. So if I want this to happen faster, I just grab the edge, and now it's gonna scroll faster. But I don't want it to necessarily work that way, I want to start off screen, and end off screen, because that's how movie credits work, right? Double click to load it in, we can now modify it. Go back up to our modification box. Let's go ahead and zoom in. Start Off Screen, End Off Screen. You can also control how quickly or how aggressively it comes in, and how calmly it leaves with the ease-in and ease-out if you want it to be not like (imitates shooting noise) like slow down as it goes across. So, we're good to go there. I'm gonna hit okay. Close the window. Zoom out. And you should see now at the beginning, it isn't on screen. It's going wickedly fast, because now it has to travel a greater distance than it did before. Stretch it out, slows down. So that's how you can very easily make a roll. A crawl would be you do the same thing, you just type it across. Now the nice thing is that as you can tell, and you've experienced over the last several lessons, I am a horrible typist, and inevitably would be typing lots of typos, and lose lots of money on the client saying, "Do it over." So, rule of thumb, give me a word document with all the names and whatever you want me to say and I copy, and I paste. And you can copy and paste in here, so that everything can be spelled properly. You don't have to worry typing in, it's going off screen, you're not sure if the crawl you know, had a typo. So, copy paste, really good. Works just like a text document. And a good piece of advice, too, because if there's a problem, you just show them the original text file or Word document they sent you and say, "This is how you spelled it." And they're like, "Oh." A thousand dollars, I can fix it. No. (woman laughs) Wouldn't that be great? So, and again, if I then wanted to do this as a double, there's another way you can create titles. I've been typing in the text, and it's been creating the box. But what if I had a specific range I wanted the text to be in, so that maybe I could put, maybe the after the credits deleted scenes, something fun. So, I'm gonna go ahead, I'm gonna create a new title. Let me position this again over something without other text. We're gonna go to Title, new title, we can do it roll, that's pretty interesting. I'm gonna be lazy and not give it the right name. So, don't do as I do, do as I say. Name everything, use that convention. So, instead of going with text, you'll look closely here, there are something called an Area Type Tool. Okay, it just says how you're controlling your text. And you'll notice that with both text and the type tool, I can do vertical as well as traditional horizontal text. So if you want something to kinda go down the side, you can easily do it. I'm gonna choose horizontal. I've selected the area tool, and now I draw a box. I just want my text to wrap at this point. So I can start typing, you like that? Now, N I W. See how it wraps? When I was in high school, I took type-writering, I'm gonna call it that, they call it keyboarding now, from a retired marine. And I tell ya, I learned the proper way to type. So, the nice thing here is if I change the size of the font, it respects the box. So, if I want something here, it doesn't make the box bigger. I can also modify the box if things go out. I gotta go ahead and make sure I grab it with the right tool. So maybe if I did make it larger, I can modify that.
Class Materials
Abba Shapiro's Work File Information
Building a Rough Cut - Project Files
Refining Your Edit - Project File
Working with Audio Project File
Motion Effects - Project Files
Titling and Graphics - Project Files
Speed Changes - Project Files
Color Correction - Project Files
Finishing - Project Files
Multi-Camera Editing - Project Files (Large Download - 3.25GB)
Creating Timelapses - Project Files (Large Download - 1.25GB)
Thinking Like An Editor - Project Files
Special Tools - Project Files
Ratings and Reviews
I've never even tried video editing before this class. I opened the program once and panicked. After only 9 lessons I was able to throw a short video together (basic of course, but still pretty cool). I wish all of my teachers growing up were just like Abba. He goes over everything without dragging anything on for too long. He repeats things just enough for me to actually remember them, and he is funny. He keeps it fun and shows that even he makes mistakes. I can't even believe how much I have learned in less than a quarter of his class. I have a long way to go and am very excited to learn more. This class is worth every penny and more! I was hesitant on buying the class because I have CS6 and he works with CC, but I have already used what I've learned in his course to create a video. The first 9 lessons were already worth what I paid for the entire course. Thank you, Abba! You are an awesome teacher! You have me absolutely obsessed with creating right now! I highly recommend! You won't find this thorough of a course for this decent price!
Just bought this yesterday and cannot stop watching!!!! What a FANTASTIC teacher-- just love the way he explains everything. For someone like me (who has a zillion questions) it is perfect. As soon as he introduces a feature, he explains several aspects in such a way that's easy to grasp and remember. So, so happy I got this. Thank you Abba and CreativeLive!
I am only on lesson 19 and I am so glad I bought this class, so worth it and Abba packs so much information into these lessons its crazy. I will for sure have to come back and watch again when I need to remember to do stuff or need a refresher. He is funny and quirky and a great teacher. I so recommend this to anyone wanting to become a better video editor!! I am coming from being self taught and using iMovie and he makes it so simple and understandable. Can't wait to learn more :)
Student Work