Color Correction: Overview
Abba Shapiro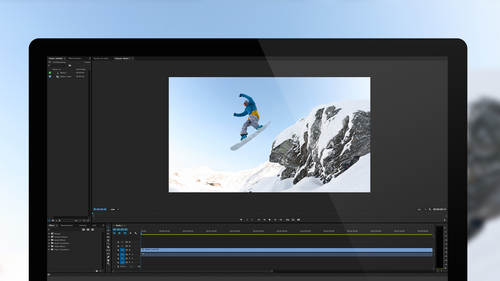 Color Correction: Overview
Abba Shapiro
Lesson Info
37. Color Correction: Overview
Summary
(Generated from Transcript)
The topic of this lesson is color correction and color grading in video editing using Adobe Premiere Pro CC.
Q&A:
Why is color correction important in video editing?

Color correction is important in video editing to make the video match still photos, adjust white balance, and create a desired look or feel.

How does color temperature affect the color of light?

Color temperature refers to the different colors of light based on its temperature, with daylight being bluer and indoor lighting having a more golden hue.

How did photographers adjust white balance in the past when shooting on film?

Photographers would buy different types of film depending on the lighting environment, such as daylight film for outdoor shooting and indoor film for indoor shooting.

Why is color grading necessary in video editing?

Color grading is necessary to make all shots in a video look like they were taken at the same point in time and to give the video a specific style or emotion.

What tools in Adobe Premiere Pro CC can be used for color correction?

The lumetri color filter in Adobe Premiere Pro CC can be used for color correction, and it offers similar controls to those in Lightroom, Photoshop, and Adobe Camera Raw.

How can you apply a color correction to an entire clip in Adobe Premiere Pro CC?

You can apply a color correction to a master clip in Adobe Premiere Pro CC to automatically apply the correction to the entire clip before starting the editing process.
Lesson Info
Color Correction: Overview
We're gonna look at color, color correction, color grade. This has been a question that people have been asking since lesson one. How can I fix the color? How can I grade the color? It's one of the scary things with video, but guess what? Most of you have worked in Photoshop. It's the same mindset. You know, you're looking to make, let me throw it to you. Why, why are you color correcting or color grading your image? Thank you for picking up the microphone. I would like to make my video match still photos that I'm blending with the video. Okay, so to make the video match to still photos, you worked really hard to make the still look really good and then you have some video and it's like, well, the contrast isn't there, the saturation's a little off or the hue is off because of the white balance. And that's one thing that is a challenge with video is that unlike photographs, that if you shoot camera raw, there is no white point, you can actually adjust it. Jpeg actually, you know, a...
ssumes a white point whether it's daylight or whether it's tungsten or whether it's kelvin, all these different names. It's basically temperature. As a matter of fact, let's talk about that to kick things off. Because a lot of folks don't understand or haven't been exposed to the fact that light actually is different colors based upon its temperature, and that's because our brains white balance automatically. So, daylight is roughly 5,000 to 5,600 degrees, okay? So you hear that, that's how it's defined, the temperature. It's actually bluer light. But when we walk outside and we look at something white, our brain says that is white. We come inside and, you know, the studio might have daylight bulbs, you'll hear that term, but a lot of times inside you might have 3,200 degree, more of a golden hue. But again, do you look inside and say "Ah, it's a nice gold look?" No, your brain automatically looks at something that's white and says that's white, it's white balanced, life is good. Cameras aren't necessarily that smart. As a matter of fact, if anybody out there ever shot analog, ever shot film, you would literally buy a certain type of film depending on the environment that you're gonna shoot in. There was daylight film, there was a film that you would use inside. And if you look at some old photographs, you might see a picture that was taken inside where the flash bulb did not go off, and it looks really yellow. And it's like, why are these pictures so yellow? Well, in the old days, and we're talking the old days, before the year 2000, and all those old movies in the 90s, no. They always used, they usually would use daylight film in a camera, and the flash bulb would put out daylight temperature light when the flash went off. If the flash didn't go off, you got the lights from the room, and it was more golden. And that's why things were more golden. And now cameras will automatically white balance and will adjust for if there's something that's not quite the right hue or color. But, uh... sometimes they don't quite get it right. Sometimes they're, you know, tricked. They're confused. You can manually adjust things, but as a photographer, a lot of times no matter what you manually adjust, if you work with the camera raw, you're working with, just, you know, the clean image that hit the sensor and you're white balancing anyway. With video, we generally record in a format that's closer to jpeg, so the white balance is already baked into the image so we may need to fix it. We may need to change and grade the colors, we may need to expand or contract the contrast or work with the saturation to make it look how we want it to look, how it should have looked based upon how we saw it with our eyes that were white balancing. So that's one of the primary reasons we want to white balance, and it's a good example of why you would need to do something to your video to make it match these photographs that you've really taken the time with to look proper. And we're gonna actually do that with some wonderfully horrid video that I shot that wasn't shot well. Not that everything I shoot isn't shot well. So we're gonna explore that. But that's one thing, to realize that you're dealing with color temperature. You're also sometimes dealing with variables that you might be shooting throughout the day. The sun goes in the cloud, behind it, you know, in a cloud, out of a cloud. The color temperature changes. You start shooting in the afternoon, it's really bright, it's blue, it gets the gold hour, it gets dark. You need sometimes to make it all look like it happened at the same point in time, so you need to be able to match your shots. So that's another reason you would color grade or color balance. And then, finally, maybe you do want to stylize your image, you want to give it a look or a feel. When we look at something and it has a certain color temperature, we react differently. You hear that, the golden hour. That warm, you know, when something is gold, it feels warmer. You know, you see that, it's, you want to take a show and you want people to love it you make it a little bit gold, you make it a little bit blurry, not blurry, but glowy. And people go "Ah, how wonderful!" You want something to look harsh and cold, you pull the color out, you turn it a little bit blue, and it gives a different feel, a visceral feel. So you're giving a look to a show or to a shot to emote from your audience. So that's one of the reasons. Now let's go ahead and look at the slides. It's called color correction, picture perfect. Nothing is ever perfect but our picture, and that was random. Also, just keep listening and I'll keep talking. So, meet your friend the videoscope. The first thing we're gonna look at is how we can look at color mathematically. I like to use that because people get scared of math. But actually, looking at it on a chart to see what is truly white, what is truly black, and if you come from Photoshop, you're probably familiar with some of these techniques because you've looked at a histogram which tells you what's the contrast, what's the luminance value? Is it leaning to the right or leaning to the left? We have scopes that help us with that. Ones that tell us about saturation, ones that tell us about is the hue right? So we can look at this on a scope. Our eyes can easily be fooled, but the scope usually can't. And you can say ah, pure red. 255 levels of red, 0 of blue, 0 of green. Some people know what I'm talking about if you've worked with this, but you'll all know by the end of the hour. So, we're gonna actually look at some images, understanding the challenge of correcting luminance and contrast, the basic things. Adjusting white balance, what we're talking about, because a scene may actually have a tint to it, maybe too blue or too gold, based upon when it was shot. We have a wonderful joke there called it's not me, it's hue. We'll keep moving along. And then we'll explore fixing all this with a wonderful filter called the lumetri color filter, which was added within the last few revisions of Adobe Premiere Pro Creator Cloud. And for those who have worked in Lightroom, or Photoshop, or Adobe Camera Raw, they'll be very excited to see that a lot of the controls that we have in the lumetri color filter are exactly the same ones that you're used to for correcting your still photos. And then we're gonna look at a great little trick at the end which is, I've color corrected a scene and it's in a long clip, and I don't want to go back and copy and paste and copy and paste, I want to be able to apply it to the entire clip before I start editing in, and that's what we're gonna look at. Applying a correction to a master clip.
Class Materials
Abba Shapiro's Work File Information
Building a Rough Cut - Project Files
Refining Your Edit - Project File
Working with Audio Project File
Motion Effects - Project Files
Titling and Graphics - Project Files
Speed Changes - Project Files
Color Correction - Project Files
Finishing - Project Files
Multi-Camera Editing - Project Files (Large Download - 3.25GB)
Creating Timelapses - Project Files (Large Download - 1.25GB)
Thinking Like An Editor - Project Files
Special Tools - Project Files
Ratings and Reviews
I've never even tried video editing before this class. I opened the program once and panicked. After only 9 lessons I was able to throw a short video together (basic of course, but still pretty cool). I wish all of my teachers growing up were just like Abba. He goes over everything without dragging anything on for too long. He repeats things just enough for me to actually remember them, and he is funny. He keeps it fun and shows that even he makes mistakes. I can't even believe how much I have learned in less than a quarter of his class. I have a long way to go and am very excited to learn more. This class is worth every penny and more! I was hesitant on buying the class because I have CS6 and he works with CC, but I have already used what I've learned in his course to create a video. The first 9 lessons were already worth what I paid for the entire course. Thank you, Abba! You are an awesome teacher! You have me absolutely obsessed with creating right now! I highly recommend! You won't find this thorough of a course for this decent price!
Just bought this yesterday and cannot stop watching!!!! What a FANTASTIC teacher-- just love the way he explains everything. For someone like me (who has a zillion questions) it is perfect. As soon as he introduces a feature, he explains several aspects in such a way that's easy to grasp and remember. So, so happy I got this. Thank you Abba and CreativeLive!
I am only on lesson 19 and I am so glad I bought this class, so worth it and Abba packs so much information into these lessons its crazy. I will for sure have to come back and watch again when I need to remember to do stuff or need a refresher. He is funny and quirky and a great teacher. I so recommend this to anyone wanting to become a better video editor!! I am coming from being self taught and using iMovie and he makes it so simple and understandable. Can't wait to learn more :)
Student Work