Advanced Editing Techniques: Transitions
Abba Shapiro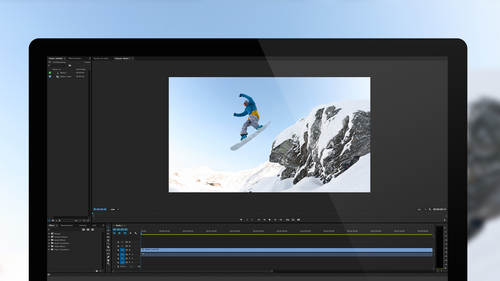 Advanced Editing Techniques: Transitions
Abba Shapiro
Lesson Info
58. Advanced Editing Techniques: Transitions
Lesson Info
Advanced Editing Techniques: Transitions
Let's talk a little bit more about transitions. We learned, and I'm gonna go put the transitions, I guess, between some of these video clips. So I'm gonna use the Z key. We learned that earlier on. I use Z and I can select this range and now we're zoomed in. And I'm gonna go ahead and I'm gonna put a transition here. And one of the things we learned is that to apply the default transition it's Shift D, as a matter of fact, you know what, I am going to explore that with a clip that has both video and audio. So I wanna actually use one of the interview bites. Cause I wanna show you this, I'm gonna drag this out, so you can actually see this in place. So I have two clips next to each other. And if I go ahead and I select the edit point and I hit Shift D, which was our default transition, with a dissolve, it will put the dissolve on both the video and the audio. As opposed to one or the other. It automatically assumes, you want your video and your audio to have a dissolve if you use Shift ...
D. But what you also can do is you can use is if you just want to apply the video transition it's Command D, it's Ctrl D on Windows. So I'm gonna go ahead and undo that. If I have this selected, even though both are selected, I can hit Command D and it just puts the transition on the video. If, it's Ctrl, by the way, on Windows, if I just wanna apply the audio transition, it's again Ctrl, but now I'm shifting that from the video to the audio. So to shift it from the video to audio, it's Shift Command D, okay. And think D as dissolve, instead of obviously T for transition. But Shift D, Shift Command D, or Shift Ctrl D. And these are your default transitions. Default, think dissolve, think default. But those are the keyboard shortcuts that you would need. Now, when I do the traditional Shift D, the original video and audio, let me make sure that I have the right edit point selected, I do want to point out, doesn't let me put that there cause I already had a transition. Undo, undo, undo. There we go, zoom in, be more accurate. Talk to myself. Okay Shift D. The video and audio transitions don't necessarily have to, and possibly will not be the same duration. Because remember, the duration of your transitions is set in your Preferences. So you can do these separately. So if I look in my Preferences under General, I can choose the default duration of my video as well as my audio transitions. And talking a little bit about transitions, we did a whole section on it, but I do want to point out, you know, so I might have my video, usually my video is usually a half second, 15 frames; audio varies, and I use audio transitions for a couple of things. One, sometimes just I want a smooth transition between one cut of music and another cut of music. Another time is if I'm going and I'm editing and I have, cutting a narration up and I have quiet areas, I may want to fade it down so I don't hear an abrupt stop to the room tone. Because if you listen quietly whenever you're in any room, a room has a presence. And as a matter of fact, one good rule of thumb in production, and you'll see this sometimes when you're looking at somebody else's footage, is you record what's called room tone at the beginning and the end of the interview, or whatever you shoot and the reason you do it at both the beginning and the end is that the tone sometimes changes, and now you have something you can put in a separate audio track. And if you're cutting in and out of an interview, the room tone doesn't go away because you have, not artificial, but you've already recorded it so the presence stays the same rather they're talking or not. You don't have that sudden lack of sound. It's amazing how sensitive our ears are to hearing no noise. You can hear a hiccup of a 30th of a second if a frame is missing, you pull something apart, as like a hiccup of sound. So putting in some room tone is very useful. And it's important when you record room tone, that you actually record it right before or after the interview with everybody in place. Because we absorb and bounce sound very differently then when the room is empty. So you'll see in footage, and you can do this, is a lot of times you'll aim the camera at the microphone. So when you're scrubbing through you know it's room tone. And you say room tone and everybody stops for a minute and you just record with nobody moving, and then you do that at the end. And now you have something that you can use if you need to clean up your audio. And it's a very good tool. So a lot of times I'll put on maybe a four second soft audio dissolve and I may select all of my narration bites and literally throw on dissolves at beginning and the end just so they kind of are not as abrupt. It's a soft cut for audio. So, knowing that you can change that before you put it on can be very useful, so in reality I may go, Frames, and I may go just give me, you know, a six frame dissolve for my audio. Make sure I hit okay, this is why I have a tendency to change these when teaching and then hit cancel and wonder why they're not working for me. There we go, there we go, boom. So if I have points here where the audio doesn't touch, I could just select it all. Remember the keyboard shortcut, you're shifting from the video to the audio, so it's Shift Command Default. So that's an audio only, boom. If zoom in, if luck is with me, it should have put some transitions on here. Let's see if it did. Did I hit the right key? I love when I do something and it doesn't work. Let us think about this, it might be a drag and drop requirement. I thought we could do it this way, I may have to do this by a drag and drop. Sometimes I get fooled by this and people love when I make mistakes So I try to do it often. And with style. Okay, Effects, I wanna do a audio dissolve, Audio Effects, Audio Transitions, there we go. I'm doing constant power. Drag and drop on all these selected clips. Let's see if it worked there. Not sure why it's not working, I'll have to check on that, I wanna keep moving forward. Could be, did I have an end of clip, that should have worked, doesn't let me, and this is where you can go down a, ah. Brain sometimes works, let's try this, and I'll tell you what I did. Shift Command D. Oh come one. I just selected all of my edit points, you should have worked. Okay, we'll try it one more time and then I will punt and move forward. Gotta figure that one out. By the way, if I wanted to select all those edit points, instead of lassoing this way, I held down the Command key, and now I selected all my edit points as of selecting all of my clips. It's stills being kinda difficult. You know what it might be? It might be that these are long sound bites. And I just put in a dissolve that's 1/5th of a second and I wasn't patient enough to zoom all the way in. So it might have done that. Should I take a look and see if I'm vindicated, or if I'm just making stuff up. Okay, let's go ahead, we're gonna do Shift Command D this, make sure it's there. (exaggerated laughter) I wasn't, well maybe I am crazy, but it did work. So glad I figured that out as I was tap dancing. So yes, there you've learned a couple of techniques, and you've learned that you need to zoom in when you have really big sound bites and you're putting in a fifth of a second audio dissolve.
Class Materials
Abba Shapiro's Work File Information
Building a Rough Cut - Project Files
Refining Your Edit - Project File
Working with Audio Project File
Motion Effects - Project Files
Titling and Graphics - Project Files
Speed Changes - Project Files
Color Correction - Project Files
Finishing - Project Files
Multi-Camera Editing - Project Files (Large Download - 3.25GB)
Creating Timelapses - Project Files (Large Download - 1.25GB)
Thinking Like An Editor - Project Files
Special Tools - Project Files
Ratings and Reviews
I've never even tried video editing before this class. I opened the program once and panicked. After only 9 lessons I was able to throw a short video together (basic of course, but still pretty cool). I wish all of my teachers growing up were just like Abba. He goes over everything without dragging anything on for too long. He repeats things just enough for me to actually remember them, and he is funny. He keeps it fun and shows that even he makes mistakes. I can't even believe how much I have learned in less than a quarter of his class. I have a long way to go and am very excited to learn more. This class is worth every penny and more! I was hesitant on buying the class because I have CS6 and he works with CC, but I have already used what I've learned in his course to create a video. The first 9 lessons were already worth what I paid for the entire course. Thank you, Abba! You are an awesome teacher! You have me absolutely obsessed with creating right now! I highly recommend! You won't find this thorough of a course for this decent price!
Just bought this yesterday and cannot stop watching!!!! What a FANTASTIC teacher-- just love the way he explains everything. For someone like me (who has a zillion questions) it is perfect. As soon as he introduces a feature, he explains several aspects in such a way that's easy to grasp and remember. So, so happy I got this. Thank you Abba and CreativeLive!
I am only on lesson 19 and I am so glad I bought this class, so worth it and Abba packs so much information into these lessons its crazy. I will for sure have to come back and watch again when I need to remember to do stuff or need a refresher. He is funny and quirky and a great teacher. I so recommend this to anyone wanting to become a better video editor!! I am coming from being self taught and using iMovie and he makes it so simple and understandable. Can't wait to learn more :)
Student Work