Special Tools: Morph Cut
Abba Shapiro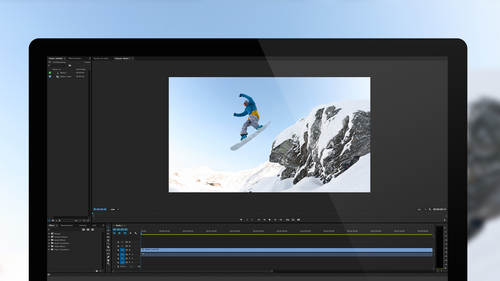 Special Tools: Morph Cut
Abba Shapiro
Lesson Info
64. Special Tools: Morph Cut
Summary
(Generated from Transcript)
The topic of the lesson is the morph cut tool in Adobe Premiere Pro CC, which is used to smooth out cuts in video editing.
Q&A:
What is the morph cut tool?

The morph cut tool is a feature in Adobe Premiere Pro CC that is used to smooth out cuts in video editing.

How does the morph cut tool work?

The morph cut tool analyzes the pixels before and after the cut and creates new pixels to seamlessly transition between the two clips.

How long should the morph cut be applied for?

The length of the morph cut should ideally be between 8 and 12 frames.

Why is it important to keep the morph cut short?

Keeping the morph cut short helps to ensure that the transition happens quickly and is less noticeable to the viewer.

What happens when the morph cut is applied?

When the morph cut is applied, the program starts analyzing the pixels and creating new ones to create a smooth transition between the clips.

Why is it necessary to render the morph cut?

Rendering the morph cut allows you to see the final result of the transition and make any necessary adjustments.

Are there any limitations to using the morph cut tool?

The morph cut tool works best when there is minimal movement or dramatic change between the two clips. Wide shots with little movement are ideal for this tool.

Is the morph cut tool commonly used in video editing?

The morph cut tool is a powerful tool when used properly, but it is not commonly used or known by clients or third-party individuals involved in the editing process.
Lesson Info
Special Tools: Morph Cut
Let's talk about the morph cut. The morph cut again is one of those things that when used right, it's really, really good. Did I do two copies of this, I think I tried to. No, let me actually do that, and then zoom out, I like to do a before and after. So I'm gonna simply grab these two clips, go option drag, so I have a finished one over here, and let's zoom in. So, I've already applied the morph cut, I'm gonna go ahead and remove it. And I'm gonna show you what the original edit looked like. So, I cut these pieces together of Mike and I like the continuity, but you see the cut. Better be great to hear his audio. Yeah, so travel photography, I've always loved travel. I take people in trips around the world. So I cut out the whole section, was, "My wife and I promised that every year, "after we got married, we'd go, we'd go around the world, "and as a business, well, "that's really cutting to the chase." But as you see. Photography, I've always loved travel, I take people in trip...
s around the world. So, my hope is to smooth that out. And my audience won't see it. So what I'm gonna do is I'm gonna choose the morph cut, so I'll type in morph. And drag that on, and when the morph cut is first applied, it's usually a full second. Okay, 30 frames. It's too long for a morph. I find that ideally, maybe eight to 12 seconds and I play with that. So, I'm gonna go ahead and try 12. Part of me hopes that it works, part of me hopes it doesn't work, so I can show you that you need to change the time. So, we'll see, so I apply it, you'll see that it's red. First thing it's gonna do, it's gonna start analyzing, just like the warp stabilizer, it's looking for all the pixels, and trying to figure out how to get from A to B, smoothly and it's gonna actually create new pixels, so again, it's a pretty complex analyzation. When you think about that, that took about 30, 40 seconds. That was for 12 frames, okay. So, that's another reason to keep it short, but, we want it to happen quickly so people don't notice the cut, okay. So, it does that, and if played it, it's gonna still be jumpy. I need to render it, okay, I see this red line. It'll so it's best, but it won't show me really what the morph cut looks like, until I render it, so I'm gonna go ahead and mark it in and an out point, Don't need that much of an out point. And I'm gonna up here under sequence, I'm gonna say, go ahead, render into output. And as you see, it's going through, goes real quickly 'till it gets to the morph. Travel. That was actually pretty quick. I take being-- And let's see, now we know the cut's there, okay, but if you didn't know, and I'm gonna go option exta, at least hide the in and out point. See, I've always loved travel, I take people on trips around the world. There's a little hiccup but you didn't, I mean for all you know that could be a compression algorithm, when you're watching on the web. Let's step through that, frame by frame, just so you can kinda see it, I'm gonna even make it full screen, so you can kinda see what's happening. So, what it's doing is it's actually, where's the cut? We already went through the cut. It actually a new video of him, and it works pretty well here, I'm gonna go ahead, I'm gonna delete that, all my hard work, but I wanna step through it without the morph cut on. That was the actual cut point. When we step through it with the morph cut, I lost-- Undo, undo, I wanna do re-do, re-do. File, edit. Oh, I've already hit, fine oh. I just-- Oh, there we go. I think that's the moment of the cut. So, it's pretty cool, when you don't have a lot of jarring movement. If I did a wide shot to a wide shot, and I tried this with that, and the hands were one here and here in the other, and it kinda went (blubbers), but you can do it in a wide shot, just you can't have dramatic change between the first and the second shot, and then sometimes, to be successful, you have to play with the duration. So if I went and I tried to make this longer, it's gonna have to re-analyze this. So, now, I made it much longer. Sometimes, too much of a good thing is too much of a good thing, it's gonna try too early to meld them together, and it might be more noticeable. I wanted to make it as short or as long as appropriate, so that it does it's best to guess, and the viewer doesn't see it. But this is really cool, because I didn't have to go find B-roll, and if you're just watching it, and hopefully listening to him, you would never know there's a cut. So, the morph cut's great, the takeaway is, you never, I can't even think of an instance where you wanna full one second morph, unless you want the morph to actually make itself apparent, I usually find between eight and 12 frames is the sweet spot for that, and I just kinda, you know, when you change it, it does have to go and reanalyze it again. Because it's only using the frame between the in and the out point of the edit. So, I made this longer, once again, remember you need to render that. Does render fairly quick because it's already done most of the math. Travel. Okay. (blubbering) I've always loved travel, I take people-- And it's a little bumpier, but it's pretty good. I mean, either way, I think that where we were originally, was a little smoother. So, that's the morph cut, it's pretty cut and dry, that was not an intentional pun, but it felt that way when it came out, but it's really powerful, it works in some instances. Don't count it when you're shooting, don't tell your clients, if you're doing third party stuff, because they'll say, "Oh yeah, just make it fit." This is a classic, it's like, I'm interviewing somebody, he's like, well, they give me like all these words, as soundbites, and they go, "You just piece it together." I'm like, "No, I can't just piece it together, "you need to actually say it as a sentence, (audience laughs) "so it's fluid." So, they think you have these magical skills, and be like, "Oh you just stabilize it, and take the words, "and you can do your magic stuff," and you're like, bang, bang, bang. So, we'll keep it as a secret between us and the thousands of people that are tuning in right now. But it's an amazing tool when used properly.
Class Materials
Abba Shapiro's Work File Information
Building a Rough Cut - Project Files
Refining Your Edit - Project File
Working with Audio Project File
Motion Effects - Project Files
Titling and Graphics - Project Files
Speed Changes - Project Files
Color Correction - Project Files
Finishing - Project Files
Multi-Camera Editing - Project Files (Large Download - 3.25GB)
Creating Timelapses - Project Files (Large Download - 1.25GB)
Thinking Like An Editor - Project Files
Special Tools - Project Files
Ratings and Reviews
I've never even tried video editing before this class. I opened the program once and panicked. After only 9 lessons I was able to throw a short video together (basic of course, but still pretty cool). I wish all of my teachers growing up were just like Abba. He goes over everything without dragging anything on for too long. He repeats things just enough for me to actually remember them, and he is funny. He keeps it fun and shows that even he makes mistakes. I can't even believe how much I have learned in less than a quarter of his class. I have a long way to go and am very excited to learn more. This class is worth every penny and more! I was hesitant on buying the class because I have CS6 and he works with CC, but I have already used what I've learned in his course to create a video. The first 9 lessons were already worth what I paid for the entire course. Thank you, Abba! You are an awesome teacher! You have me absolutely obsessed with creating right now! I highly recommend! You won't find this thorough of a course for this decent price!
Just bought this yesterday and cannot stop watching!!!! What a FANTASTIC teacher-- just love the way he explains everything. For someone like me (who has a zillion questions) it is perfect. As soon as he introduces a feature, he explains several aspects in such a way that's easy to grasp and remember. So, so happy I got this. Thank you Abba and CreativeLive!
I am only on lesson 19 and I am so glad I bought this class, so worth it and Abba packs so much information into these lessons its crazy. I will for sure have to come back and watch again when I need to remember to do stuff or need a refresher. He is funny and quirky and a great teacher. I so recommend this to anyone wanting to become a better video editor!! I am coming from being self taught and using iMovie and he makes it so simple and understandable. Can't wait to learn more :)
Student Work