How to Look More Confident on Video
Vanessa Van Edwards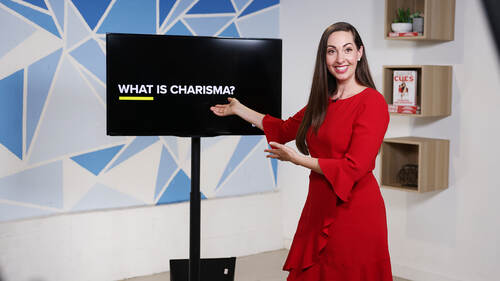 How to Look More Confident on Video
Vanessa Van Edwards
Lesson Info
7. How to Look More Confident on Video
Lesson Info
How to Look More Confident on Video
(bouncy music) Are you spending more and more time on video calls? Me too, my friend. I'd love to give you some easy cues you can use to look more confident on video. My name is Vanessa Van Edwards. I'm a behavioral investigator and bestselling author of "Captivate" and "Cues." While researching for "Cues," I discovered that there are three critical social cues we need to see on a video call to be able to trust the person we're speaking with. You need to make sure that you're sending these three charisma cues right away. Ready? First, space. The biggest mistake I see on video is people are too close to the camera. This breaks a space boundary. It's like being a digital close talker. Measure the distance between your nose and the camera. It should be always at least 18 inches to four feet away from your camera. Don't creep in close or hover over your camera while logging in. It will make people wanna back up. Seconds, palms. We love, love, love to see someone's palm. This is a complet...
ely subconscious need. When someone can see our palm, they feel we're open to them, respecting them, and aren't concealing anything. So in the first few seconds of your call, "Give a hello. Good morning. How are ya?" with one or two palms up. I start every single one of my YouTube video with a double palm, "Hello, hello friends." I noticed that when I use this opening in the first 10 seconds of a video, we get more engagement on the video. It really works. The third cue is a vocal cue. There are 96 different cues and some are verbal, non-verbal, or facial. This cue is with our voice. On video we're always listening for how someone sounds. Confident people use a nice, low, relaxed tone. Nervous people get anxious and hold their breath. They often make the mistake of starting a video call like this. "Hi everyone, good morning." When you start at the top of your breath, all tense and high, you are signaling anxiety. And research finds our cues are contagious. If you cue anxiety, you send anxiety. So be sure to start your calls on your lowest, natural tone with your shoulders relaxed and your chest open. So not, "Hello, good morning," but instead, "Hello, good morning," to show confidence and competence. To learn more about cues, check out my latest book "Cues: "Master the Secret Language of Charismatic Communication." Or check out my latest course on CreativeLive. Be sure to save this video and watch before your next important video call.
Ratings and Reviews
Great class! Vanessa is always engaging and fun with clear guidance and excellent stories. Everyone will gain something from this quick course on how to better present themselves in social and professional situations.
This class was great! Really applicable tips for how to balance out your own charisma scale. I learned that I naturally lean more towards competence (I can be cold, stoic, emotionless) and to come across as more charismatic, I can practice more warm body language, expressions, etc. Jam packed full of practical tips!
I've watched Vanessa Van Edwards' videos in the past and they've been so life-changing that I didn't hesitate to pay for a year's subscription just so I could watch this one. She did not disappoint - the content is engaging, easy to understand, and easy to implement!
Student Work