4 Challenges to Master Your Cues
Vanessa Van Edwards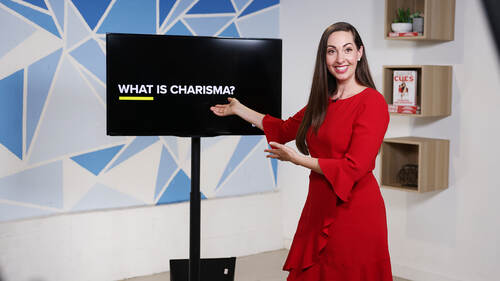 4 Challenges to Master Your Cues
Vanessa Van Edwards
Lesson Info
6. 4 Challenges to Master Your Cues
Lesson Info
4 Challenges to Master Your Cues
(upbeat music) We did it, we made it to the end. So how do we put all this into action? We have learned seven powerful cues. These cues will change the way people perceive you. They also can change the way you perceive yourself. If you wanna take control of all 96 cues, so I talk about 96 different cues in the book. I talk about warmth cues, competence cues, those special charisma cues that the most charismatic people use, and also danger zone cues, cues you should avoid using. What I want you to think about are some challenges from this lesson, from this class. So first, think about your first 10 words. Not only the first 10 words in your emails but on your video calls, in person, on your dates, even the first 10 words of your website or your profile. Those first 10 words change people's perceptions of you, and they also set people up for success. Make sure they're both warm and competent, no danger zone. No, I'm busy, right? We're on a I'm busy diet. Second, remember the way that w...
e use our body changes our sound. If you wanna look like a winner, you have to stand like a winner. That's space between our torso and our arms, a nice open body, as much distance as possible between our ear and our shoulder, and that gives us that beautiful vocal power. When we gesture, it helps us be more clear, right? We're able to say five, not five. So we wanna match our gestures and our body with our voice and our vocal cues. That also helps us sound more powerful. Lastly, what are the right neural maps for you? Who do you wanna trigger? Who do you wanna cue? Be sure to be purposeful with the props, the images, the colors in your materials, your profile, your website to make sure you're attracting the right people. And lastly, this is the most important. I want you to find out where you are on the charisma scale so you can naturally dial up. So not only identify where you think you are, be sure to take the official quiz, take this for yourself. But then send it to three people who matter it to you: a partner, a colleague, a client, a boss, a parent, a friend, a child. And ask them to take it as you, you will have fascinating conversations to see if they got the same answer as you. I also wanna encourage you to check out my other CreativeLive classes. I have our power of happiness course, our power negotiation class, our power of body language. And of course, master your people skills. I hope you'll check out the book "Cues" as well. I read the audio book if you're into listening. You can also check out the hard cover and e-book. Everything's at sciencepeople.com, and wherever books are sold. And mostly I wanted to thank you for learning with me. I wanna thank you for being on this journey with me. If you've been with me here for the last nine years at CreativeLive, I am so grateful for you. I've been able to learn and grow with you. I've been able to do research based on your questions and your feedback. I've become a better teacher because you've been such a great student. So I wanna thank you so much for your energy, for your attention, and all of your charisma. (upbeat music)
Ratings and Reviews
Great class! Vanessa is always engaging and fun with clear guidance and excellent stories. Everyone will gain something from this quick course on how to better present themselves in social and professional situations.
This class was great! Really applicable tips for how to balance out your own charisma scale. I learned that I naturally lean more towards competence (I can be cold, stoic, emotionless) and to come across as more charismatic, I can practice more warm body language, expressions, etc. Jam packed full of practical tips!
I've watched Vanessa Van Edwards' videos in the past and they've been so life-changing that I didn't hesitate to pay for a year's subscription just so I could watch this one. She did not disappoint - the content is engaging, easy to understand, and easy to implement!
Student Work